Sous Vide Whole Chicken (Not Poached)
This sous vide whole chicken recipe will be the juiciest, tenderest, and most flavorful chicken you'll ever make. Follow the step-by-step guide to round out your perfect chicken dinner. By the way, it's not poached.
Note: This recipe post was originally published on October 20, 2018, and I have received many questions, comments, and criticisms regarding whether it's safe to sous vide whole chicken without poaching it in the cooking bag. I feel it's necessary to address these concerns regarding food safety. Therefore, I've updated this post with more information in that regard and different ways to sous vide a whole chicken safely.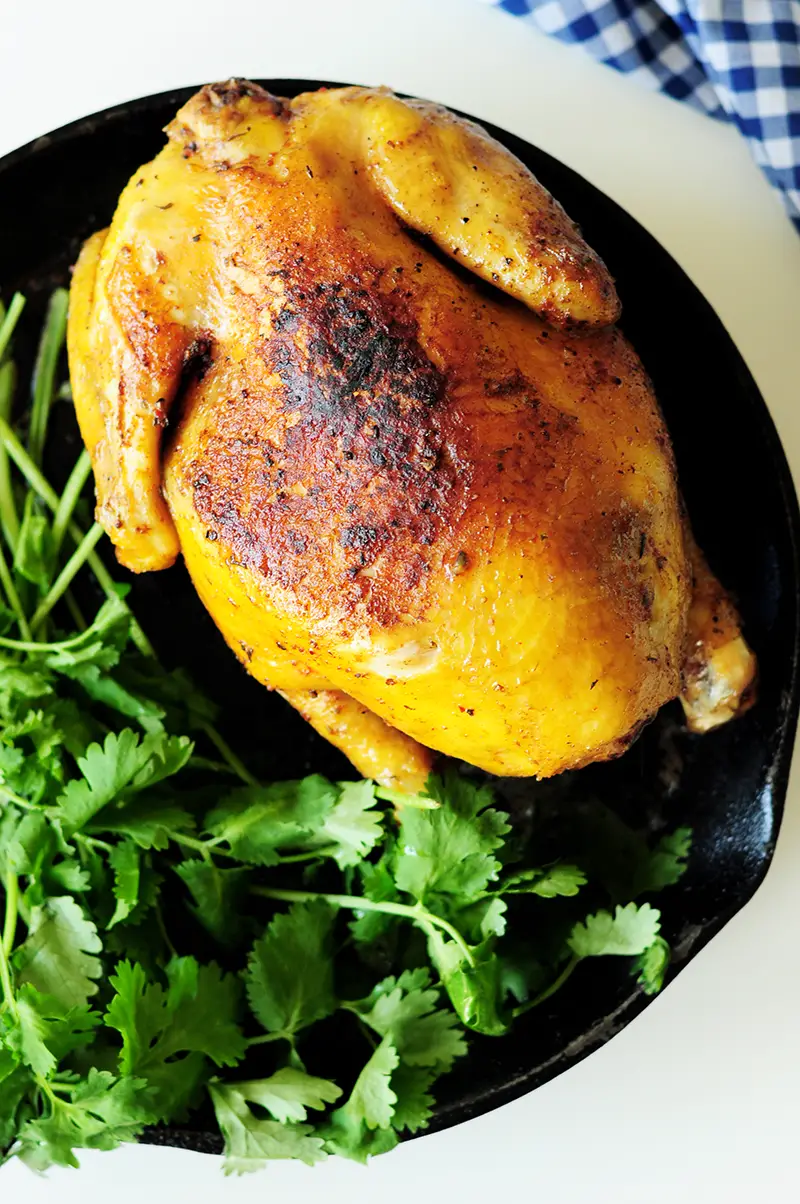 When it comes to sous vide whole chicken, almost every single recipe on the internet is poached. There is a good reason for that, which I will explain shortly. 
If a poached chicken isn't something that sounds attractive to you, I am happy to tell you that I've discovered a foolproof path to a perfectly juicy, golden-brown whole chicken without adding any liquid in your cooking bag. 
This sous vide whole chicken is as flavorful as an oven-roasted chicken, with crispy skin and seasoned with my go-to homemade poultry dry rub. 
Before we get into it, though, a common question that I get frequently is why cook whole chicken sous vide? Here's the answer.
Why Sous Vide Whole Chicken? 
The benefit of using a sous vide precision cooker (versus a grill or oven method) for making a whole chicken is that you can rest assured your chicken is always going to turn out tender, juicy, and cooked to perfection consistently, every time—never overcooked or dry. I'm sure you would agree, less stress in the kitchen is always nice! 
The even nicer part is that once your bird is in the sous vide bath, feel free to walk away from your kitchen. It's going to take at least six hours (totally hands-free), and even if you leave the chicken in the bath longer, it's still going to turn out great because sous vide makes it pretty much impossible to overcook it. 
How to Sous Vide a Whole Chicken Safely
The main principle of sous vide cooking is to slow-cook food at a precise low temperature. A lot of the time, the cooking temperature is below 140°F. You might have heard of the "danger zone," which refers to a temperature range between 40°F and 140°F. When food sits in this range, potentially harmful bacteria, notably food pathogens, can thrive and make you sick. 
One of the most worrisome pathogens is Salmonella, and our beloved chicken has a lot of it. When the center of your chicken reaches 165°F, 100% of Salmonella is killed immediately. And that's why the FDA recommends the minimum internal temperature for safely cooking chicken is 165°F. (For more in-depth info on sous vide safety, find it in my Complete Guide to Sous Vide Cooking.)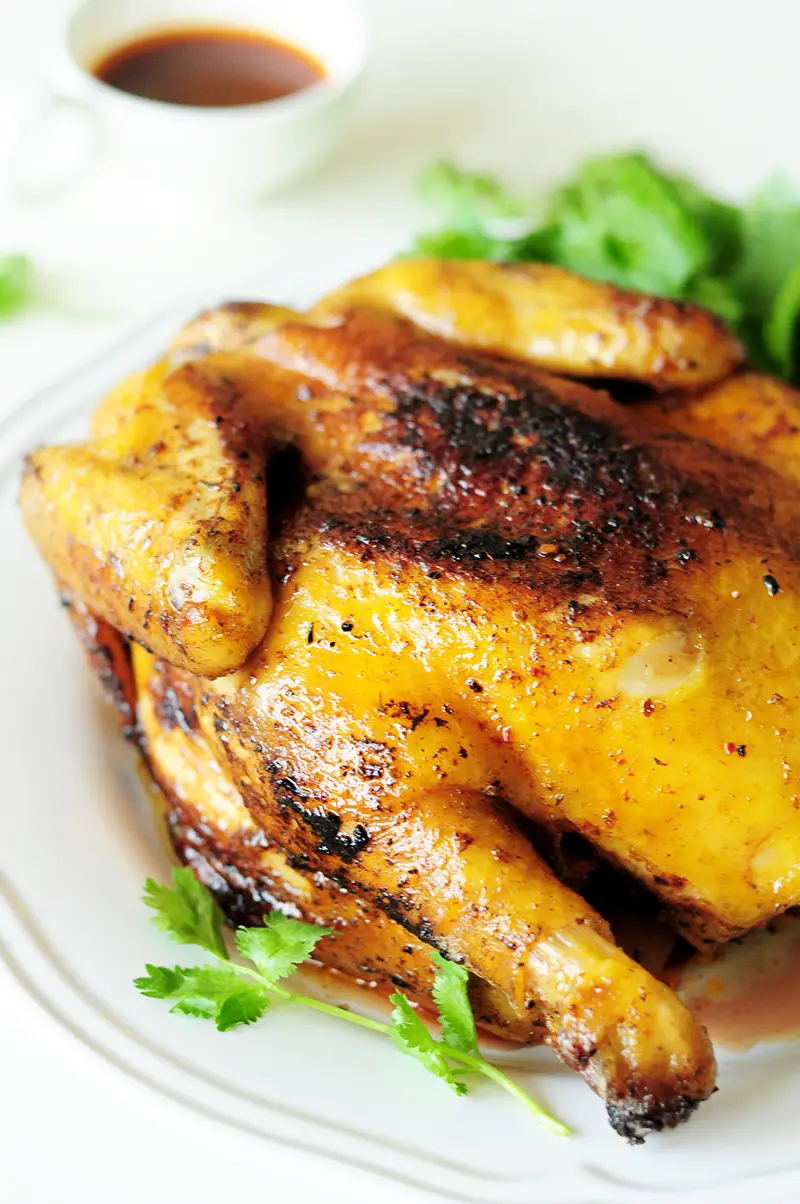 When you cook chicken sous vide between 140°F and 150°F, the internal temperature of the bird will never reach 165°F. How on earth is it safe to cook chicken this way? That's a great question. Please read on. 
Temperature and Time
You know that Salmonella in chicken dies instantly at 165°F. What you might not know is that at 160°F, it takes 14 seconds to kill Salmonella in chicken (5% fat). At 155°F, it takes 50 seconds. When the temperature is brought down to 150°F, the pathogen is killed in 3 minutes. 
You see, in order to pasteurize chicken or any food, it isn't just about the temperature. It's about time as well. Technically, you can cook your chicken at an even lower temperature than 140°F for a longer time, and it will be safe to consume. But I don't recommend it because the chicken will have a sashimi-like texture, which no one will find appealing. 
The recommended sous vide whole chicken cooking time is 6 hours at 150°F. Not only is food safety ensured, but your bird will also turn out mind-blowingly tender and juicy. Seriously, you are going to be stunned! 
Can't wait to roll up your sleeves and put a whole bird in a cooking bag? Hold on for a second. There's one more thing you should know. 
Fill up That Cavity 
The tricky thing about cooking a whole bird sous vide is removing the air from the cavity. Because air doesn't conduct heat well, it will prevent the inner part of the chicken from reaching its desired temperature. 
Even if you use a vacuum sealer, there's no way to suck the air out of the cavity unless you butterfly your chicken. That's why sous vide whole chicken is usually poached. By adding liquid into the cooking bag, the chicken cavity is filled, and the liquid can effectively transfer heat inside the chicken. 
(Full disclosure: the first time I attempted to cook a whole chicken sous vide, I did not add any liquid in the vacuum-sealed bag. The chicken made its own juice which filled up the cavity during the cooking process. After six hours, my bird was fully cooked and my family thoroughly enjoyed it. None of us got sick. However, it never hurts to take precautions when it comes to food safety.)
After a few more experiments, I discovered a non-poaching way to remove the air from a chicken cavity and it worked extremely well. 
Stuff the cavity of your chicken with onions and lemons!
The onions and lemons act as the heat transfer agent inside your chicken to ensure it reaches 150°F inside out and holds at that temperature during the entire cooking time. They also add an unexpected layer of flavors to your chicken, in addition to the mouth-watering thyme, cayenne, garlic, and paprika dry rub. 
Depending on the size of your chicken, you might need to use more or fewer onions and lemons. Make sure you stuff the cavity as much as possible so there's little to no air left inside before you bag the chicken. I cut my onions and lemons into slices and stuffed the bird really well. 
Feel free to add a couple of sprigs of fresh rosemary or tarragon or whatever your heart desires inside the chicken.
Sous Vide Whole Chicken (Not Poached) Step-by-Step Instructions
Now, here comes the exciting part! Let's do this!
Step 1: Preheat water to 150°F using a sous vide precision cooker (I use Anova sous vide).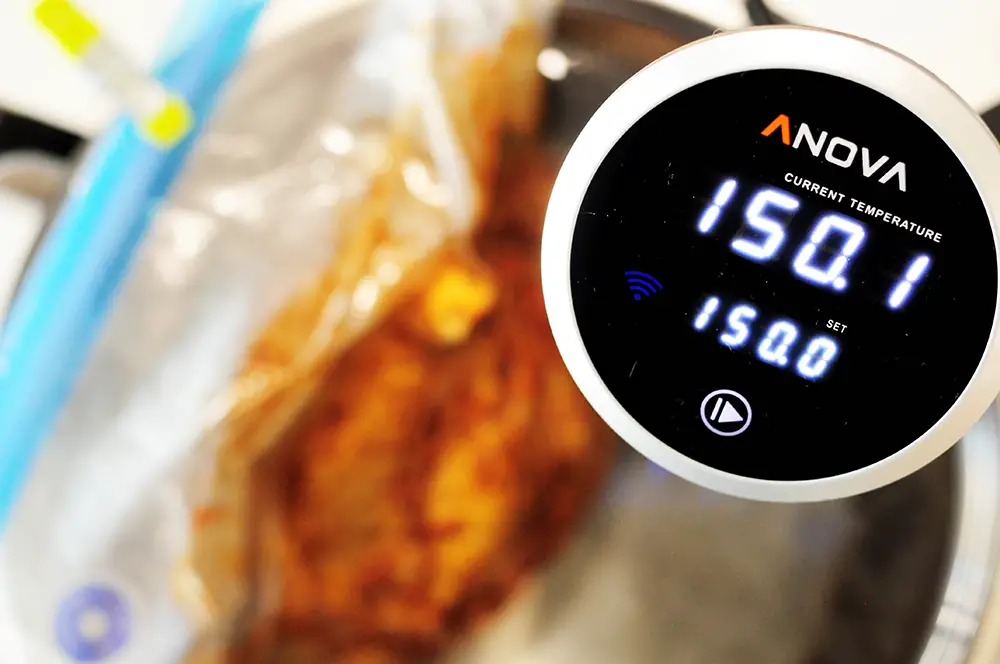 Step 2: Make the dry rub for your bird.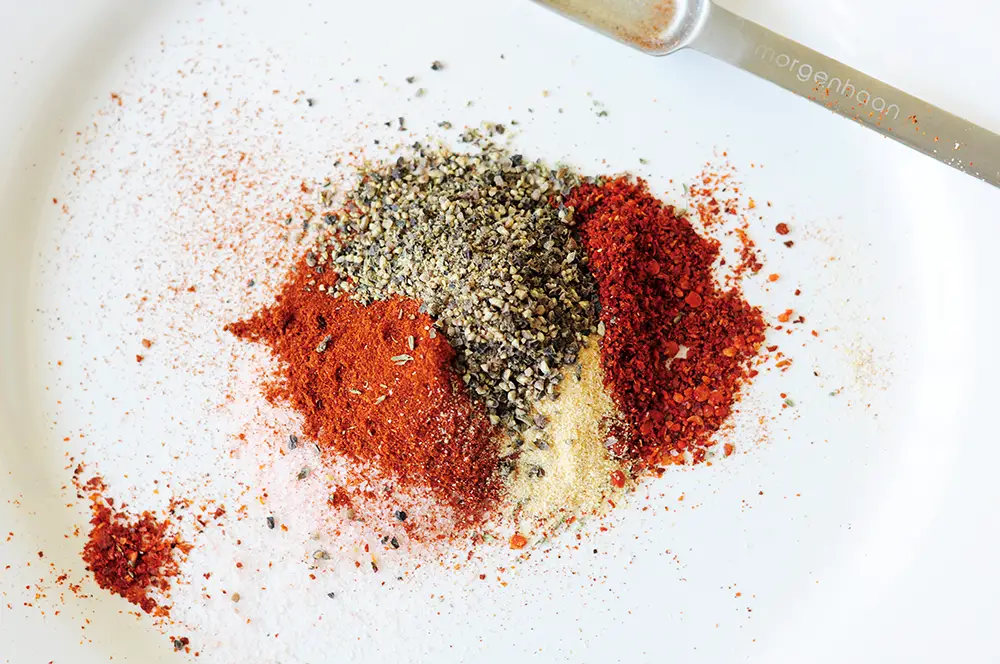 Step 3: Coat your chicken with the dry rub.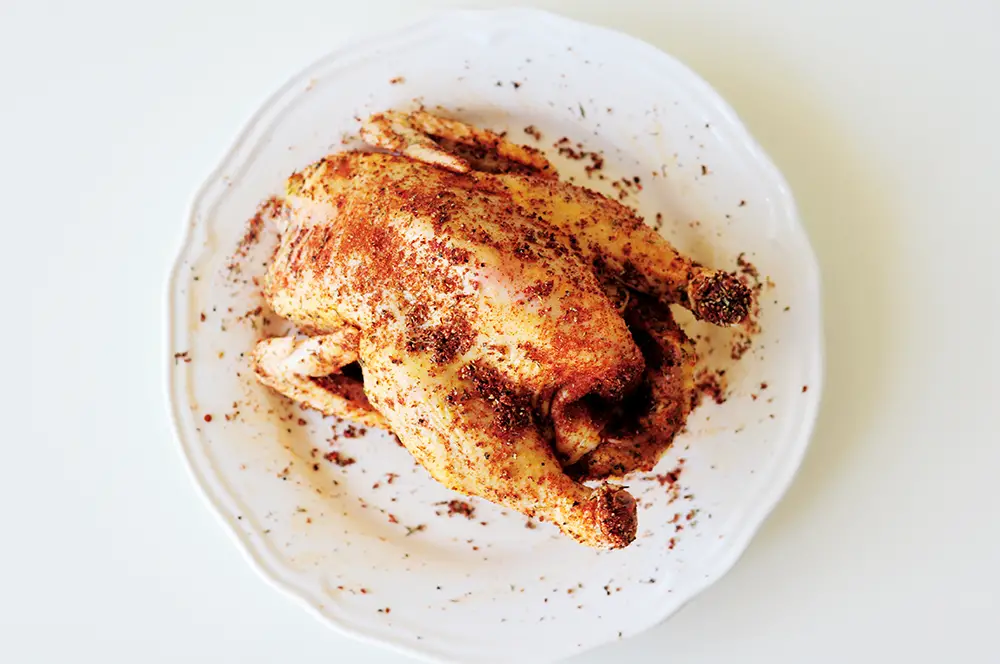 Step 4: Stuff the cavity with onions and lemons.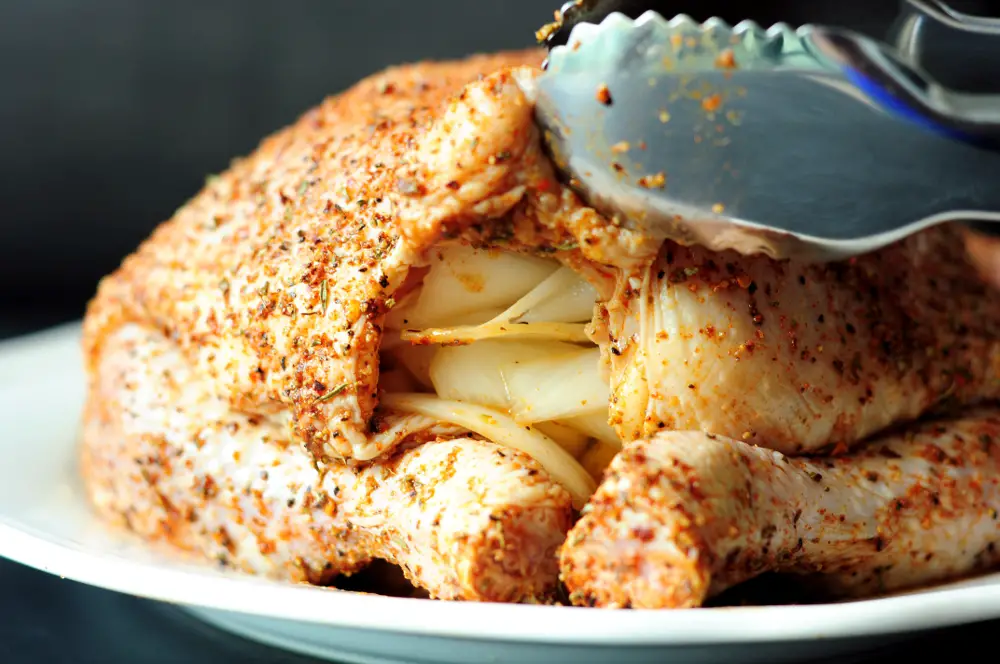 Step 5: Pop the chicken into a large sous vide bag and vacuum seal it.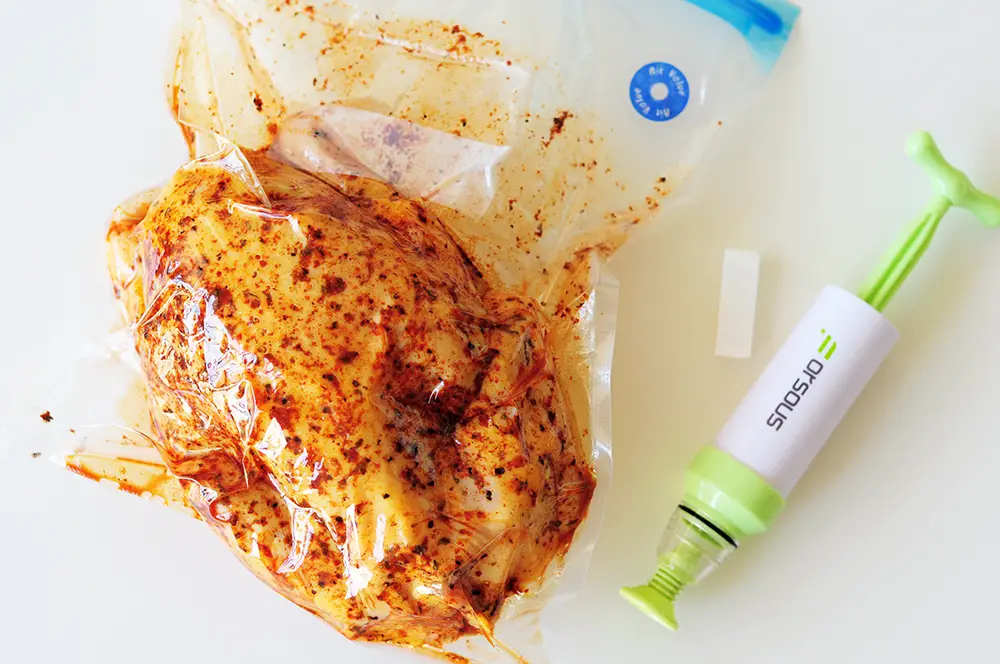 Step 6: Lower the bag into the prepared water bath and set the timer for 6 hours.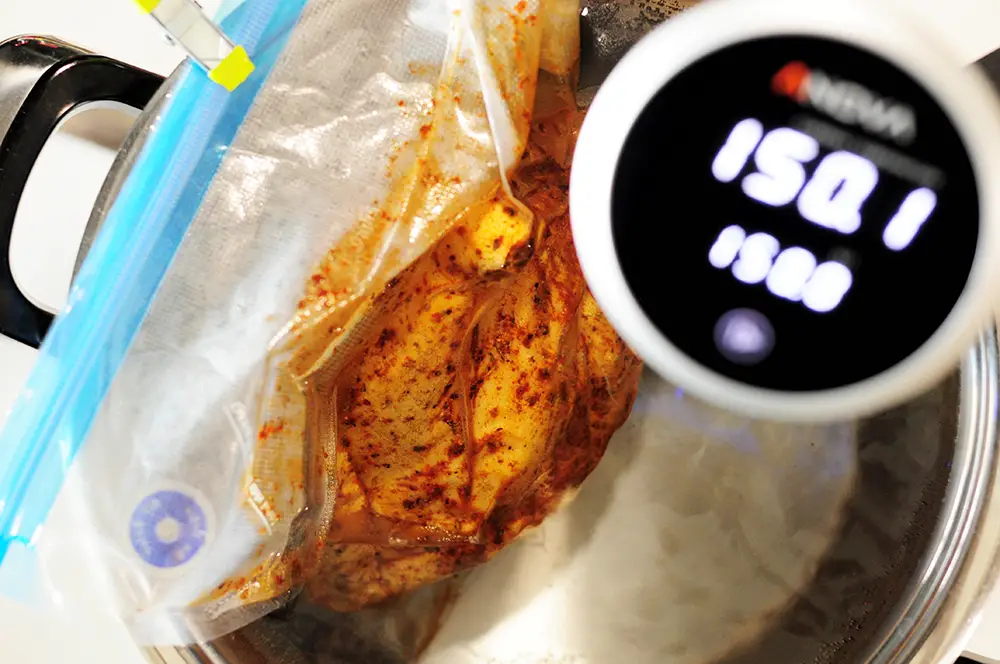 Step 7: Once the chicken is done, transfer it onto a plate and pat dry gently. Sear it on the stove or using a torch.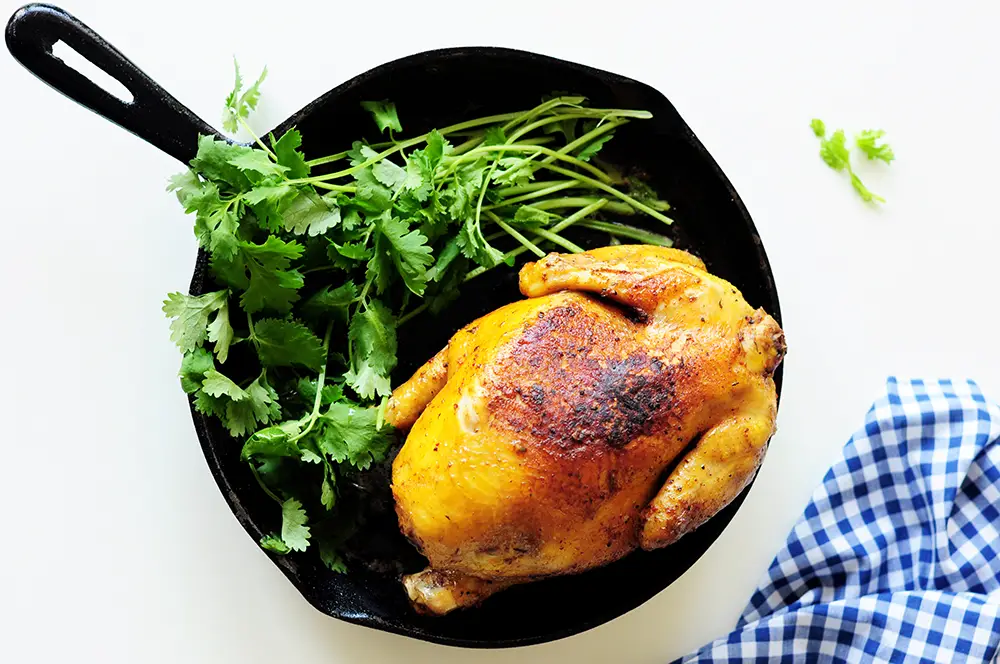 Hooray! You did it!
The Meat around the Leg Bones of My Cooked Chicken Is Still Pink-ish. Is It Safe to Eat? 
It's understandable when we see cooked chicken meat that's not white but pink-ish, we automatically think it's unsafe. It's because we've spent most of our lives eating overcooked chicken, so when it's actually cooked properly, it seems underdone. 
If the cooked chicken doesn't have the appearance that we expect—all white inside and out—that doesn't mean it's unsafe to consume. Once again, provided it has been pasteurized fully, it is perfectly safe to eat. 
Round out Your Chicken Dinner
You can turn your chicken dinner into a feast by serving it with a side of buttery garlic mashed potatoes, roasted Brussels sprouts, or keep things nice and simple with a side of steamed broccoli. 
This recipe is perfect if you love serving up a hassle-free, wholesome dinner on the weekends. Plus, if you're cooking for only two or three people, this whole chicken will yield enough leftovers to make a hearty chicken salad or a batch of chicken soup the next day.

If you're looking for delicious sous vide chicken recipes but with a shorter cook time, this Sous Vide Chicken Breast and Asparagus takes only 20 minutes to prep and is ready to go in two hours.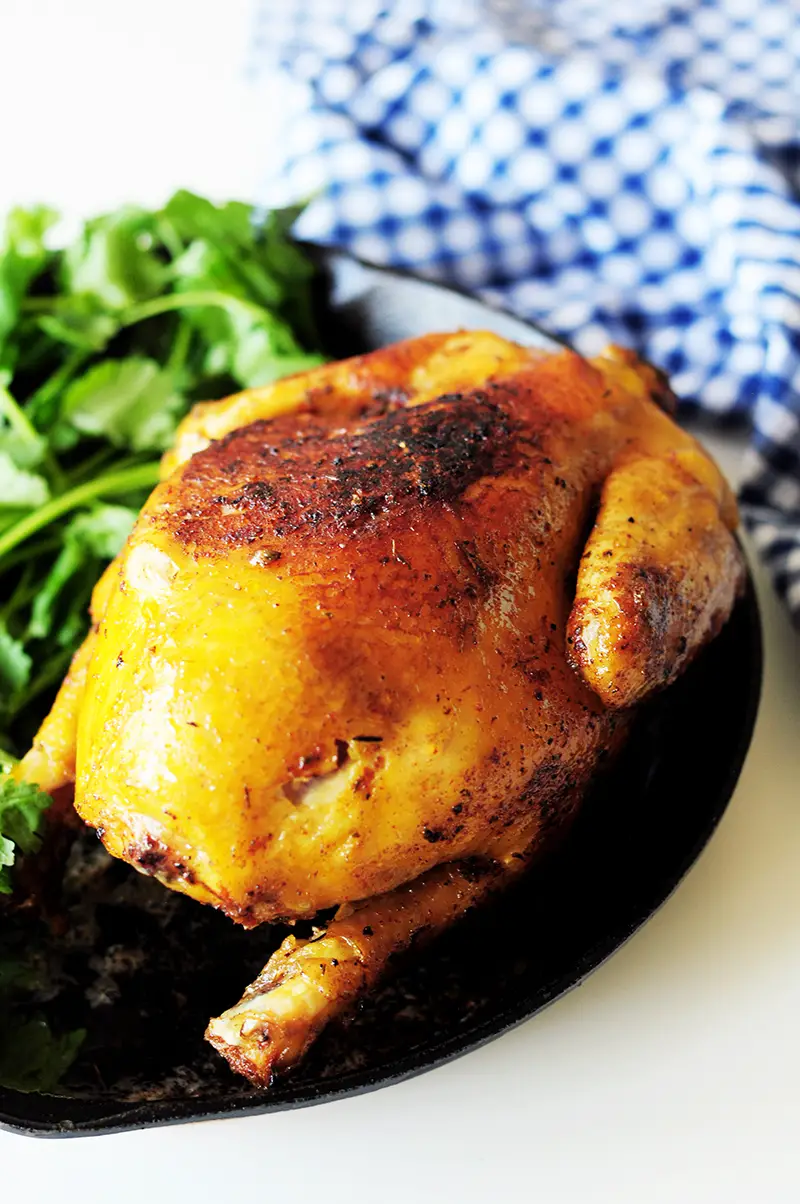 What If I Don't Have a Sous Vide?
Don't have a sous vide machine or not ready to invest in one yet? Don't worry. This dry rub I used for this sous vide whole chicken recipe is actually the exact same recipe as my Crockpot Whole Chicken. So you can follow step 1 to step 3 and use totally different cooking methods to cook the chicken.
Slow cooker method: Cook the chicken on low for 6-8 hours. Feel free to add whatever vegetables into your slow cooker.
Oven method: Roast the chicken at 350°F for 1.5-2 hours or until the internal temperature reaches 165°F.
Grill method: Grilled the chicken at 350°F-400°F for 80 minutes (rotate once halfway through) or until the internal temperature reaches 165°F.
Note: For the oven and grill method, you'll want to melt some butter and brush all over the chicken before cooking. This step will result in golden brown and crispy skin.
Alrighty, as always, I hope you enjoy this easy chicken recipe. Happy cooking as always!
Print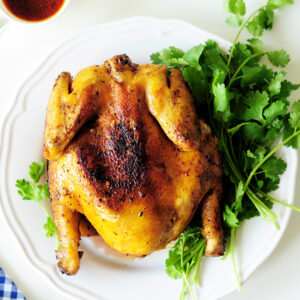 Sous Vide Whole Chicken (Not Poached)
Author:

Sharon Chen

Prep Time:

10 minutes

Cook Time:

6 hours 5 minutes

Total Time:

6 hours 15 minutes

Yield:

4

–

6

servings

1

x

Category:

Poultry, Gluten Free

Method:

Sous Vide

Cuisine:

American
---
Description
This sous vide whole chicken recipe will be the juiciest, tenderest, and most flavorful chicken you'll ever make.
---
1

whole chicken (4-5 pounds)

1

large onion, cut into stripes
a few lemons, cut into wedges

Olive oil

Fresh cilantro for serving (optional)
For the chicken dry rub:
2 teaspoons

Kosher salt

2 teaspoons

paprika

1 teaspoon

cayenne pepper

1 teaspoon

dried thyme

2 teaspoons

ground black pepper

1/2 teaspoon

garlic powder
---
Instructions
Preheat water to 150°F using a sous vide precision cooker (I use Anova sous vide).

Prepare chicken by rinsing under cold water. Pat dry with paper towels and set it aside.

Mix the dry rub ingredients on a big plate. Now, prepare a large vacuum bag or a Ziploc bag by folding the top of the bag back over itself to form a hem. This will prevent chicken seasonings from getting on the edges of the bag. Set aside.

Place the chicken on the plate and rub the mixture all over it. Sprinkle the excess dry rub inside the chicken if there's any left.

Stuff the chicken thorax well with onions and lemons. 

Slide the chicken into the prepared bag. Unfold the edge before closing the bag. Seal the bag using either a vacuum sealer or a hand pump.

Lower your bagged chicken into the preheated water bath, making sure the whole chicken is under the waterline. If using Ziploc bag (double bag) slowly lower your bagged chicken into your water bath, letting the pressure of the water press air out through the top of the bag. Once most of the air is out of the bag, carefully seal the bag just above the waterline. Cook for 6 hours.

Once the chicken is done, remove from the water bath and transfer it onto a plate. Gently pat with paper towels. Preserve the cooking liquid from the bag if you like for serving or for flavorful chicken soup or chicken stock later.

Heat a cast-iron skillet over high heat. Add olive oil and sear the whole chicken on all sides until the skin is golden brown and crispy, about 5 minutes. You can also cut up the chicken first before searing. Alternatively, fire up the broiler and b

roil until the skin is golden brown, 5 to 7 minutes.
Let rest for 10 minutes, discard the onions and lemons, slice, and garnish with cilantro. Serve. 
---
---
Nutrition
Serving Size:

1

Calories:

145

Sugar:

0.5g

Sodium:

232mg

Fat:

11.6g

Saturated Fat:

4.6g

Carbohydrates:

1.6g

Fiber:

0.6g

Protein:

9g

Cholesterol:

46mg
Keywords: sous vide whole chicken