Sous Vide Cauliflower Steaks with Gluten-Free Soy-Ginger Sauce
Experience spiced sous vide cauliflower steaks with a soy-ginger sauce made gluten-free for some serious umami goodness! 
Are you tired of the same old way of cooking cauliflower, which lacks excitement and variety? I have done a few cauliflower dishes that I hope will bring variety to your table and taste buds. But this one sous vide cauliflower steak recipe excites me the most! 
Inspired by one of my most popular cauliflower recipes–Roasted Asian Cauliflower with Soy-Ginger Sauce, I converted it into a sous vide recipe and removed refined sugar and gluten from the original. The result was succulent cauliflower steaks that burst with remarkable flavors, fork-tender textures, and impressive looks. 
In this article, I will guide you through each step from choosing the perfect cauliflower to mastering the sous vide technique so you can make this simple yet elegant vegetable dish at home anytime. 
Why Sous Vide Cauliflower?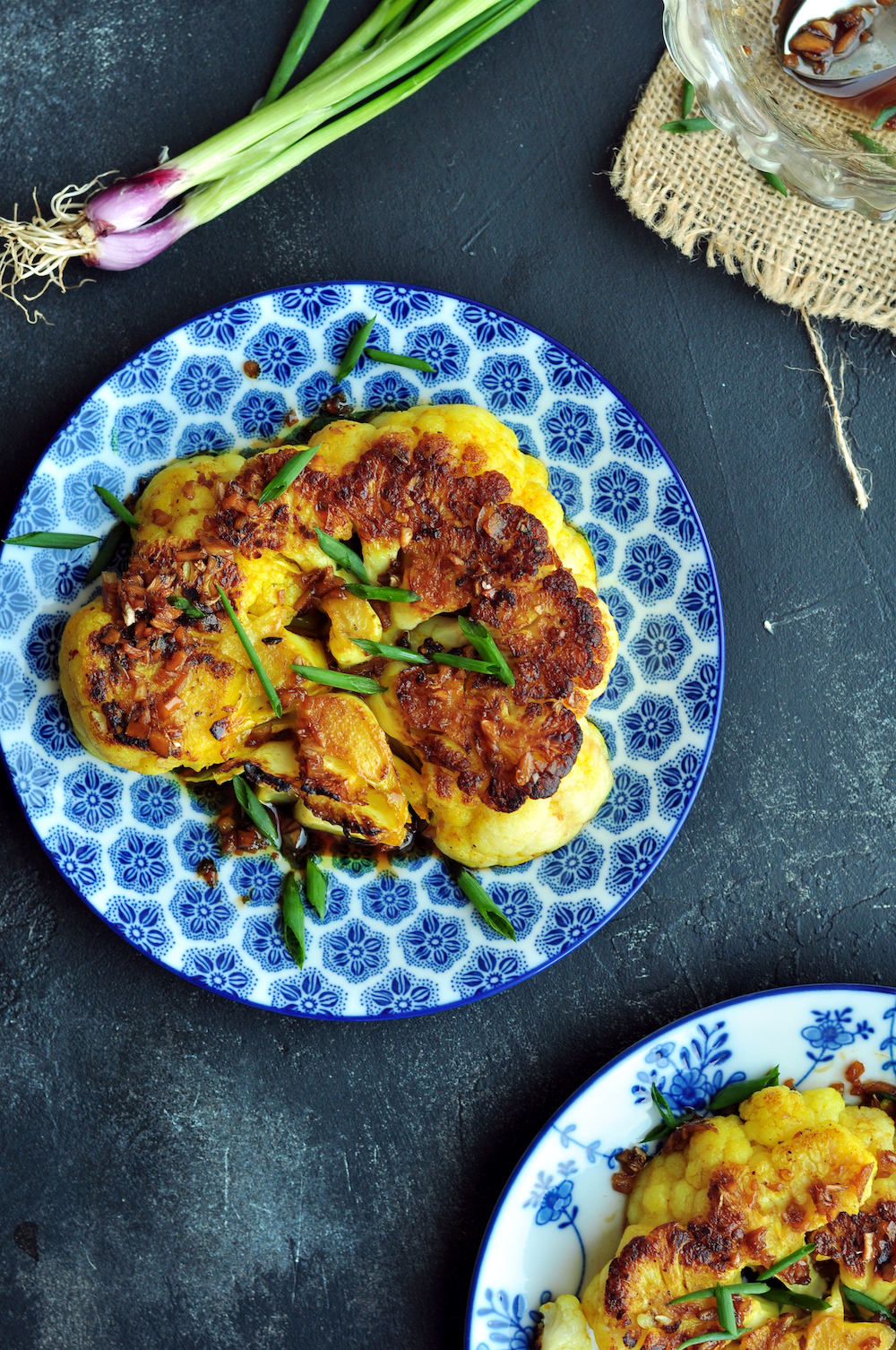 Cauliflower is very low in calories yet rich in a variety of vitamins and minerals including vitamin C, folate, and vitamin K. It's high in fiber and is a great source of antioxidants. 
The greatest benefit of cooking cauliflower—or any vegetable, in my opinion—sous vide is that it preserves the nutrients in the vegetable itself. Any nutrients that do leach out are caught by the sous vide cooking bags. Don't just take my word for it. Studies show that the sous vide cooking method preserves more antioxidants and vitamins in cauliflower and broccoli compared to other cooking methods like boiling, steaming, and microwaving.   
It's also worth noting that the sous vide cooking method, with its precise and stable temperature, is a great way of tenderizing cauliflower from edge to edge. This is done without any effort from the cook, allowing you to have peace of mind.
Sous Vide Cauliflower Temperature and Time
Cauliflower is best cooked sous vide at 183°F (84°C) to 185°F (85°C) for an hour. I find that setting the temperature to 185°F (85°C) for most vegetables is a good practice because the temperature always drops a little when you first submerge your food in the water. A little wiggle room won't hurt. 
What You Need
Essential Ingredients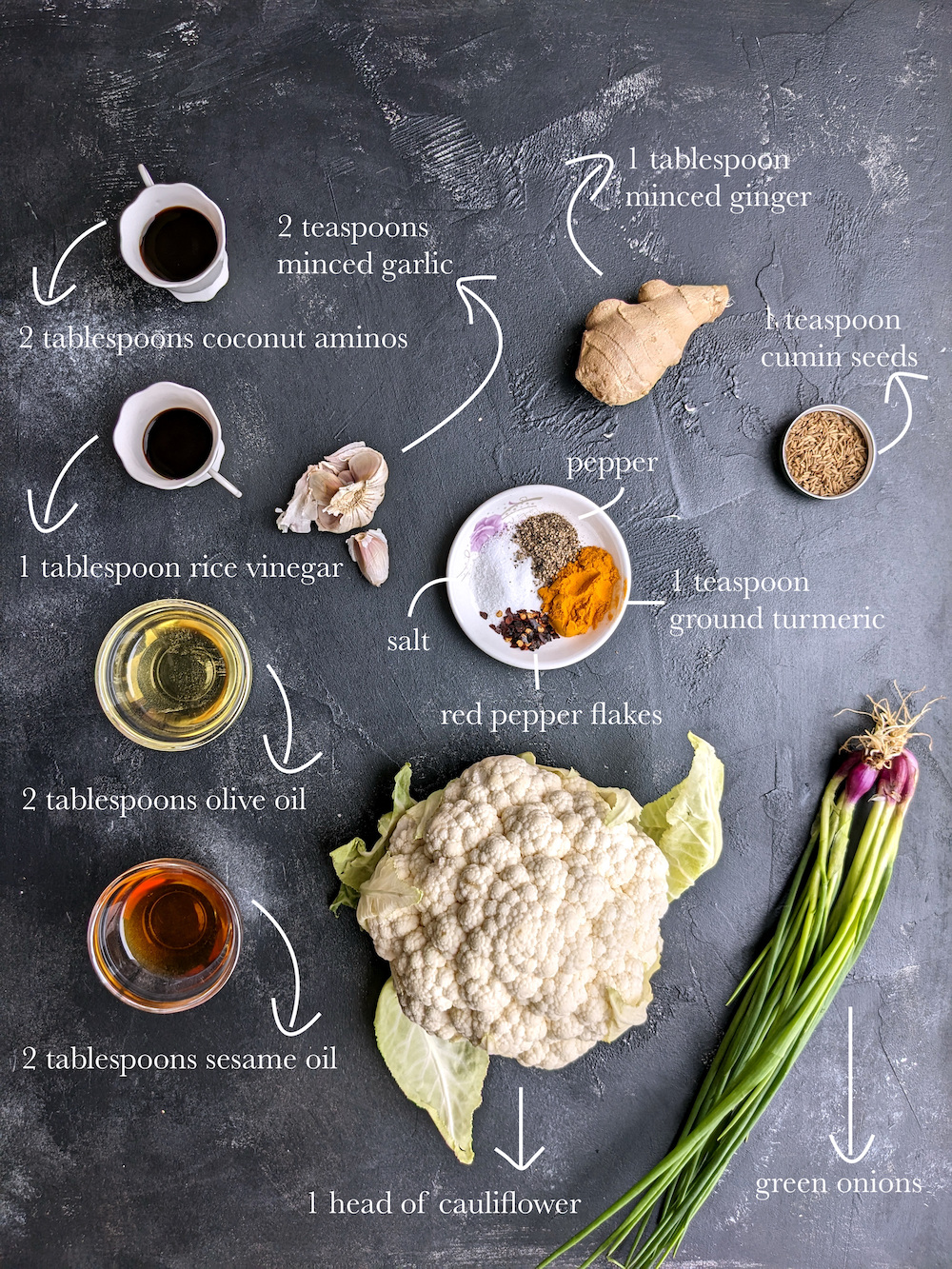 Choosing the Perfect Cauliflower for Steak Cuts
To truly unleash the peak flavors in your sous vide cauliflower steak, it all starts with choosing the perfect head of cauliflower for steak cuts. The quality and freshness of the cauliflower will greatly impact the final taste and texture of your dish.
Look: When selecting cauliflower for steak cuts, look for heads that are firm and tightly packed. The florets should be compact, and the leaves should be fresh and vibrant, without any signs of wilting or discoloration. Avoid cauliflower heads that have brown spots or feel soft to the touch, as these are indications of age and potential spoilage.
Size: Depending on the number of servings, size also matters when it comes to cauliflower steaks. I used a small head of cauliflower in this recipe that yielded two 1.5-inch steaks and some crumbled pieces. You might want to opt for medium to large heads of cauliflower, as they will yield more substantial and satisfying steaks. 
Color: Another factor to consider is the color of the cauliflower. While the traditional white variety is most commonly found, keep an eye out for vibrant orange, purple, or green varieties as well. These colorful options not only add visual appeal to your dish but can also contribute their own unique flavors and nutritional profiles.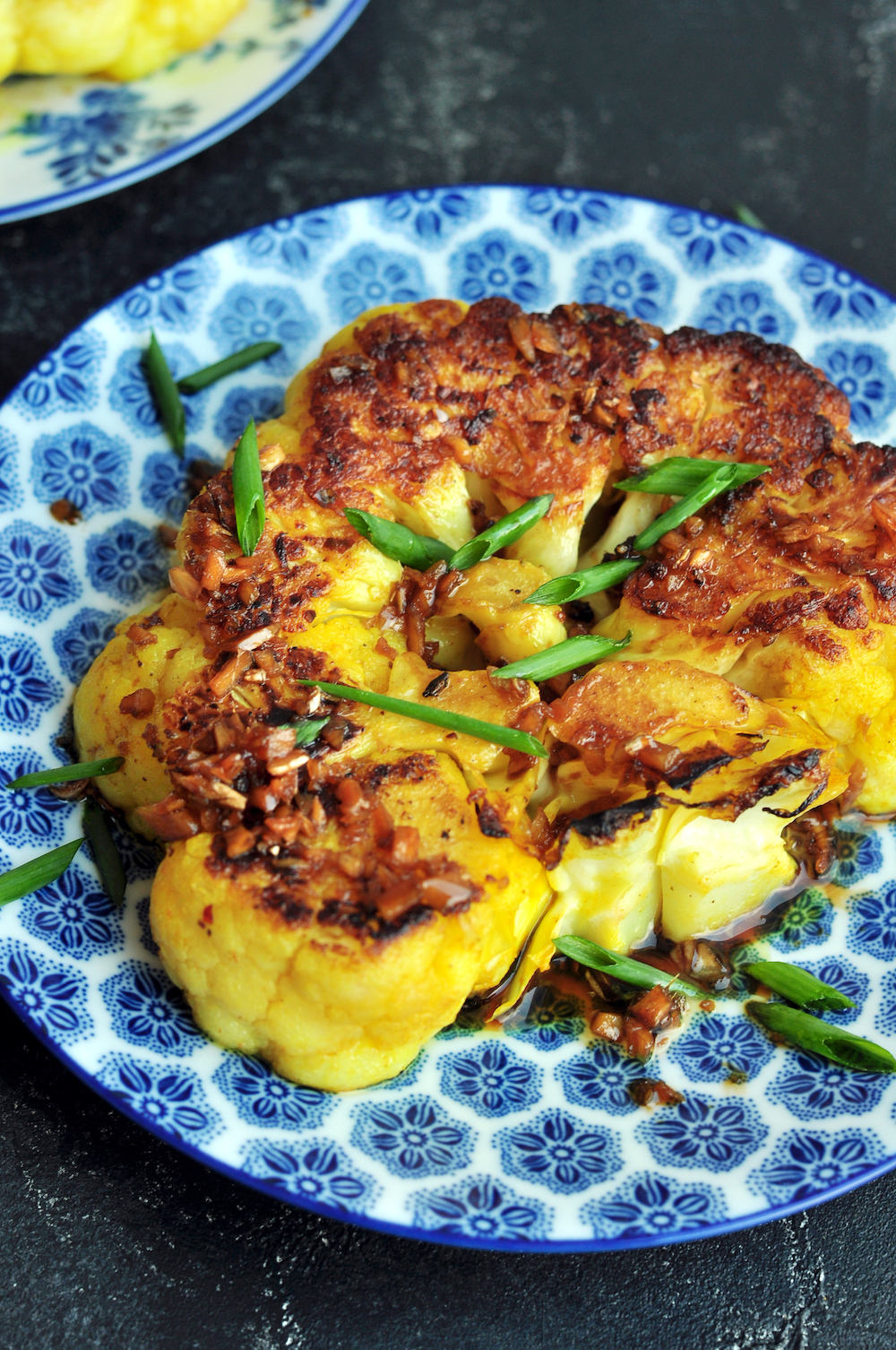 Essential Equipment 
A sous vide immersion circulator. I used an Anova Precision Cooker to cook the cauliflower steaks.
A large pot or a sous vide container. I personally use an Anova sous vide cooking container which holds up to 16L of water with a removable lid and a rack. I used the rack to weigh the cauliflower down to make sure it was completely under the water for the entire cooking time. You can also use a large and deep soup pot.
A vacuum sealer. When it comes to sous vide vegetables, I'd highly recommend using a vacuum sealer as it produces the best results. 
Vacuum-sealer rolls. For this recipe, I used vacuum-sealer rolls to custom-cut the bags according to the size of my cauliflower steaks. If you wonder how to choose the right bags for sous vide, read Sous Vide Bags 101.
A cast-iron or heavy-duty skillet. To finish the cauliflower steaks, sear them in a heavy-duty skillet. 
A good knife. A good knife is absolutely essential to a StreetSmart Chef. I used my favorite Global knife to cut my cauliflower steaks.
How to Sous Vide Cauliflower Steaks Step by Step
Once you've selected the perfect cauliflower and got all the essentials ready, it's time to cook up that baby! 
Step #1: Set up the sous vide. 
Preheat water to 185°F (85°C) using a sous vide cooker. The temperature is high, so protect your counter surface if necessary. 
Step #2: Prepare cauliflower steaks.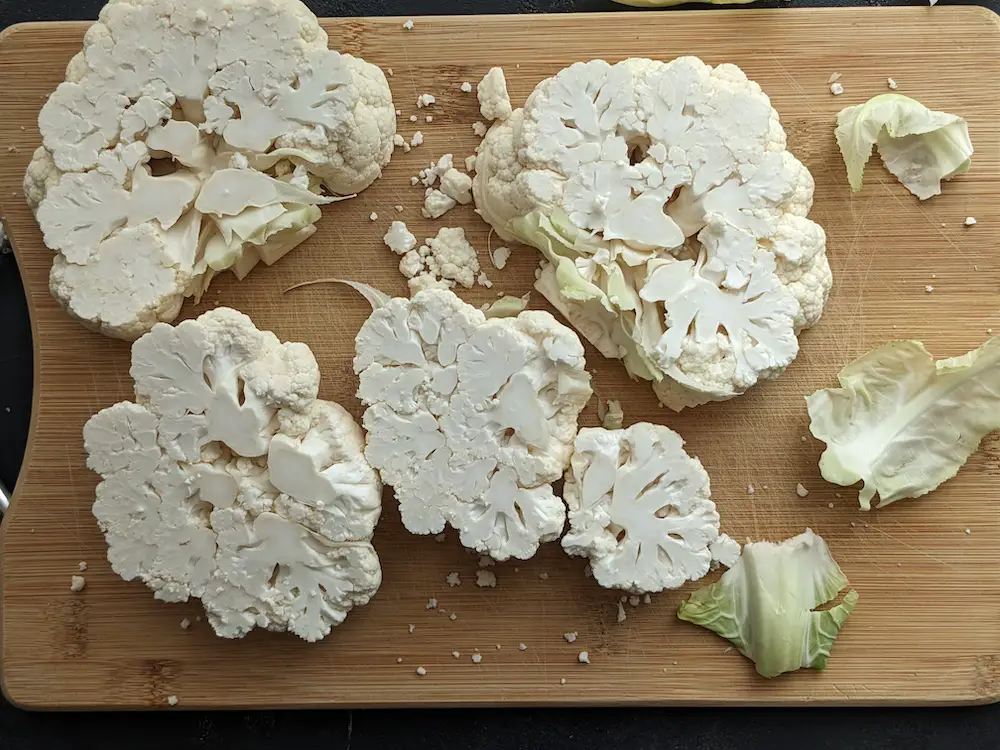 Prepare your cauliflower by removing the leaves. Cut it in half lengthwise and slice it into steaks at least one inch in thickness, including the core, which helps to hold the steak together. The key to getting nice steaks is to include a part of the core in each cut. The slices without the core will crumble and fall apart. That's okay. You can still sous vide them or cook the crumbled pieces in a stir fry. 
Step #3: Season the cauliflower steaks.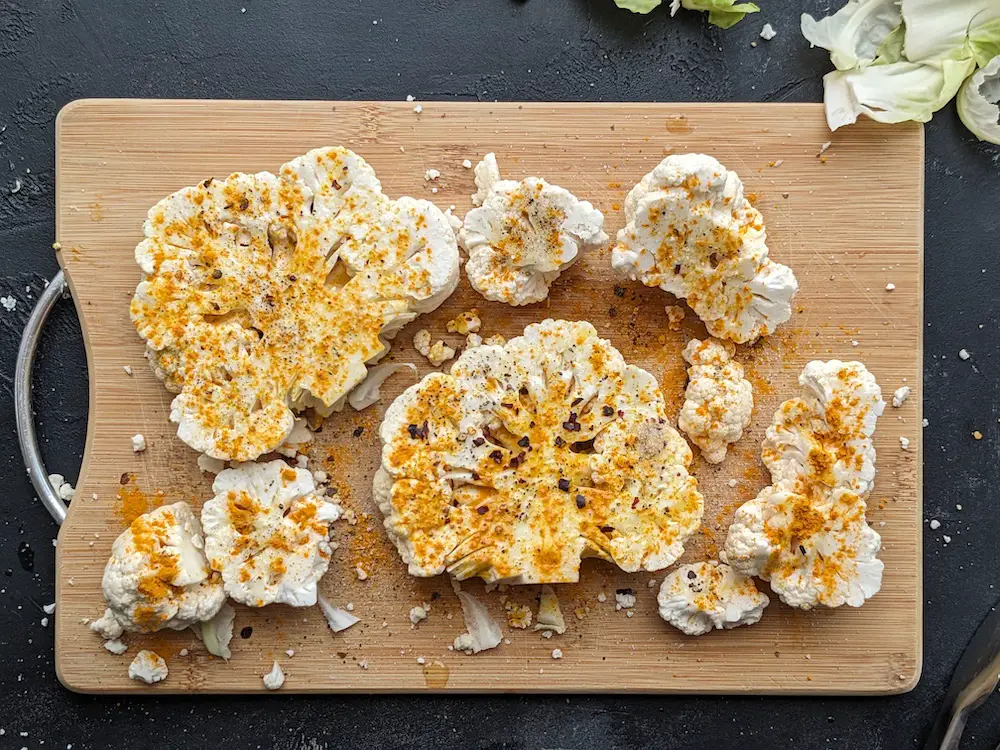 To start, give your cauliflower steaks a gentle brush on both sides with olive oil. This will help secure the seasonings you decide to put on. From here, you can keep it simple with just a sprinkle of salt and black pepper, or get creative by adding spices like turmeric, red pepper flakes, and cumin seeds like this recipe. The choice is yours, but remember that the sous vide method will intensify the flavors, so a little bit goes a long way.
Step #4: Vacuum-seal your cauliflower steaks for sous vide.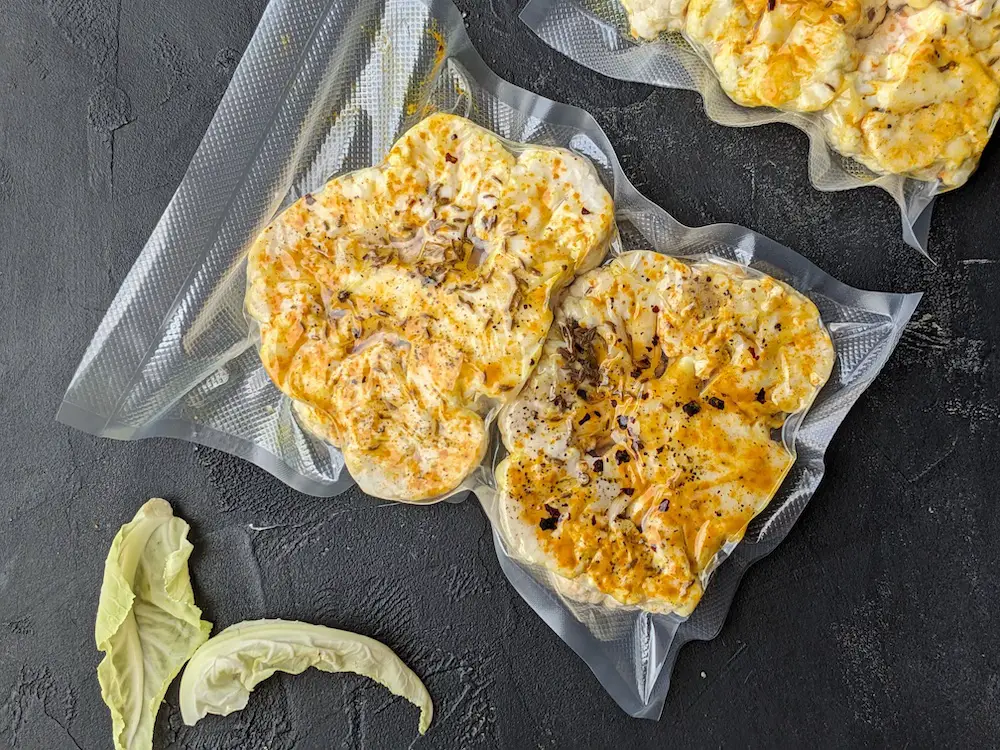 This step is crucial as it ensures that the flavors and juices are locked in during the cooking process. If you don't have a vacuum sealer, you can use the water displacement method by placing the cauliflower steaks in a zip-top bag and slowly submerging them into the water bath. 
Gently lower the bag of cauliflower steaks into the water bath, allowing the air from the bag to come out. Make sure that they are fully submerged by weighing them down. Let them cook for one hour, allowing the sous vide magic to work its wonders. During this time, the cauliflower will slowly cook through, becoming tender and infused with the flavors of the seasonings.
Step #5: Make the Gluten-Free Soy-Ginger Sauce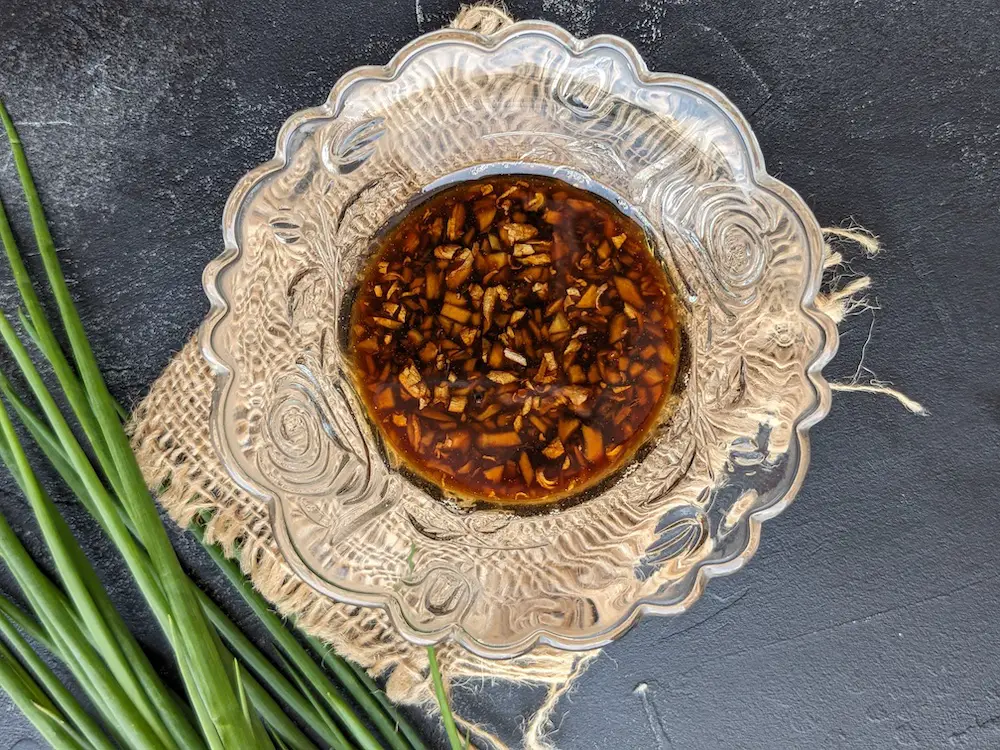 While the cauliflower steaks are cooking, it's time to elevate your dish even further by creating a gluten-free soy-ginger sauce that will complement the flavors of the cauliflower. This sauce adds a delicious umami to the already savory cauliflower steaks, taking them to a whole new level of taste and sophistication.
To start, gather the following ingredients: sesame oil, freshly grated ginger, freshly minced garlic, coconut aminos, and rice vinegar. The coconut aminos is essential to keep the sauce suitable for those with dietary restrictions, while the combination of ginger, garlic, and vinegar adds depth and complexity to the overall flavor profile.
In a small skillet over medium-high heat, add sesame oil, followed by ginger and garlic. Once they are fragrant, reduce the heat to medium-low, stir in coconut aminos and vinegar. Let it simmer until the sauce is thickened, about 1 or 2 minutes. 
Step #6: Sear the cauliflower steaks.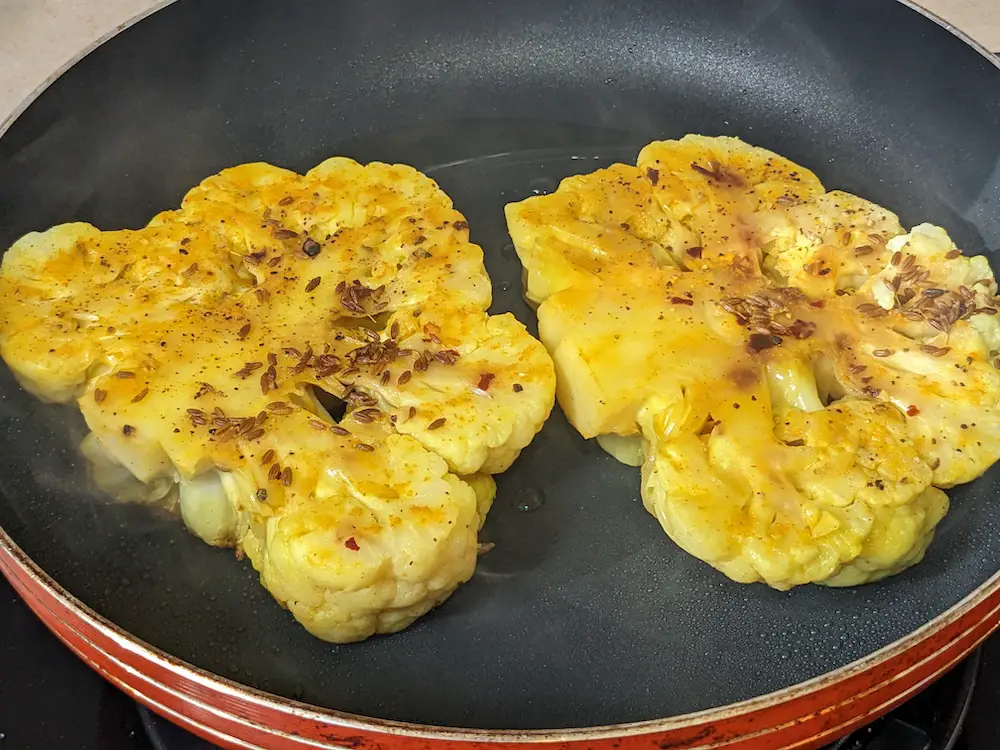 After the cooking time is up, carefully remove the bag of cauliflower steaks from the water bath. The steaks may appear slightly pale but don't worry. A quick sear on a hot grill or in a sizzling pan will add a beautiful caramelized color and create a crispy crust.
Step #7: Serve. 
When it comes time to serve, drizzle the gluten-free soy-ginger sauce generously over the perfectly cooked cauliflower steaks. The sauce will seep into the crevices of the florets, intensifying every bite with its umami goodness. The ginger and garlic bring a pleasant warmth and depth, while the touch of sweetness from the coconut aminos balances out the tanginess of the vinegar. Garnish with chopped green onions.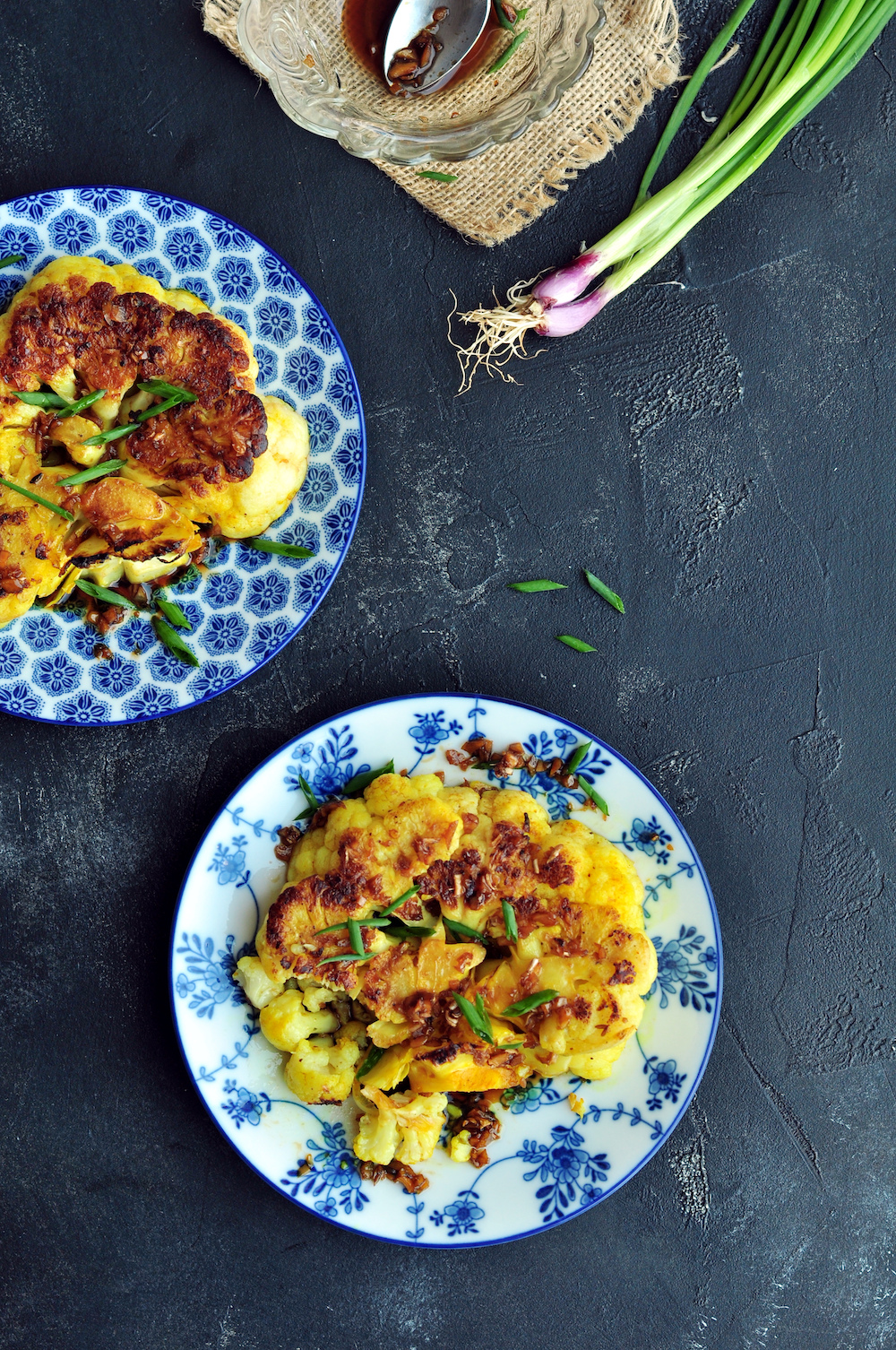 StreetSmart Sous Vide Tips
Weigh it down. Even with vacuum sealing, chances are that your cauliflower will still float in the water bath. To weigh it down, you can put a rack or a large plate on top of the sous vide bags that contain the cauliflower or put a few spoons or butter knives in the sous vide bags before sealing them.
Group cook. Since many vegetables can be cooked at the same temperature of 185°F (85°C), consider cooking asparagus, corn on the cob, carrots, etc., all together in the same water bath, in respective bags. 
Prep ahead and store. These cauliflower steaks are great for meal prep. You can slice them, vacuum-seal them, and leave them in the fridge until ready to cook. Once cooked, they can be stored in the fridge (still in their bags) for up to seven days or in the freezer for up to three months. To reheat, simply sear them in a hot skillet. 
What to Serve with Sous Vide Cauliflower Steaks
These sous vide cauliflower steaks can be served as a main or as a side dish. Here are a few ideas.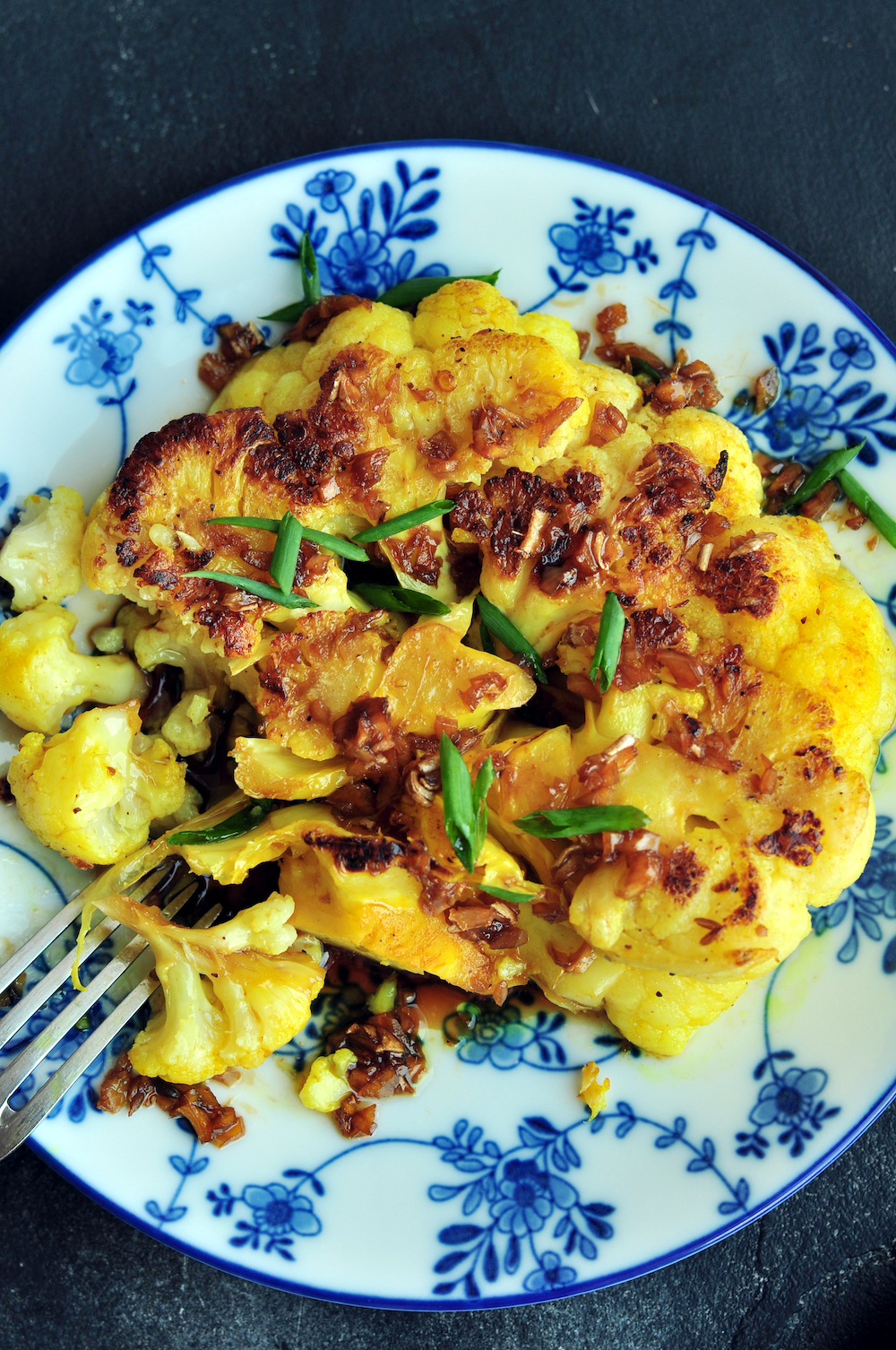 And there you have it – perfectly cooked cauliflower steaks using the sous vide method and a gluten-free umami sauce to take this dish to new heights. Now that you've mastered the art of sous vide cauliflower steaks, leave a comment below and share your experiences. It's going to help inspire many more StreetSmart Chefs just like you.
Print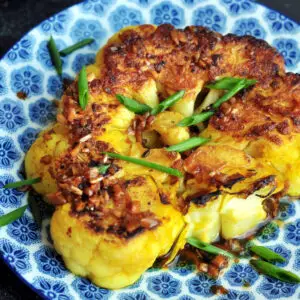 Sous Vide Cauliflower Steaks with Gluten-Free Soy-Ginger Sauce Recipe
Author:

Sharon Chen

Prep Time:

10 minutes

Cook Time:

1 hour 5 minutes

Total Time:

1 hour 15 minutes

Yield:

4

servings

1

x

Category:

Main / Side Dish

Method:

Sous Vide

Cuisine:

Asian

Diet:

Vegan
---
Description
Experience spiced sous vide cauliflower steak with a soy-ginger sauce made gluten-free for some serious umami goodness! 
---
1

small

head of cauliflower

Olive oil

Sea salt

Freshly ground

black pepper

Pinch of red pepper flakes

Ground turmeric, or curry powder, or

paprika

1 teaspoon

cumin seeds

Chopped green onions for garnishing
For the gluten-free soy-ginger sauce:
2 teaspoons

sesame oil

1 tablespoon

minced or grated fresh ginger

2 teaspoons

minced garlic (about

2

medium cloves garlic)

2 tablespoons

coconut aminos

1 tablespoon

rice vinegar
---
Instructions
Set up sous vide:

Preheat

water to 185°F (85°C) using a

sous vide

machine. 

Prepare cauliflower:

Remove the leaves and place the cauliflower head on a cutting board. Cut it in half lengthwise and slice into at least

1-inch thick steaks

, including the core. (Some of the slices will crumble and fall apart. That's okay. You can still

sous vide

them.)   

Season cauliflower steaks:

Brush each slice with

olive oil

, then season with salt, pepper, a pinch of red pepper flakes, and ground turmeric on each side. 

Bag the cauliflower and cook it sous vide:

Prepare two or more

sous vide

bags custom-cut into the size that you need. Place the steaks in one bag and the crumbled pieces in the other. Arrange the cauliflower in one single layer and add cumin seeds in the bags.

Vacuum-seal

and submerge them under the prepared

sous vide

bath. Set the timer for an hour. 

Make the gluten-free soy-ginger sauce:

In a small skillet over

medium-high heat

, add sesame oil, followed by ginger and garlic. Once they are fragrant, reduce the heat to medium-low, stir in coconut aminos and vinegar. Let it simmer until the sauce is thickened, about 1 or 2 minutes. Transfer to a

small bowl

and set aside. 

Sear the cauliflower steaks:

Once the timer goes off, remove the cauliflower from the hot-

water bath

. Open the bags and transfer the steaks onto a plate. Pat them dry with paper towels. Heat a cast-iron or a nonstick flat-bottom skillet over

high heat

, add a little

olive oil

, and

sear

the steaks on each side for about 30 seconds to 1 minute until

golden brown

. Do the same with the crumbled pieces. They will be crispier.

Serve:

Drizzle the

cauliflower steaks

with the sauce and

garnish

with chopped green onions. Dig in. You don't need a knife—it's fork-tender. 🙂
---
---
Nutrition
Serving Size:

1 serving

Calories:

96

Sugar:

2.3g

Sodium:

653.6mg

Fat:

6.3g

Saturated Fat:

1g

Trans Fat:

0g

Carbohydrates:

9.5g

Fiber:

2.6g

Protein:

2.5g

Cholesterol:

0mg
Keywords: Sous Vide Cauliflower Steaks