Veggie-Loaded Mashed Potato Salad
This veggie-loaded mashed potato salad is a must-try on my mother's catering menu—and it's with plenty of joy and excitement that I now share this family recipe with you!
I'm going to assume you've had mashed potatoes before… but mashed potato salad? Not quite as common. This recipe was invented by my mother. Before I moved to the US, I remember this mashed potato salad with a rainbow of vegetables being one of her signature dishes during our holiday gatherings. Not so much a traditional Chinese dish, is it? Mom is very creative in the kitchen. Almost a decade has passed since the first time I had this salad; now it has become a satisfying side dish with carbohydrates, vitamins, and fiber to balance my meals with protein and more vegetables. 
If you're wondering how to turn those fluffy, buttery, creamy lumps into a relatively healthy, delicious salad, here's the down-low.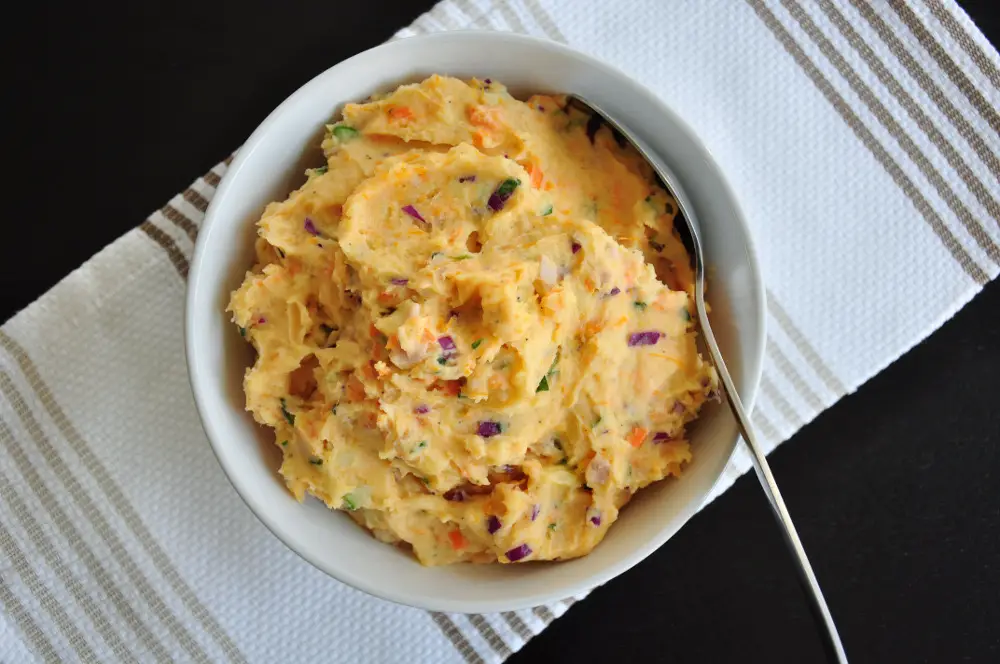 Veggie-Loaded Mashed Potato Salad Ingredients
Mashed Yukon Gold Potatoes
A good half of the base of this recipe, of course, are mashed potatoes. I use Yukon gold potatoes by default for their natural buttery flavor and smooth, creamy texture. And let's just say I learned the hard way that the best potato for this recipe is Yukon gold.
If for some reason you can't get Yukon golds, you can try to make it with russet potatoes or any other potato with higher starch content. You'll want to avoid "waxy" potatoes (like red potatoes). I found that they just don't have what it takes when it comes to good mashing.
Yams or Sweet Potatoes
Garnet yams or sweet potatoes make up the other part of the mashed potato salad base. Note that garnet yams are starchier, like the Yukon gold potatoes, so they mash well.
If you opt for sweet potatoes (which are not the same as yams), they are waxier, but they will mash fine because they'll be mixed in with the starchier Yukon gold potato.
Either yams or sweet potatoes will work for the important job of adding a hint of sweetness to the recipe.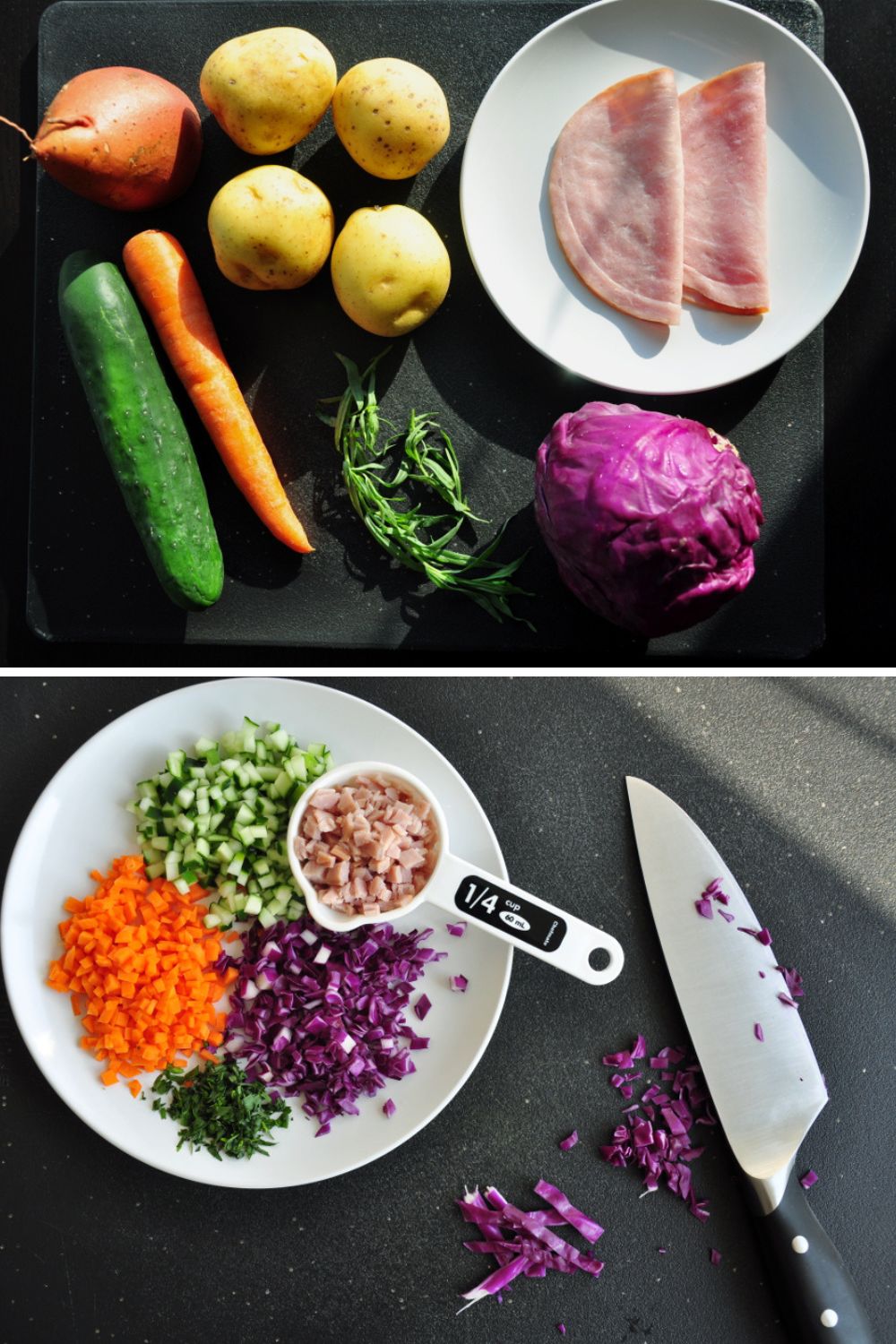 Finely Chopped Veggies: Carrots, Red Cabbage, Cucumber
Next come to the extra nutrients and fiber, flavor, color, and texture. (Bring on all the crunch!) 
Ham (Optional – omit if vegetarian)
Ham is the protein of choice in this recipe. The slightly smokey, savory flavor complements the mashed potato salad perfectly. However, deli turkey or chicken can work if that's your preference. If you are making this for a vegetarian-friendly crowd or cookout, simply omit the meat.
Tarragon
The faint hint of anise from this herb adds the final flavor touch to this recipe. You can use fresh or dried. If you're using fresh chopped tarragon, you'll need one tablespoon. If you're using dried, one teaspoon.
Mayonnaise
Even though we call this a salad, it's not served with a traditional salad dressing. Instead, you'll add a little bit of mayo to give this mashed potato salad an extra smooth, silky texture (which also makes it to-die-for delish).
If you're looking for a healthier alternative to mayo, homemade garlic lemon aioli will also do the trick. It's super easy to make from scratch. If you've got olive oil, egg yolks, dijon mustard, lemon juice, and garlic on hand (plus ten minutes to spare), I highly suggest giving it a try. 
How to Make This Mashed Potato Salad in 5 Easy Steps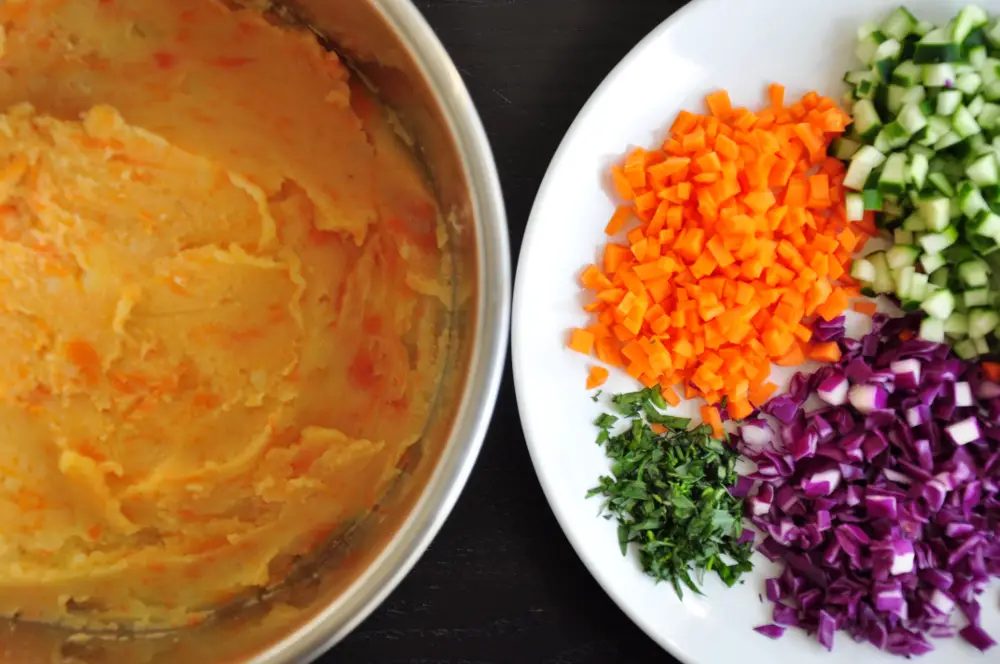 Step One: Gather the ingredients
Round up the potatoes, yams or sweet potatoes, veggies, ham, tarragon, and mayo. 
Step Two: Cook the potatoes
Place the potatoes into a saucepan and cover with cold salted water. Leave enough room to add the yams once the water boils. Don't cook them together from the start, as yams and sweet potatoes cook quicker than Yukon gold potatoes.
As the potatoes are cooking and simmering…
Step Three: Chop the veggies, ham, and tarragon
You want the tarragon and veggies very finely chopped for this recipe. Chop them so fine that when you mix them in, you can hardly see them. Chop the purple cabbage, carrots, cucumber, and tarragon, and set aside.
If using, chop the ham (or chicken or turkey) into little pieces.
Step Four: Drain and mash the potatoes
Once the potatoes are cooked, drain them well, put them in a large mixing bowl, and get mashing with a potato masher.
Step Five: Bring it all together
Add the mayonnaise, ground black pepper, and chopped veggies to the mashed potatoes. Combine until ingredients look evenly spread. Garnish with chopped fresh tarragon if desired. It's now ready to serve!
StreetSmart Cooking Tips
Yams and sweet potatoes require less time for cooking than potatoes. Start cooking the potatoes first.
You can boil the potatoes and yam with the skin on. Once they are cooked, drain. Rinse with cold water, and then it's super easy to peel them with your hands; the skin comes right off. 
If you've got left-over mashed potatoes, simply add some yam or sweet potatoes, load it up with vegetables, then bind everything with some mayo. 
You can serve the mashed potato salad chilled or at room temperature. Personally, I like to let the salad cool, then refrigerate for a couple of hours before serving.
What to Serve with this Veggie-Loaded Mashed Potato Salad
This mashed potato salad is the perfect side dish for virtually any protein. It also makes an awesome potluck or cookout dish. A guaranteed crowd-pleaser.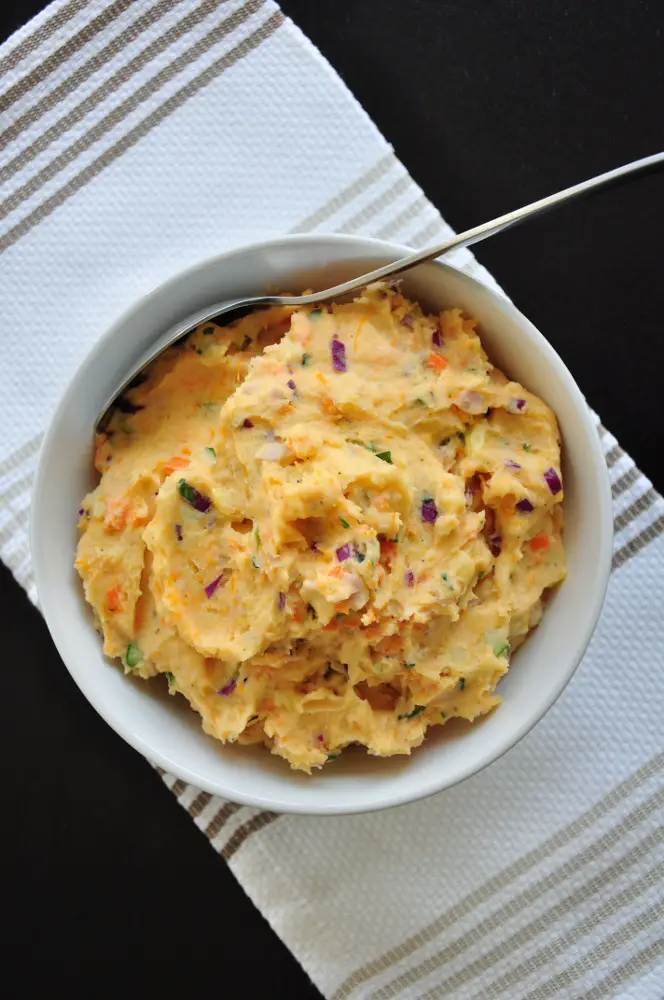 A few protein and main dish pairing ideas for your consideration:
Level things up with a sweet pickle relish or a vegetable mango relish with red bell peppers, red onion pickle, or dill pickle for a barbeque dinner.
With a variety of vegetables and herbs, this salad is a great way to get your daily dietary fiber, vitamin C, and minerals, as well as to add interesting flavors and textures. As a bonus, it is an excellent way to use up leftover mashed potatoes. Don't be afraid to get creative and experiment with different vegetables, herbs, and flavor combinations. Give it a try and let me know what you come up with in the comments below.
Print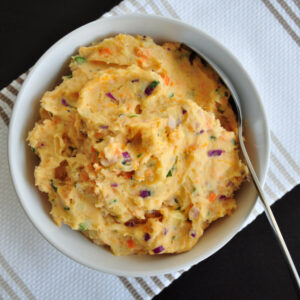 Veggie-Loaded Mashed Potato Salad
Author:

Sharon Chen

Prep Time:

20 minutes

Cook Time:

20 minutes

Total Time:

40 minutes

Yield:

4

–

6

servings

1

x

Category:

Salad/Sides

Method:

Stovetop

Cuisine:

American

Diet:

Gluten Free
---
Description
Make mashed potato salad healthier and more flavorful by adding a variety of fresh and crunchy vegetables. This recipe is gluten-free.
---
1

pound

Yukon gold potatoes, peeled and quartered
Sea salt, to taste

4

ounces

Garnet Yam, peeled and cut into the same size as quartered Yukon potatoes

1/4

cup

carrot, very finely chopped

1/4

cup

red cabbage, finely chopped

1/4

cup

cucumber, finely chopped

1/4

cup

ham, finely chopped (omit the ham if vegetarian)

1 tablespoon

fresh tarragon, chopped (or

1 teaspoon

dried tarragon)

1/4

cup

mayonnaise, plus more if needed
Freshly ground black pepper
---
Instructions
Prepare Mashed Potatoes:

Place the Yukon potatoes into a medium saucepan and cover with cold water. (Keep in mind that you'll need enough water to cover and cook the yams or sweet potatoes later.) Add 1 teaspoon salt and bring to a boil. Once boiling, add sweet potatoes or yams into the saucepan. Reduce heat and simmer for 15 – 20 minutes or until both potatoes and yams are soft when poked with a fork.

Chop the Veggies:

While potatoes and yams are simmering, chop all the veggies, ham, and tarragon and set aside.

Put It All Together:

Drain the potatoes and yams. Mash them all together in a large bowl. Add mayonnaise, ground black pepper, and all finely chopped ingredients into the same bowl. Combine until even.

Serve: Add more sea salt or pepper if desired. Let the salad cool, then refrigerate for a couple of hours before serving.
---
---
Nutrition
Serving Size:

1

Calories:

212

Sugar:

1.5g

Sodium:

105.5mg

Fat:

11.2g

Saturated Fat:

1.9g

Trans Fat:

0g

Carbohydrates:

23.9g

Fiber:

3.3g

Protein:

4.6g

Cholesterol:

12.1mg
Keywords: mashed potato salad