How To Make Mexican Rice
A detailed step-by-step guide on how to make Mexican rice that's authentic, healthy, and addictive every single time. Recipe included.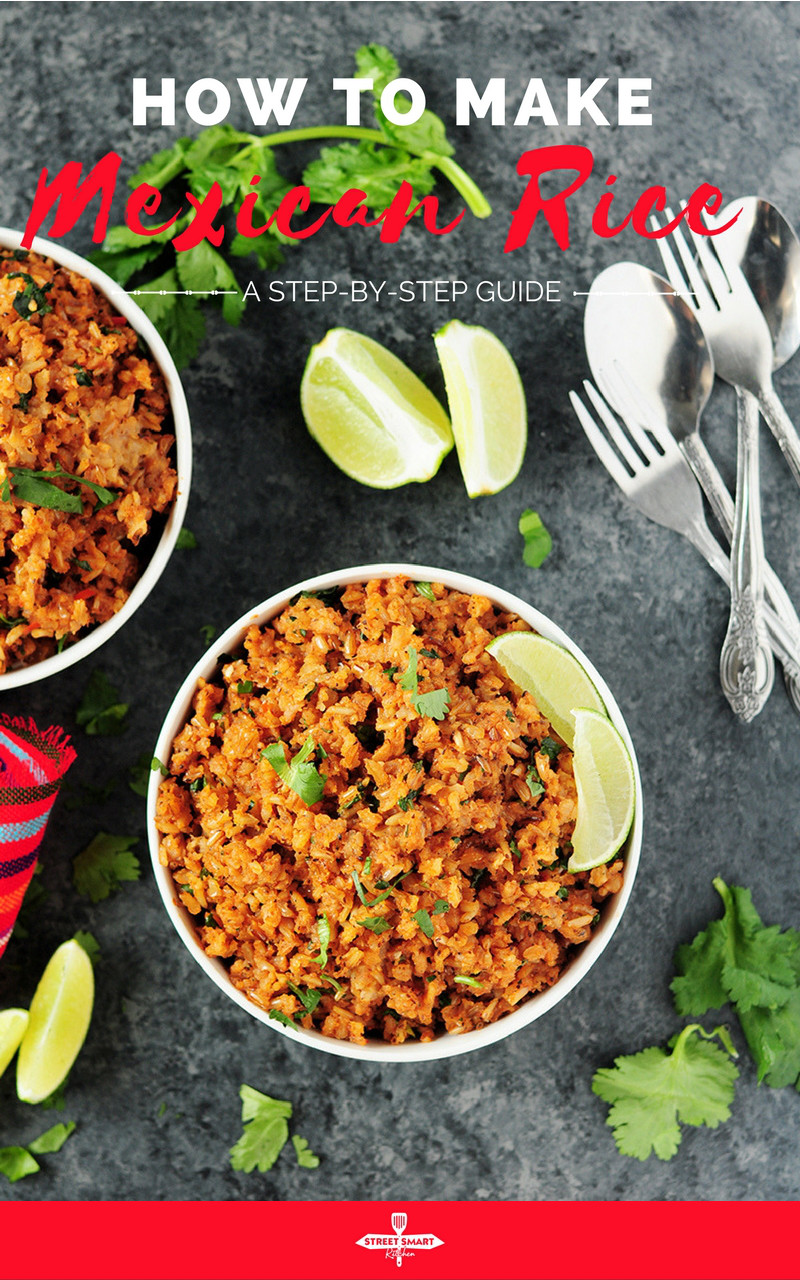 Mexican rice offers a perfect way to spice up a plain rice dish for a more exciting mealtime. Whether you serve it as a simple main course or as a side dish, this Spanish rice version can easily satisfy your family if you like Mexican food. I always make a big batch of it during the weekend and pair it with different proteins and veggies for several meals throughout the week. We'll talk about many ways to enjoy it shortly. Before we get to that, let's follow this cooking guide on how to make restaurant-style Mexican rice for a straightforward and healthy method.
Step 1: Prepare The Cooking Liquid
First things first, to cook rice, you need cooking liquid. To cook Mexican rice, you need a more dedicated cooking liquid that contains a tomato base and a good broth.
Purée Tomatoes with Onions
Some Mexican rice recipes call for tomato sauce or tomato paste as part of the liquid to cook the rice. I found that you can easily level up your liquid base game by puréeing some fire roasted tomatoes and onions in a food processor. Instead of just pouring a can of tomato sauce, this simple step will guarantee a more authentic and enjoyable taste of your Mexican rice.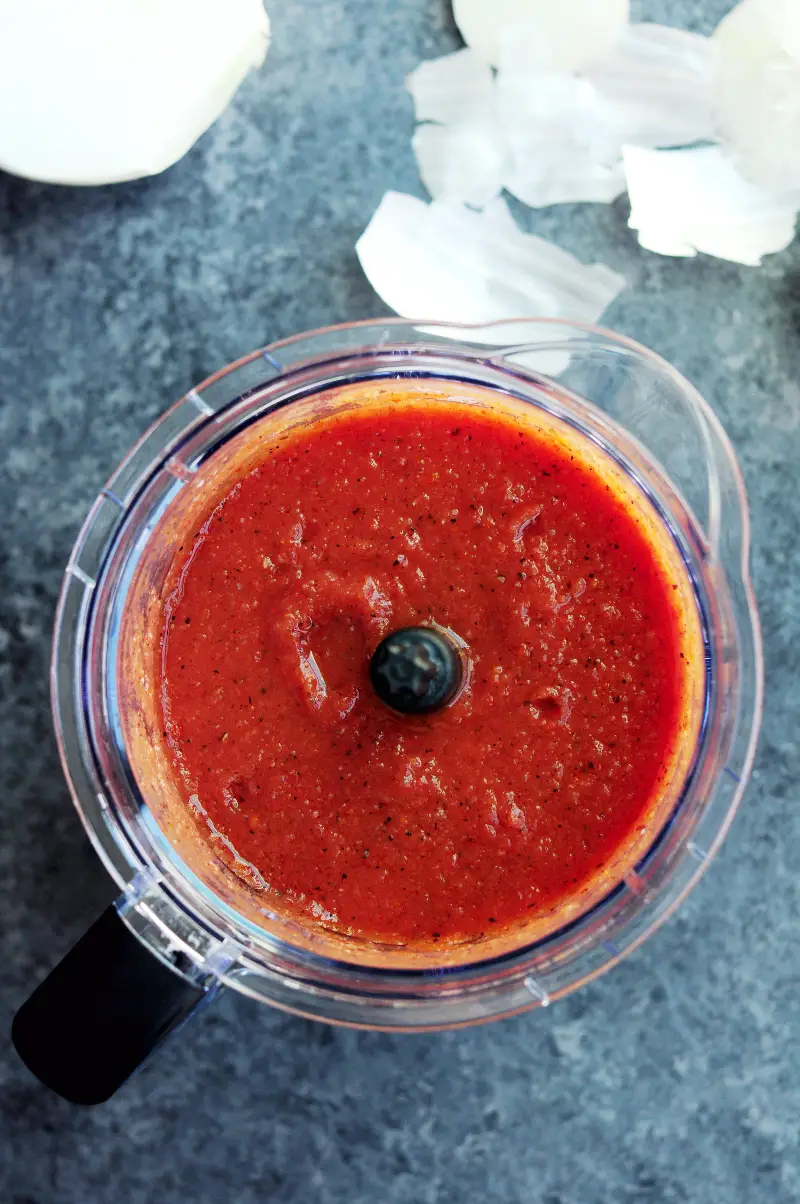 Choose Your Broth
The other part of the cooking liquid is a good broth. Many people, even Mexican restaurants use chicken broth to cook their Mexican rice. However, there's a better alternative and that is chicken bone broth. If you are making an effort to eat healthy by cooking at home, why not to incorporate bone broth into your cooking to gain more collagen, protein, calcium and all other benefits from it? Not to mention the flavor of a good chicken bone broth is far more superior than any regular store-bought chicken stock. To learn more about bone broth, check out this in-depth guide.
Step 2: Toast The Rice
Whichever rice you choose to cook, you want to toast it before adding it to the cooking liquid. For a healthier version, I'd recommend brown rice over white rice or regular long-grain rice for more added fiber and nutrients.
To toast the rice, heat oil in a medium saucepan first. If vegetable oil is the first choice comes into your mind in this step, I'd strongly vote against it because most of the vegetable oils are highly processed and are bad for you. Instead, you can use avocado oil, coconut oil, or olive oil to toast your rice.
Coconut oil has a lower smoke point than avocado oil and olive oil. If using, heat it up over medium heat for five to seven minutes.
Once you add the rice to the pan, stir slowly and constantly to allow the oil to coat the rice. This step takes about eight to ten minutes. You want your rice to be slightly browned.
At this point, stir in lots of minced garlic, at least one tablespoon, and chopped fresh chili peppers into your rice. Red chili peppers, jalapeño peppers, or serrano peppers all work wonderfully.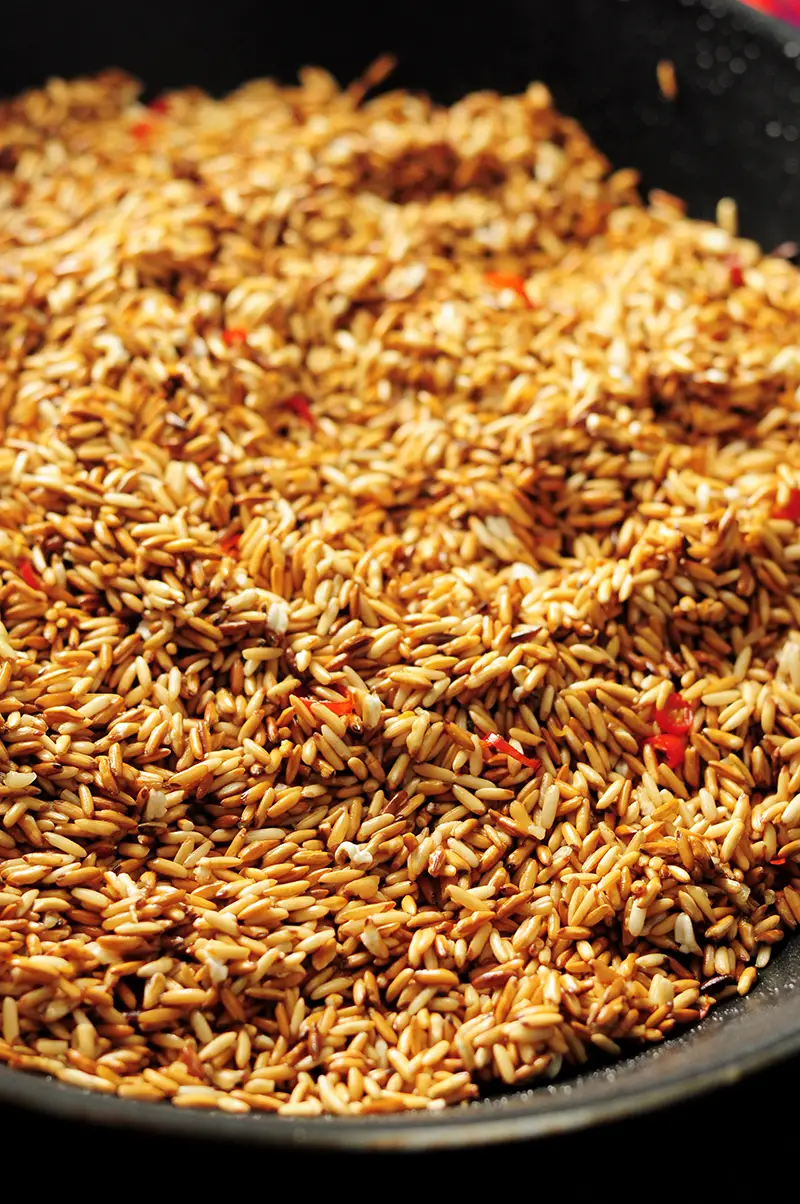 Step 3: Combine and Cook
Now you've got your supreme cooking liquid ready and your rice toasted, next step is to cook.
For two cups of uncooked rice, pour two cups chicken bone broth and two cups that fabulous tomato puree from your food processor. Stir in some kosher salt and ground cumin. Combine all ingredients and bring to a boil. Reduce heat to low, cover and cook for 45 minutes, undisturbed. Please note that the cooking time for different types of rice varies.
Step 4: Finish with Freshly Squeezed Lime Juice and Fresh Cilantro
Once the rice is cooked, let it sit for another 10 to 15 minutes away from the heat. To finish this great recipe, squeeze in some fresh lime juice, followed by freshly chopped cilantro leaves. If desired, garnish with some chopped fresh tomatoes. Congratulations! You just made the best Mexican rice!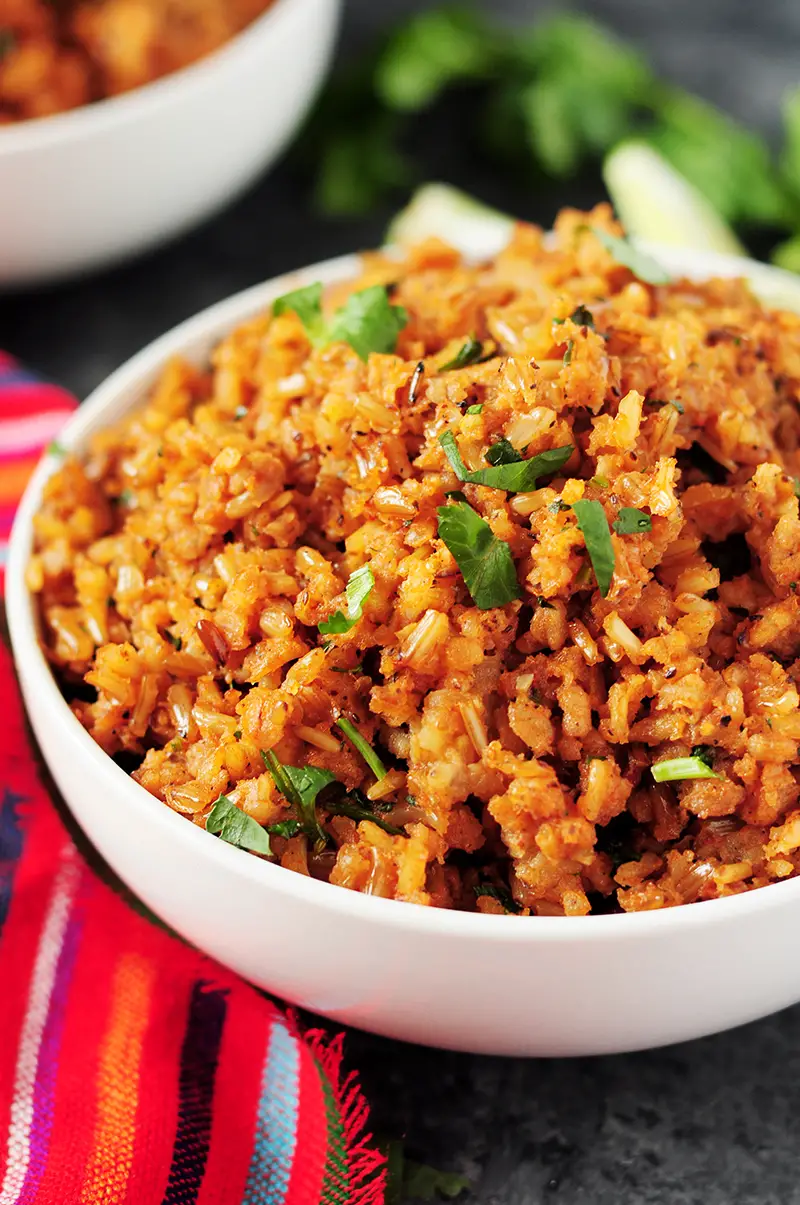 Alternate Option: How to Make Mexican Rice in a Rice Cooker
While this recipe gives a way to make authentic Mexican rice recipe on a stovetop, you could also cook it in a rice cooker, which allows you to be hands-off since you don't have to worry about turning off the heat.
To do that, you may toast your rice in a sauté pan on the stovetop, transfer it into your rice cooker along with all other ingredients to combine, then set the cooker to cook according to the instructions.
I do all my rice cooking in my Tatung Rice Cooker, which is one of my absolute favorite things in the kitchen. If you happen to have one of those or consider getting one yourself after reading my review, leave a comment below and I will share the detailed instructions with you.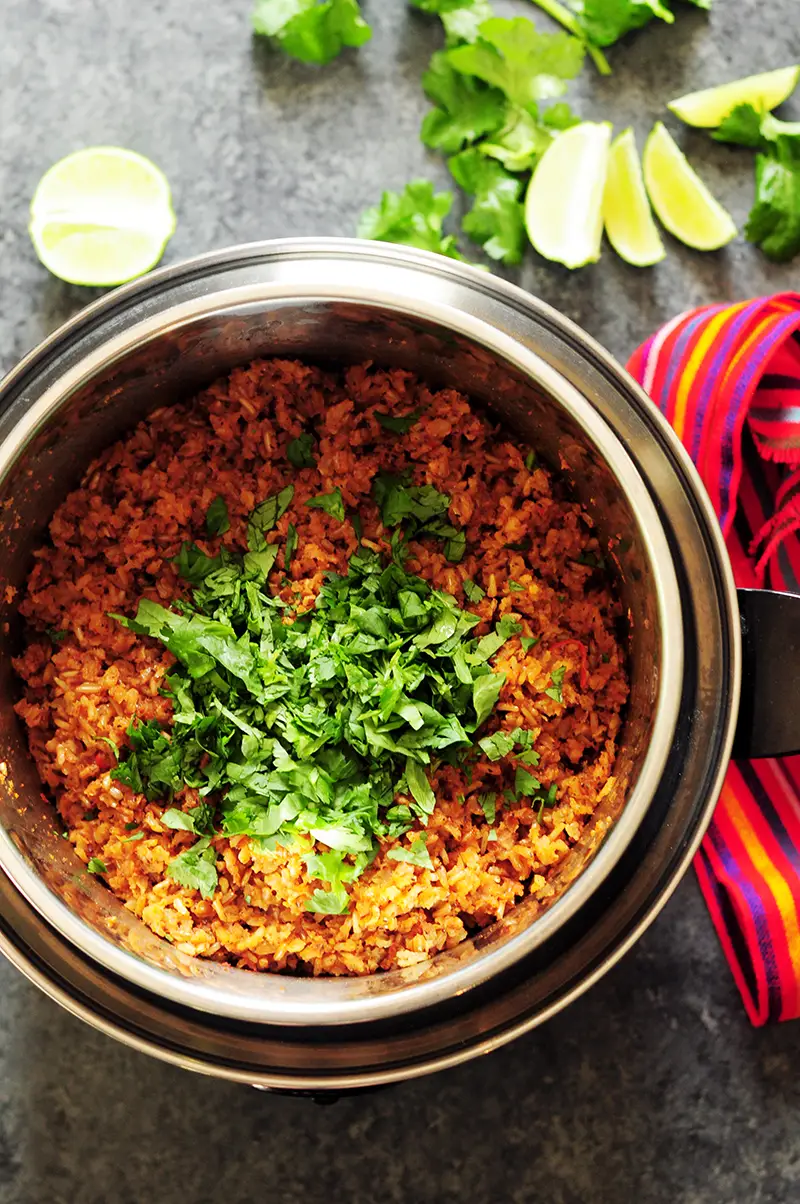 Serving Suggestions
This authentic Mexican rice recipe makes an ideal dish to serve on the side of Mexican cuisine like enchiladas or quesadillas. My favorite way of enjoying it is to add it to my burrito bowls, like this grilled chicken burrito bowl or this chipotle burrito bowl. Of course, it will make your tacos and burritos so much more flavorful.
Wanna go beyond Mexican cuisine? Simply consider the rice as a side to your proteins and vegetables. It's a game changer for a full meal.
When you want a quick and easy dinner, serve it as your main course. Whether you keep it as is or add slices of avocado on top, I promise that you won't be disappointed.
After staying in Mexico for a month a few years ago, I've learned many Mexican recipes. But this easy Mexican rice recipe is my most proud one. I hope by following this how-to guide, you'll be able to make the best Mexican rice recipe and enjoy it every time.
Print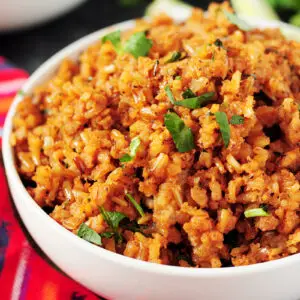 Authentic and Healthy Mexican Rice
Author:

Sharon Chen

Prep Time:

15 minutes

Cook Time:

1 hour

Total Time:

1.5 hours

Yield:

8

servings

1

x

Category:

Sides

Method:

Stove

Cuisine:

Mexican

Diet:

Gluten Free
---
Description
Easy Mexican rice recipe made authentic, healthy, and addictive.
---
1

(28-ounce) can fire roasted whole peeled tomatoes

1

medium white onion, roughly chopped

1/3 cup

avocado oil

2 cups

brown rice

1

–

2

red chili peppers or jalapeño peppers, seeded and finely chopped

2 cups

chicken bone broth (or vegetable broth if vegan)

1 1/2 teaspoons

kosher salt

1/2 teaspoon

ground cumin

1/4 cup

finely chopped cilantro
Juice of

1

–

2

limes
---
Instructions
Purée tomato and onion in a food processor. You'll need 2 cups of the mixture and preserve the rest for later or for a Mexican-style chicken soup.
In a medium saucepan, heat avocado oil over medium-high heat for about 3 minutes. Toast brown rice in the oil, stirring frequently until it's lightly toasted, about 8-10 minutes. Add chili peppers and garlic, stir until combined.
Pour 2 cups of the tomato mixture and chicken bone broth into the saucepan. Stir in salt and cumin. Bring to a boil, then reduce heat to low and cover. Cook for 45 minutes, undisturbed. (Do not uncover the pot to check the rice during cooking.)
Remove from heat and let it stand for 10-15 minutes. Stir in chopped cilantro and lime juice. Enjoy!
---
---
Nutrition
Serving Size:

1

Calories:

227

Sugar:

5.2g

Sodium:

677.2mg

Fat:

9.9g

Saturated Fat:

1.2g

Carbohydrates:

29.9g

Fiber:

3.8g

Protein:

3.8g

Cholesterol:

1.2mg
Keywords: how to make mexican rice