Extremely tender beef barbacoa recipe slow-cooked in a super savory sauce. This recipe only takes 5 mins of hands-on time. Now, you can enjoy barbacoa tacos or burritos anytime!
Hi Sharon,

This is just a quick update on our progress. We're nearly done with the book covers. We've also started with the inner cookbook layout. So far we don't have any issues with your photos and content. But we're likely going to ask for additional photos to accompany non-recipe sections. Chapter Five (Slow Cooker Meal Tips), for instance, can use photos with negative space. I hope this won't be an issue.

Your photos look great, by the way!
I woke up to this short note from my book designer the other day, which put me in a good mood. I am super duper excited!
Speaking of this cookbook, it's the first big event happening at DelishPlan in 2017. I shouldn't be nervous as I've gone through the self-publishing thing with my first book and it was fine. But why do I feel nervous now? I thought about it and I think this is why.
In my first book, I wrote stories about Stephanie, my brother-in-law's girlfriend, who has been suffering from a heart problem since she was a teenager. Life is very different when someone in your life goes in and out of the ER once in a while. My brother-in-law Felix stands by her side and holds her hands. 2015 was a very difficult year for both of them. Stephanie went through a major surgery and they put a pacemaker in her body. We were there in Jacksonville, FL when that happened. Thankfully, she's a lot better now.
I dedicated my book to Stephanie, hoping to help her get back in shape with a 7-day smoothie cleanse program since she can't exercise like a normal person.
Fast forward to 2017, I have published my second book. This time, I didn't write stories about anyone else but me. There are three parts in my slow cooker cookbook. I spilled out my story in the first part of the book as a fresh-off-the-boat Chinese woman who tried to create a meaningful life in the States from scratch. I turned 30 when I purchased a one-way ticket to San Francisco, CA from Shanghai, China, leaving everything behind. It was scary as hell. Luckily, Han was with me.
I am nervous because it's the story about me. The story that I've never shared so thoroughly anywhere else. I was afraid that if I waited for longer, I would forget the details about what happened in the past three years. So I wrote it down, almost a little selfishly and I poured my heart into the book.
The second part of the book includes all the tricks and tips I learned from my own experience by using two slow cookers frequently. Tips like how to adapt an oven or stovetop recipe into a slow cooker recipe, how to keep vegetables from disintegrating after long hours of slow cooking, how to control the cooking time when I am away, etc are covered in the second part of the book.
The last part of the book includes 49 slow cooker recipes. Recipes like roasts, pasta, pizzas, stuffed peppers, and sweets. My favorites are those slow cooker pizzas. I've covered three pizza recipes in my book. The majority of the recipes are gluten free. There is also a whole chapter dedicated to vegetarians.
That's basically the structure of my book. You can learn more about the book in the video I made here. In the meantime, enjoy this slow cooker beef barbacoa recipe from the book.
This barbacoa recipe takes 5 minutes of hands-on time, then let your slow cooker do its thing. There are so many ways to enjoy it. You can make tacos, burritos, sandwiches with it; toss it with noodles; put it in a soup or even top a salad with it. Got more ideas? Leave a comment and let me know how you enjoy this recipe.
Print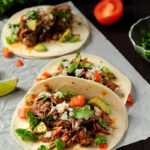 Slow Cooker Beef Barbacoa
---
Author:

Sharon Chen

Prep Time:

5 minutes

Cook Time:

8 hours

Total Time:

8 hours 5 minutes

Yield:

8

Category:

Main, Gluten Free, Paleo

Method:

Slow Cooker

Cuisine:

Mexican
Description
Extremely tender beef barbacoa slow-cooked in a super savory sauce. This recipe only takes 5 mins of hands-on time. Enjoy barbacoa tacos anytime!
---
Ingredients
3-4 pounds beef chuck roast
1 medium onion, sliced
3-4 chipotle peppers in adobo
1 cup beef broth or bone broth
4 cloves garlic
1 1/2 tablespoons ground cumin
1 tablespoon dried oregano
2 teaspoons salt
1/2 teaspoon ground black pepper
1/4 teaspoon ground cloves
1/4 cup fresh lime juice
3 bay leaves
For serving:
Tortillas
Chopped white onion
Chopped tomatoes
Chopped fresh cilantro
Chopped avocado
---
Instructions
Cut beef into large cubes and place them in a slow cooker. Add onions.
Place chipotle peppers, broth, garlic, cumin, oregano, salt, pepper, ground cloves, and lime juice in a food processor. Pulse until blended. Pour the mixture over the beef. Add bay leaves.
Cover and cook on low for 8-9 hours or on high for 6 hours. Shred the beef with two forks. Use tongs to serve the barbacoa in tacos with your desired toppings.
Notes
This recipe can also be made with the Fusion Cooker at cooking level 3 for 2 hours.
Nutrition
Serving Size:

1

Calories:

646

Sugar:

1.7g

Sodium:

790mg

Fat:

47.9g

Saturated Fat:

18.9g

Carbohydrates:

5.2g

Fiber:

1.1g

Protein:

46g

Cholesterol:

175mg