I spent a couple years of my childhood in a small town called Tianshui in Gansu province, China when growing up. That's where my father resides. I climbed trees, climbed mountains, explored a forest, flew a kite, and learned to appreciate the hot chili pepper there. That must be how I developed my unusual tolerance of spicy food.
If you like spicy food, you might be familiar with hot chili oil, a popular condiment in Chinese cuisine, particularly used in Sichuan cuisine that heats up your dishes in a gentle Asian way. Like salsa in Mexico, hot chili oil is in every single family in northwestern China. And the chili pepper from that region has a unique fragrance and taste that makes the chili oil extra flavorful.
Hot chili oil can be used as an ingredient in your cooking as well as a condiment, or dip for meat and dim sum. You can request it in any Chinese restaurant in the States, or buy commercial hot chili oil in grocery stores or online. However, I found it's not very accessible in places without a China town and it's even harder to search for that specific type of chili pepper.
After moving to the States, I've tried many types of chili powder for hot chili oil in order to find the taste of my childhood. I've used regular chili powder, cayenne pepper, and even red chili flakes. But none of it has the right taste until I came across this Korean Red Chili Pepper Flakes Powder. The region of this chili pepper powder is China and it's packaged in Korean. People love using it for homemade kimchi, but I discovered that making a chili oil with this chili powder certainly brings back my childhood memory.
Now, with just two ingredients, you can make your own hot chili oil at home in just a few minutes.
All you need to do is to soak the pepper in heated oil. Let the extraordinary flavor from the pepper fully infuse to the oil. Don't get scared by the red color of the oil. Sometimes only the oil is used in cooking and it's not as spicy as it looks. Instead, it brings a strong aroma from the pepper into your dish.
Homemade hot chili pepper can easily be stored in a jar without refrigeration. It lasts for months. After soaking the pepper in hot oil for a few hours, feel free to take the pepper out if you like. I personally prefer to leave the pepper at the bottom of the jar, so I can choose if I want to use the oil only, or I want the pepper solids as well.
Love spicy food? I strongly recommend you make some hot chili oil and I have many savory recipes using it coming your way soon. One of my favorites is this Cold Soba Noodle in Hot Chili Oil Sauce. It only takes 15 minutes and it's a great summer meal!
Print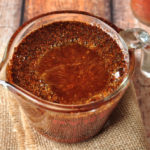 Homemade Hot Chili Oil
---
Author:

DelishPlan

Prep Time:

1 minute

Cook Time:

5 minutes

Total Time:

6 minutes

Yield:

1 1/4 cups

Category:

Sauce, Gluten Free, Vegan

Cuisine:

Chinese
Description
The best chili oil you'll ever have!
---
---
Instructions
Place Korean Red Chili Pepper Flakes Powder in a heat-safe container. For example, a glass measuring cup in the photos will work.
In a small saucepan, heat up oil over high heat for 5 minutes, or until you see a little smoke comes out. Turn off the heat.
Slowly and carefully pour the heated oil onto the pepper powder. It will immediately sizzle. Make sure the running oil touches the entire pepper surface till the pepper is completely covered in the oil. Stir and let cool for 10 minutes. Transfer oil and pepper solids into a jar.
If you want the oil only, let the pepper sit in the oil for a few hours, and then transfer the flavored oil into a jar. By then, the pepper solids are all at the bottom of the measuring cup. It's very easy to discard.
Notes
When heating up oil in a saucepan, make sure that the saucepan is completely dried. Any water in the pan will cause oil to explode. Be careful.
This recipe yields around 1 1/4 cups hot chili oil.