Healthy Quinoa Bowl
Packed with a variety of vegetables and herbs along with a simple and delicious lemon Dijon dressing, this vegan quinoa bowl is rich in flavor and nutrients. It's gluten-free and super easy to customize.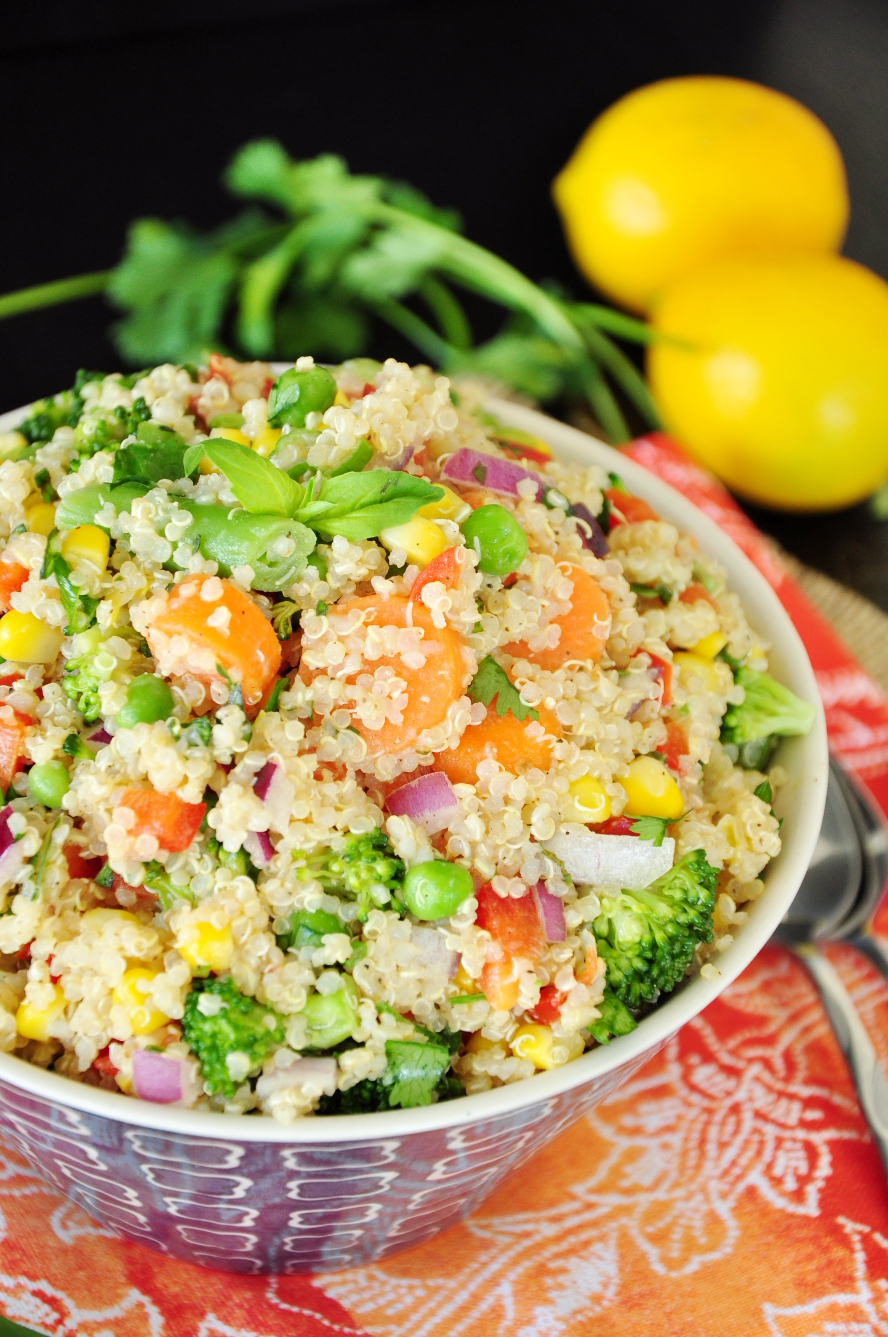 When I was first introduced to quinoa I thought it looked like millet, but with a cuter pronunciation—keen-wah. So cute, right? To my surprise, it tasted quite different than millet, with a nutty taste and somewhat fluffy, crunchy texture.

With that, my dreams of using it to make a creamy, hearty congee (the way my mom always did) were shattered. Nevertheless, the more I experimented with quinoa, the more I began to love it as a staple in my every day healthy recipes—especially for adding some texture and substance to the main dish or salad-style bowl.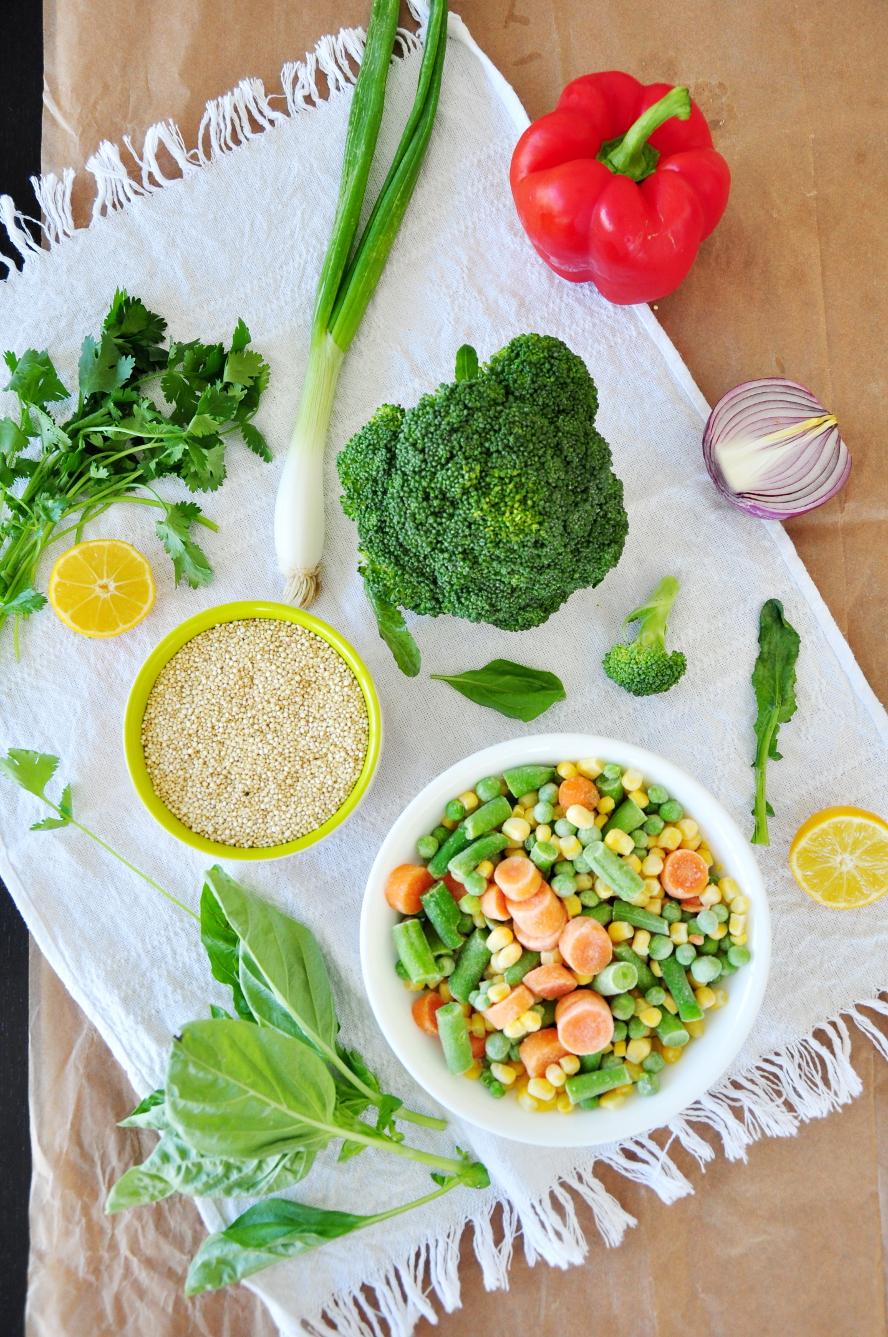 From a nutritional standpoint, quinoa is one of the few plant foods to contain all nine essential amino acids, which makes it a complete protein—a bonus for my vegan friends out there. It's also gluten-free and a source of iron and fiber, as well a few of the B vitamins.

Now, from a pleasure standpoint, I quickly discovered how versatile this little seed is. I love combining healthy eating with things that are flexible. It just makes life easier, doesn't it?

Perfect for a weeknight dinner or your healthy meal prep, this quinoa bowl is packed with a rainbow of veggies like green beans, corn, red onion, and broccoli. Fresh basil and cilantro add freshness and flavor, while a simple dijon dressing ties it all together.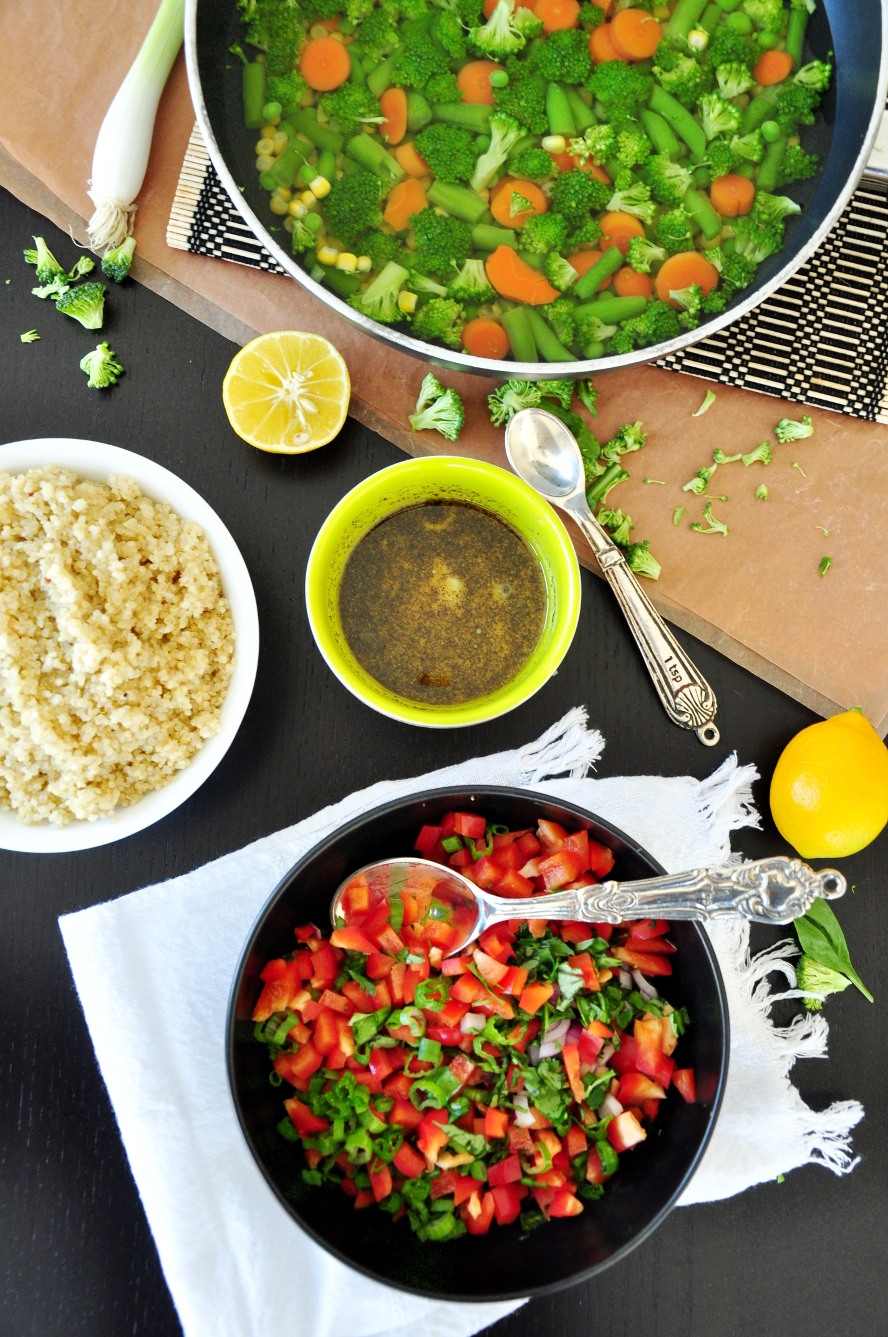 Feel free to put your own twist on this recipe and add in any other ingredients you have on hand. It's supposed to be flexible, right? If you ask me, a quinoa bowl is also a great way to clean out your fridge at the end of the week and get an easy meal out of it!

Here are a few suggestions to get creative with your quinoa bowl flavors, so that they'll never get boring.
Roasted vegetable quinoa bowls



Any roasted vegetable will work. I'd recommend doing a roasted sweet potato quinoa bowl. This soy-ginger roasted cauliflower would also be a flavorful addition.
If you're looking for a boost of protein, you could add any beans, lentils, tofu, or make chicken quinoa bowls if you're a meat-eater.




For a Mexican vibe, toss in some black beans, lime juice, guacamole, chili powder or cayenne pepper, and pico de gallo. Or, go all in and whip up one of these

quinoa burrito bowls

.

To make a Mediterranean quinoa bowl, you could add some black olives, lemon juice, dill, and cucumber.




Asian: Green onion, a touch of soy sauce, garlic, ginger, and

sauteed bok choy

in sesame oil, and sesame seeds.  This

Thai stir-fried water spinach

or

Thai red curry vegetables

could also be a flavorful addition.




If you're in the mood for lighter fare, check out these quinoa salad recipes:





Easy Quinoa Salad




Seafood Quinoa Salad




Kale Quinoa with Oregano Vinaigrette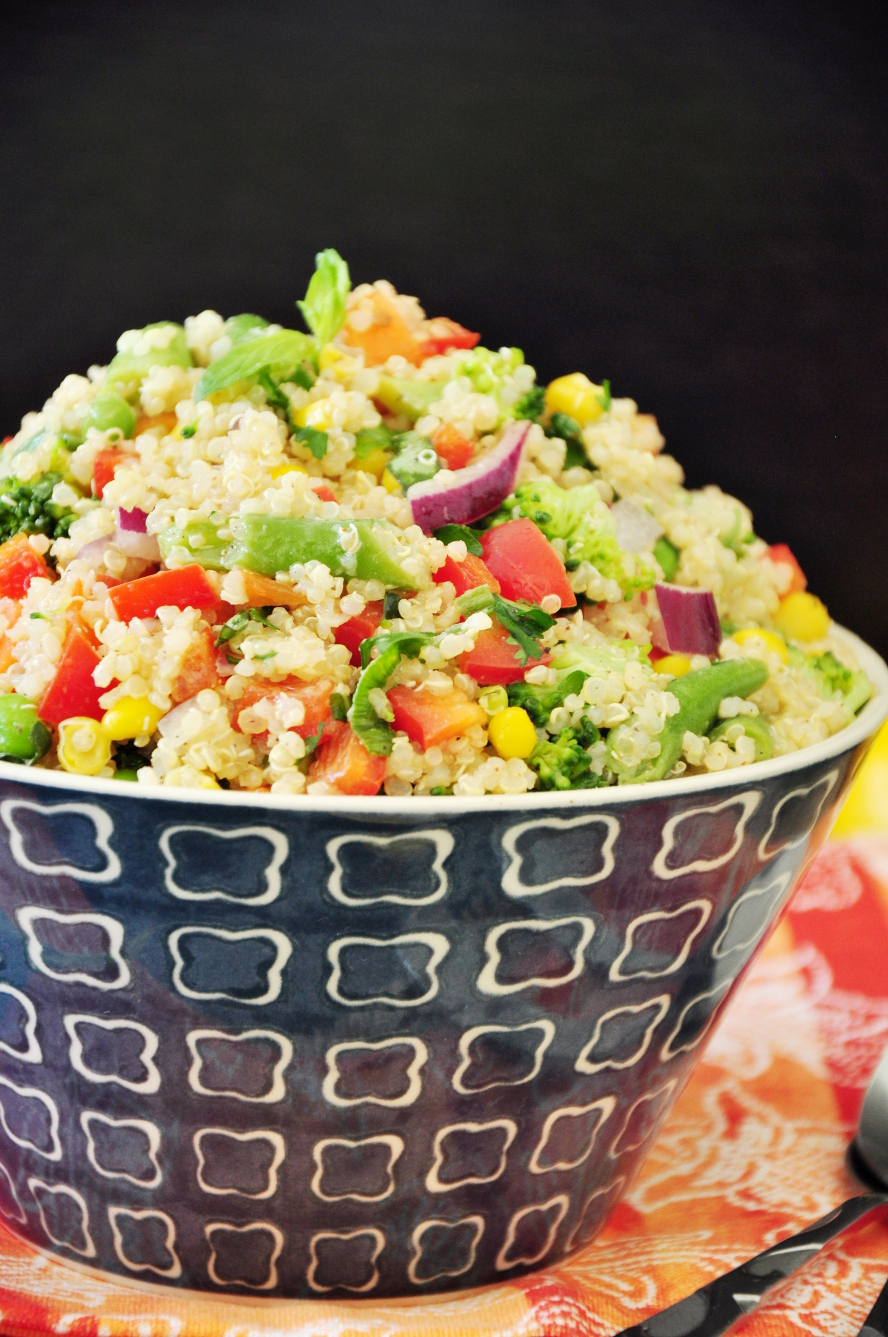 And if you want to switch it up from quinoa bowls or salads, then try making a savory dish, like a stew, Thai curry, or stir-fry, to serve over top of the quinoa. Since quinoa is an excellent high-protein, low-carb alternative to rice (with a versatile flavor), you simply can't go wrong.

I've also loved pairing quinoa with this Thai Fried Squid with Basil Leaves, Eggplant Casserole, and Garlic Dressing Spinach—highly recommended!

On a parting note, I'll leave you with a few hacks I've discovered that will add a pop of flavor to your quinoa any time you want to use it in your recipes (and will have you looking forward to your quinoa bowls every time).

1. Cook quinoa in bone broth or vegetable or chicken broth.
Instead of using water to cook quinoa, go with bone broth, or a vegetable, chicken, or beef broth. If you have some light soup as leftovers, use the liquid. You will find that quinoa tastes excellent with the additional flavor.
2. Add olive oil and salt before cooking.
When I cook quinoa in just water, the result is usually a little dry and bland. This can easily be fixed by adding a pinch of salt and a few drops of good quality of extra virgin olive oil right before cooking.
Print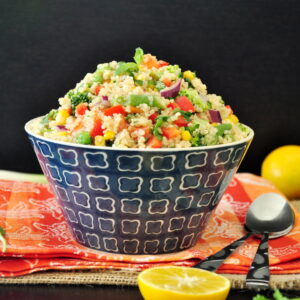 Healthy Quinoa Bowl
Author:

Sharon Chen

Prep Time:

10 minutes

Cook Time:

15 minutes

Total Time:

25 minutes

Yield:

4

servings

1

x

Category:

Gluten Free, Vegan

Method:

Stove

Cuisine:

American
---
Description
An extremely healthy quinoa bowl mixed with vegetables and very savory dressing! Enjoy it warm as a main dish or serve cold as a wonderful salad!
---
1 cup

quinoa

1 cup

broccoli florets, finely chopped

1

package (10.8 oz.) mixed vegetables (corn, carrots, peas, green beans)

1/4 cup

red onion, diced

1

red bell pepper, diced

1

stem green onion, finely chopped

2 tablespoons

fresh cilantro leaves, chopped

1 tablespoon

fresh basil leaves, chopped
For the dressing:
3 tablespoons

fresh lemon juice or lime juice

2 tablespoons

Dijon mustard

2 tablespoons

extra-virgin olive oil

1 teaspoon

kosher salt

1/2 teaspoon

ground black pepper
---
Instructions
Cook quinoa in a rice cooker just like how you cook regular rice. It takes about 10 minutes to cook 1 cup quinoa in my Tatung Rice Cooker and Steamer. If you don't have a rice cooker yet, here's what to do. Rinse quinoa under cold water and drain. Place it in a pot and cover with 1 3/ 4cups water. Bring to a boil, then turn down the heat, cover, and simmer for 12 to 14 minutes, or until all of the water is absorbed. Remove from the heat and keep covered for 5 more minutes. Transfer the quinoa to a bowl and fluff it with a fork; let cool.
Cook mixed vegetables with chopped broccoli florets according to the package instruction. (Empty frozen contents of bag into a saucepan. Add 1 cup water. Cover and cook over medium-high heat for 5 to 6 minutes.) Stir occasionally. Drain and set aside.
In a small bowl, combine lime juice, Dijon mustard, olive oil, sea salt, and ground black pepper. Mix well.
In a large bowl, combine cooked vegetables, red onion, bell pepper, cilantro, basil, and green onion. Add quinoa and pour the dressing over. Stir until even. Dish, serve warm or cold.
---