Garlic Herb Hasselback Potatoes
Perfectly baked Hasselback potatoes with garlic slices in between, brushed with infused butter, topped with cheddar, parmesan, and three freshly chopped herbs.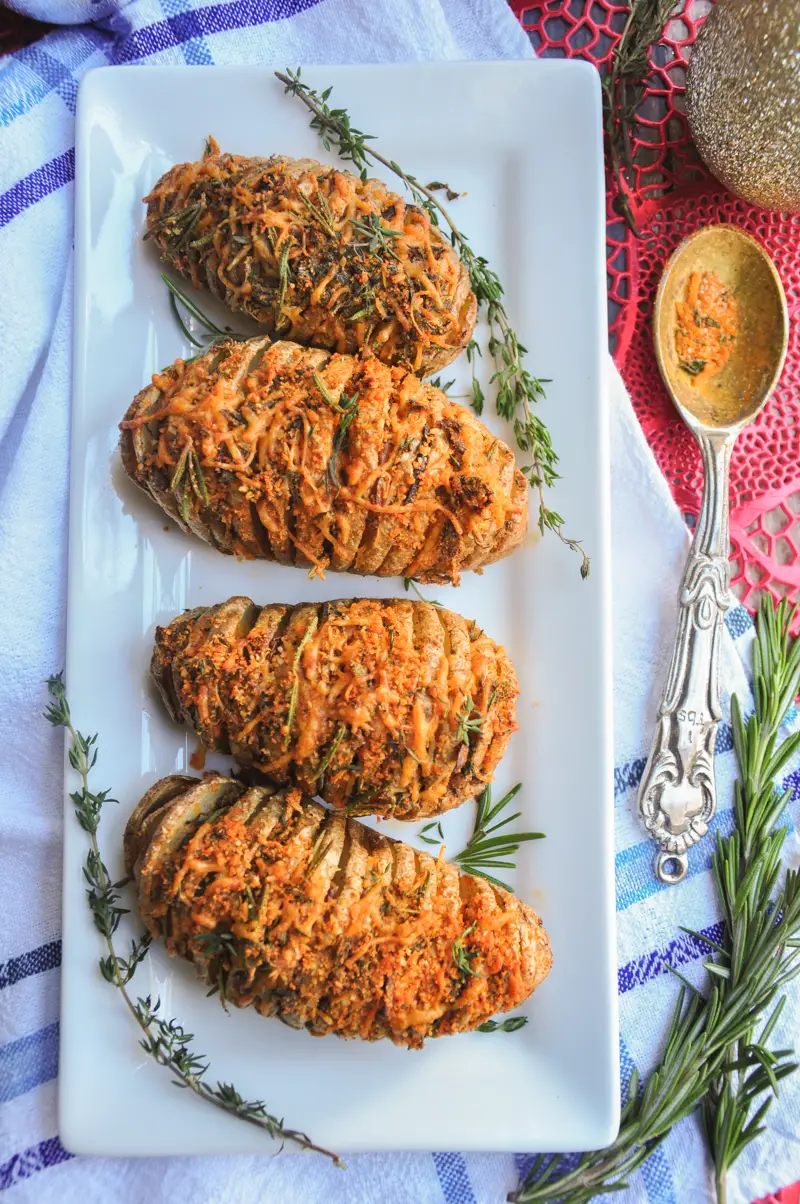 Hasselback potatoes?! I had never heard of them until I typed "sliced baked potatoes" in Google search box. Apparently, those baked potatoes sliced thinly with the bottoms interacting have a fancy name. According to Wikipedia, "Hasselback" refers to the fancy Hasselbacken hotel and restaurant in Stockholm which originated this dish. Hmmm…I feel a little smarter by knowing this now. 😛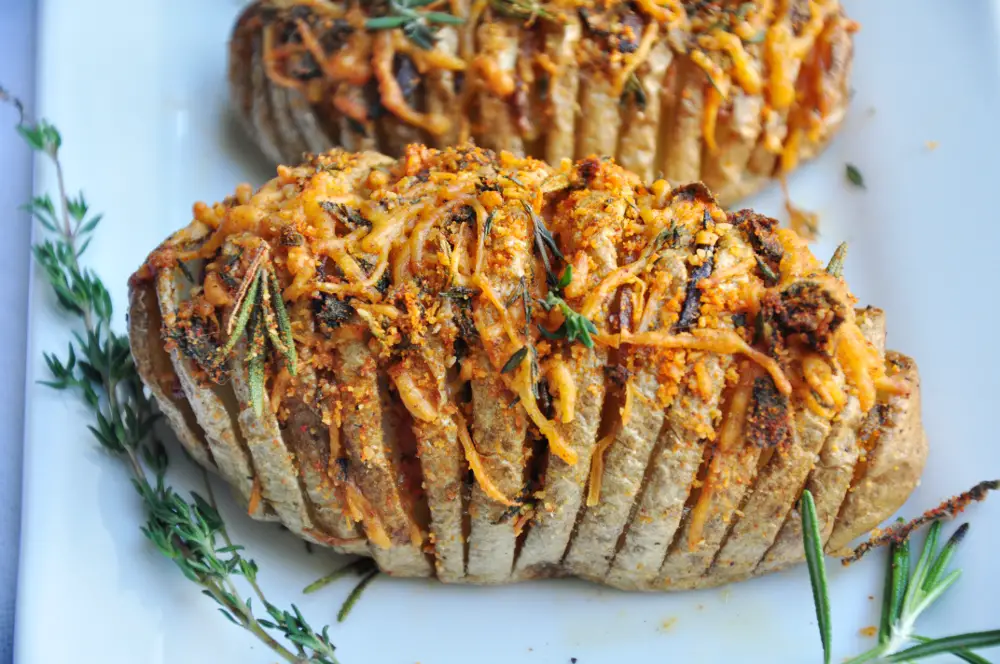 The recipes are all around the web. The potatoes require a bit of effort to prepare; they take at least an hour to bake; they are, like the name, fancy! Are they worth making? I had my doubts since I usually aim to create easy and quick recipes. This one isn't that easy in my book, and it's certainly not quick to make.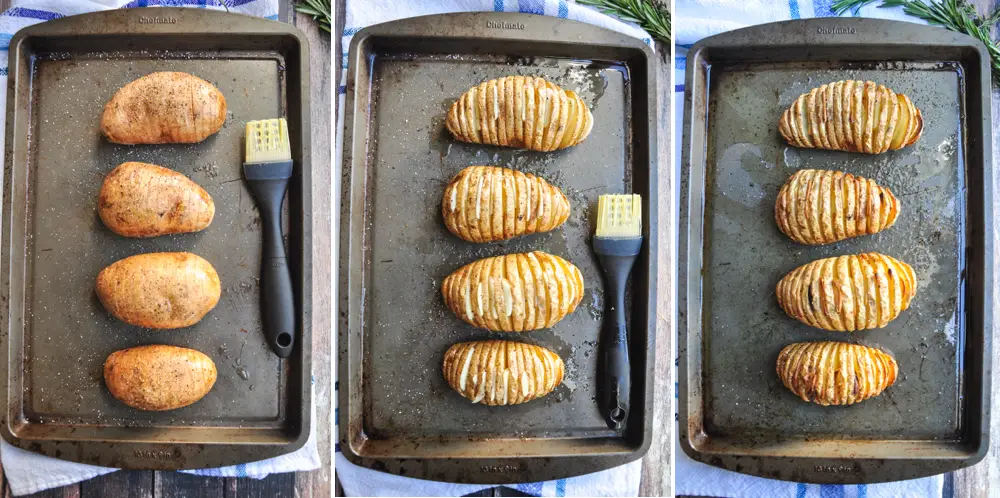 "However, if you want to cook something special, there's no better time to do so than Christmas." I thought to myself, "Just suck it up and do it!"
So I followed this instruction to manipulate only one potato on my first try. Han, the dedicated test tester in the house, devoured the whole thing by himself. Didn't save a single slice to me. ???? He thought I made more…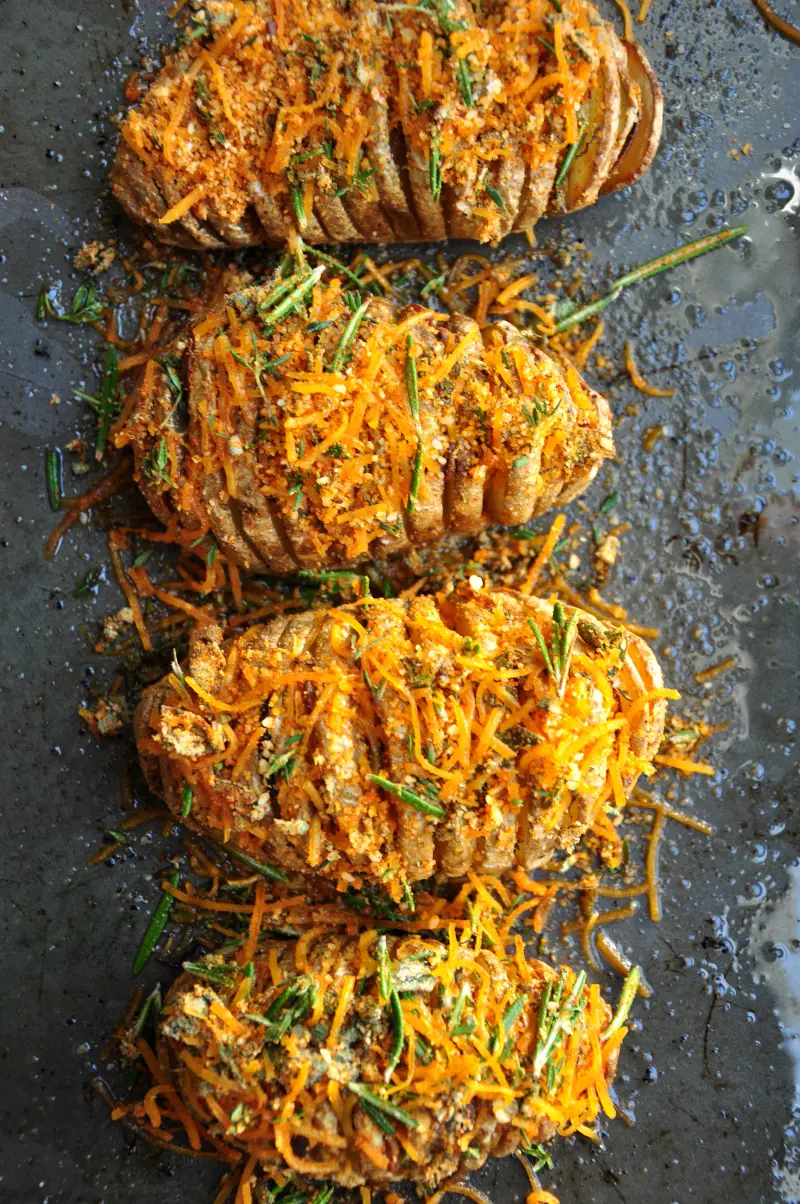 On my second try, I played with the flavor by adding herbs, garlic, and cheese on four prepare potatoes. 15 minutes before they were done, Han started wandering around in the kitchen, bending over to peek at the potatoes in the oven, then wandering around again…
While he was impatiently waiting for the oven to beep, I kept him in my sight mainly to prevent unexpected things from happening to my potatoes. At the same time, I knew I was onto something good, something special for this Christmas.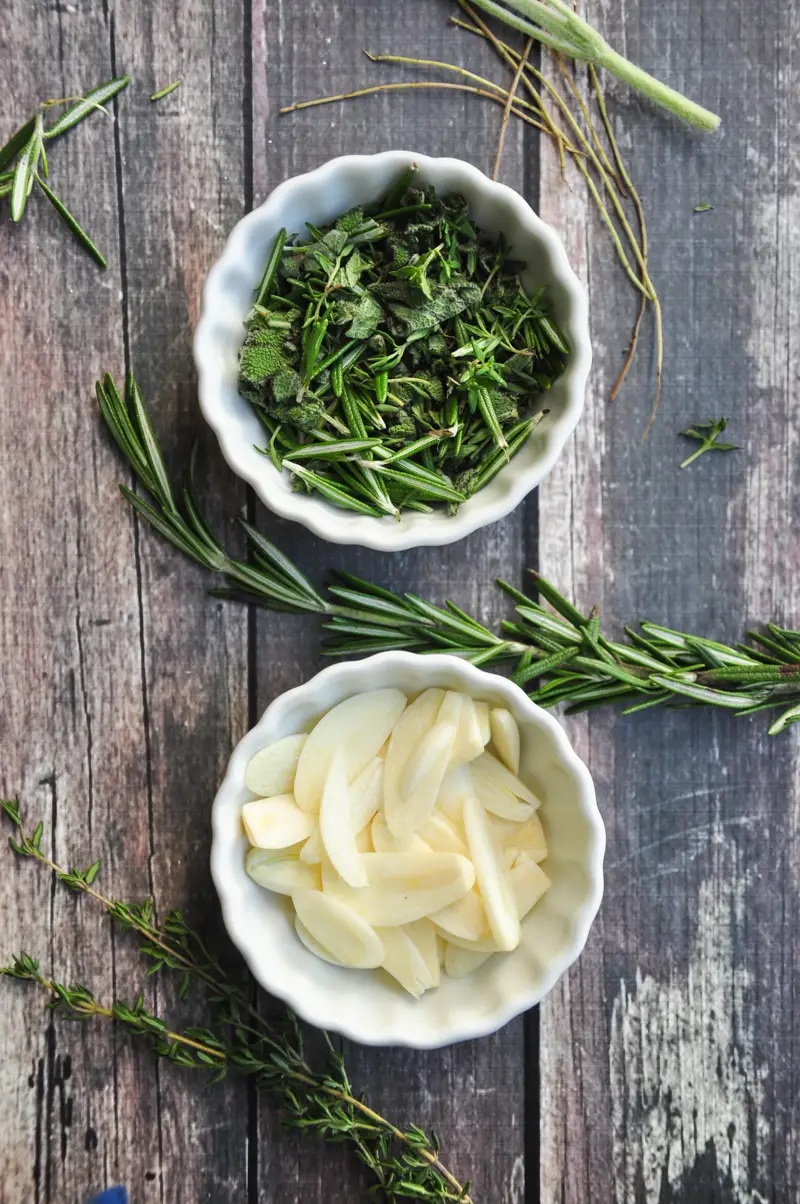 Now, it's time to answer that question. Are these potatoes worth making?
YES! YES! YEEEESSSSS!
The taste and presentation of Hasselback potatoes are nothing like average baked potatoes. They require your concentration during cutting and a little bit of your attention and care during baking. But they are not hard to make. If I can do it, you certainly can.
My version of Hasselback potatoes has garlic slices between each slit to keep the potato slices separate. Brushed with garlic herb-infused butter and topped with cheddar, parmesan, paprika, and three freshly chopped herbs, they are baked to perfection with extra crispy skin.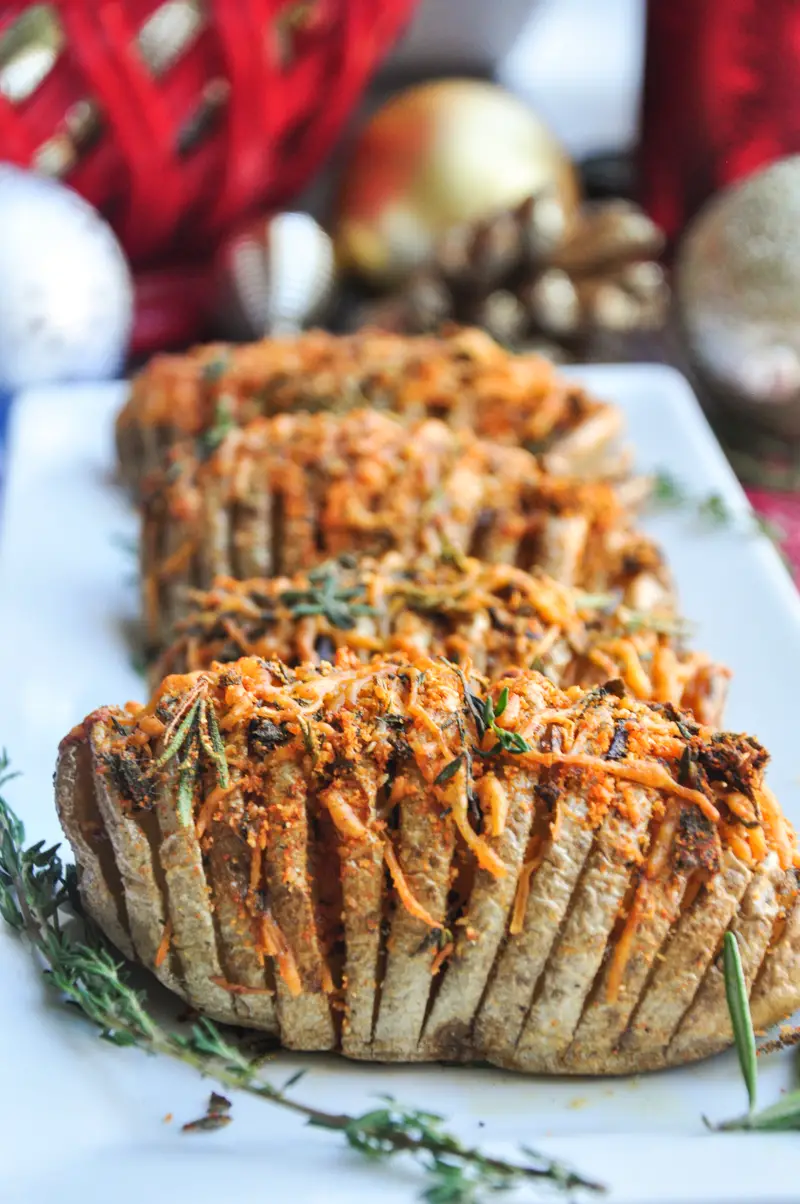 They are uber tender, garlicky, cheesy, and tasty! Imagine having one of these on your serving plate to pair with your main, what a treat!
To make your fancy potato dish irresistible and totally manageable, here are some key points to note.
Scrub Potatoes Clean & Leave The Skin On
The crispy skin is one of the fancy elements of Hasselback potatoes. So I would highly recommend leaving it on. Remember to scrub and rinse your potatoes clean. However, if you prefer to peel the skin off, it's not a deal-breaker.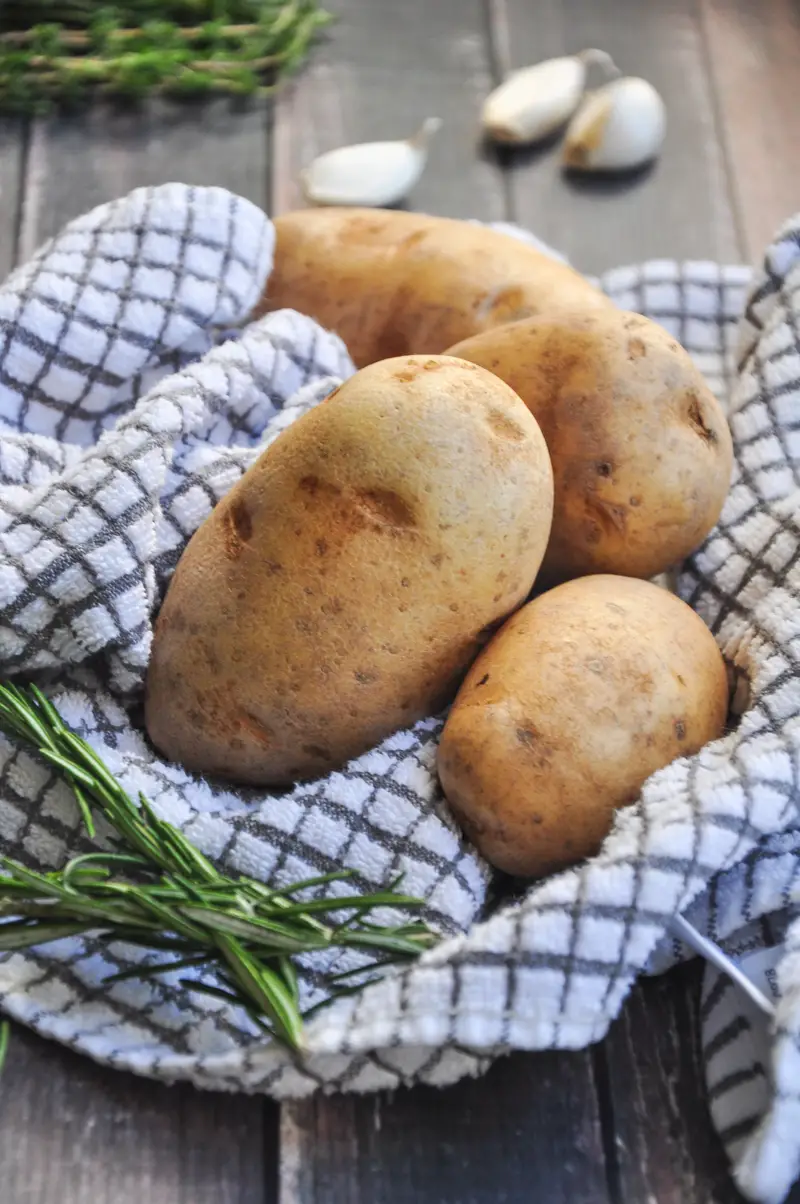 Create Flat Bottoms of Your Potatoes
Slice off a small part of each potato and put the cut side down against your cutting board, creating a flat bottom that makes the potato very stable to work with. Now, you can slice the potato safely.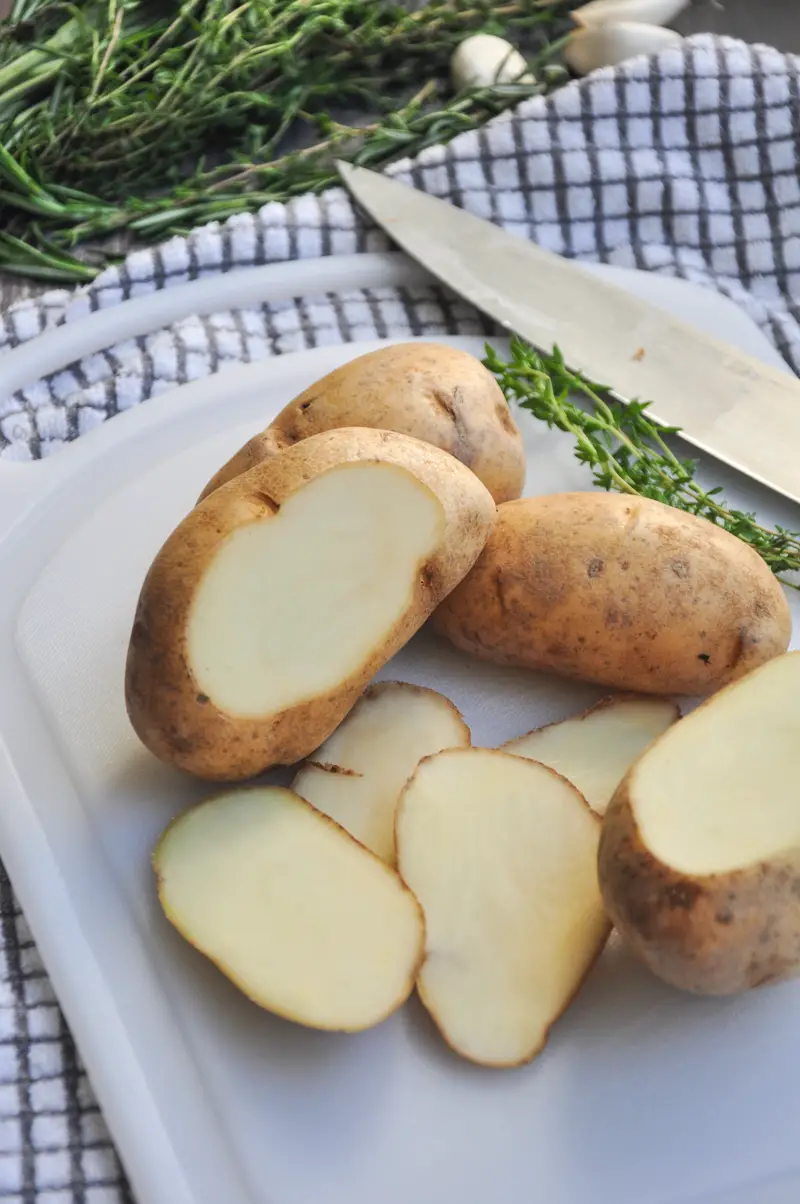 Infuse Your Butter
Brushing melted butter all over the potatoes twice is an essential step to make the skin crisp. You can add more flavor by adding garlic and herbs into melted butter and heat on low for a few minutes. This will give the potatoes an amazing taste. Bacon dripping, animal fat, olive oil, or coconut oil are some of the alternatives.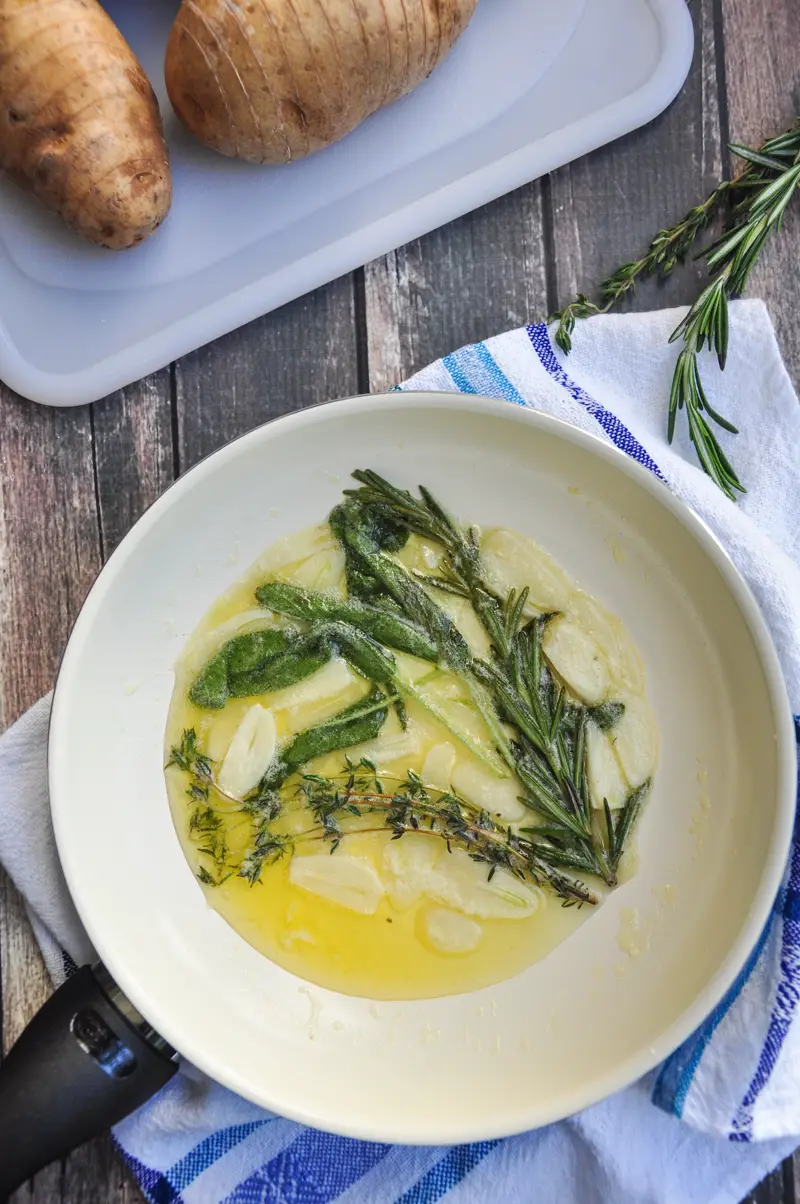 Keep The Slits Separated
If the layers of your potatoes are still sticking together after baking for 30 minutes, nudging them apart. So the second time you brush butter on them, some of it will drip down into the spaces between each slice.
I find the easiest way to do so is to insert a piece of garlic between each slit. It never hurts to have crispy garlic as an add-on to any food, right? ????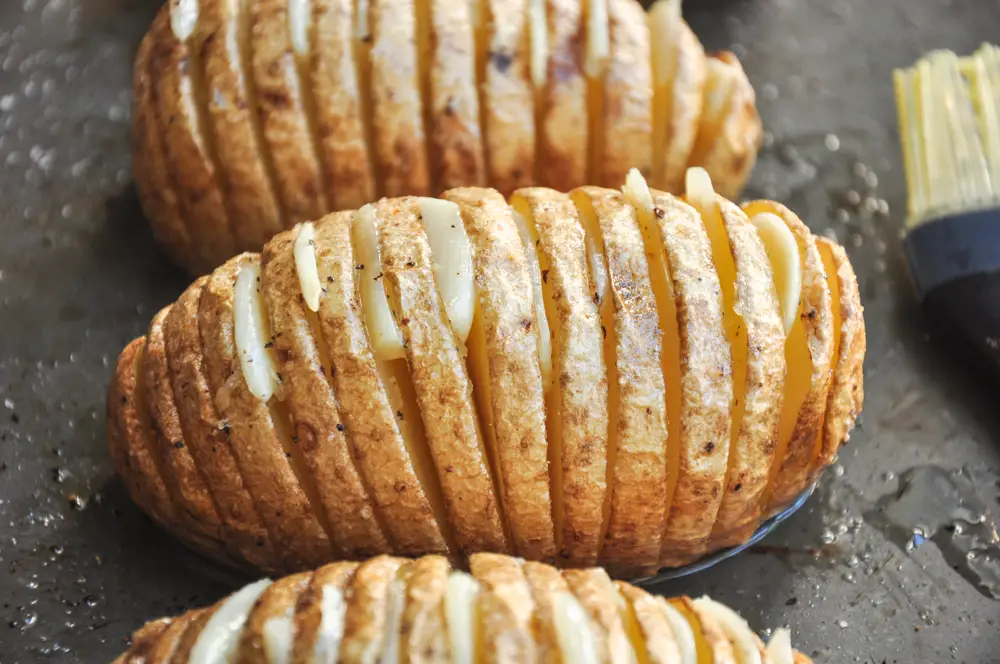 Get Creative For The Topping And Stuffing
In this recipe, I combined cheddar cheese, grated parmesan cheese, paprika, and three different fresh herbs (rosemary, thyme, and sage) to top the potatoes. Bacon bits are for sure going to work well with Hasselback potatoes. In terms of herbs, use whatever you have on hand like parsley or basil. In a nutshell, get creative. Just make sure to add stuffing and topping 5-10 minutes before the end of baking, otherwise, the extras will burn, especially the fresh herbs.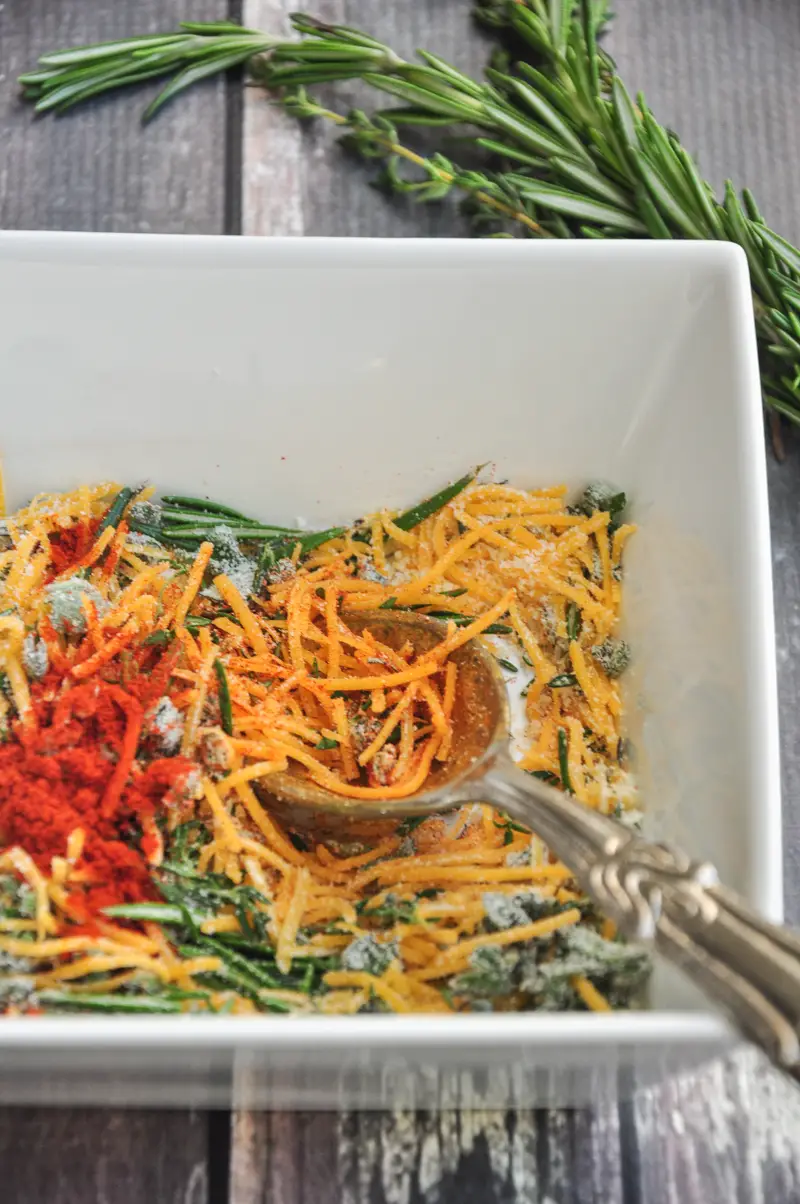 Garlic Herb Hasselback Potatoes
The recipe is gluten-free and can be easily made vegan without losing any fanciness. Substitute butter with coconut oil or olive oil and omit the cheese. Alternatively, you can make a spice mix with fresh herbs as the topping. There are so many other ingredients that will help boost the flavor, such as lemon zest, ground mustard, and onion powder. 🙂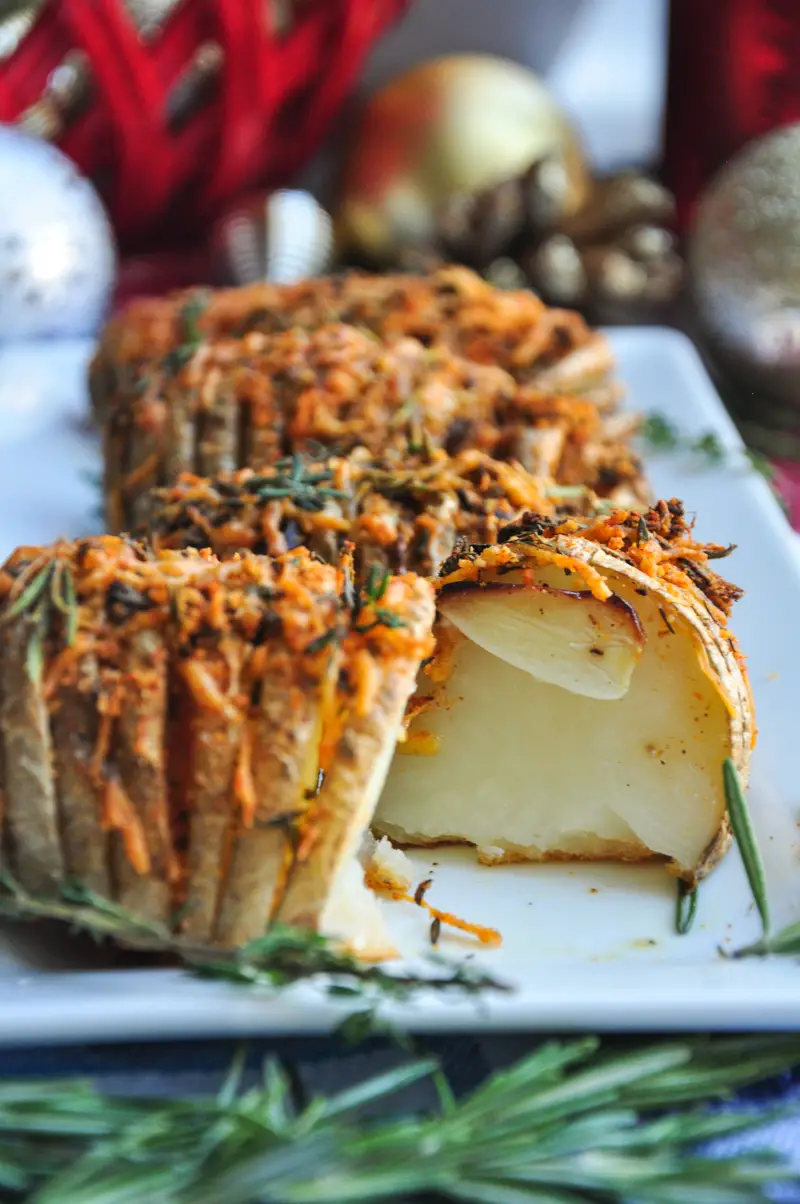 Here you have it – Garlic Herb Hasselback Potatoes. Hope you enjoy them. If you get a chance to make them, I would love to learn your version. Leave a comment and let me know.
Wish you and your family a Merry Christmas! Cheers ~
Print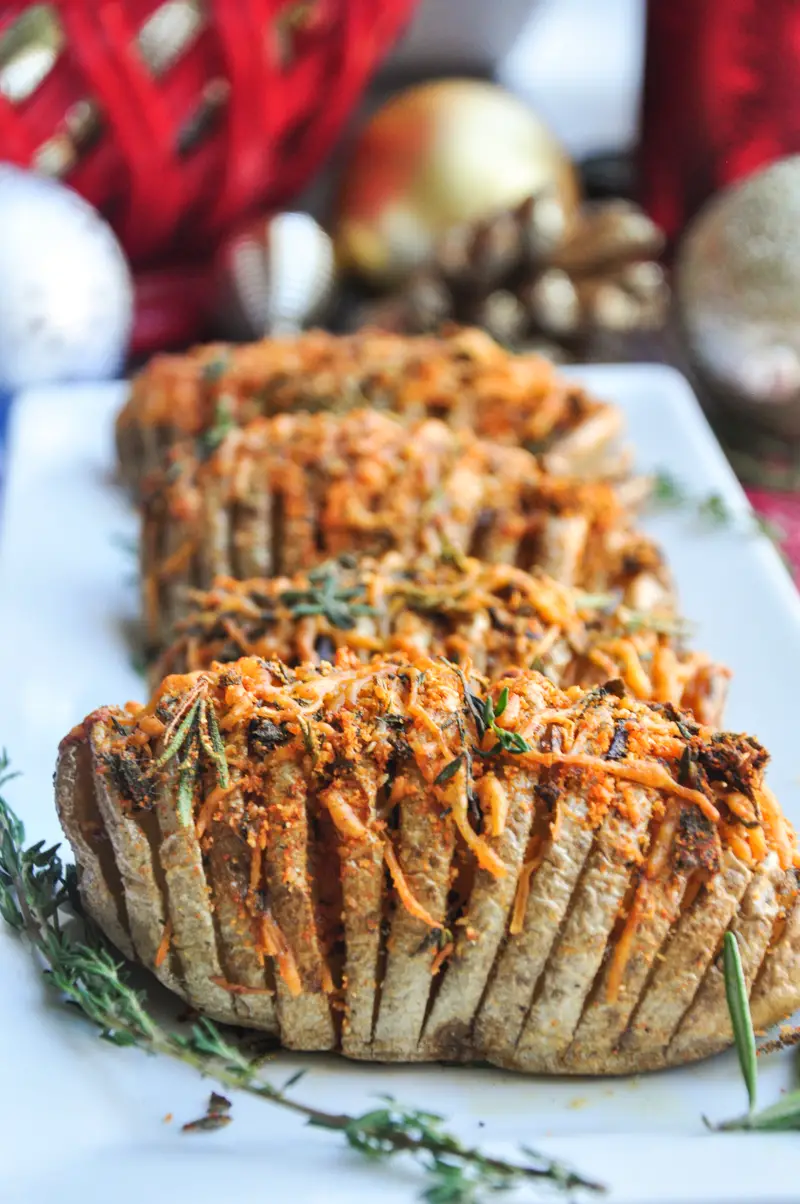 Garlic Herb Hasselback Potatoes
Author:

Sharon Chen

Prep Time:

15 minutes

Cook Time:

1 hour 5 minutes

Total Time:

1 hour 20 minutes

Category:

Sides

Method:

Oven

Cuisine:

Swedish
---
Description
Perfectly baked Hasselback potatoes with garlic slices in between, brushed with infused butter, topped with cheddar, parmesan, and three freshly chopped herbs.
---
4

medium baking potatoes (or Russet potatoes), scrubbed clean

3 tablespoons

butter (or

3 tablespoons

olive oil/coconut oil if vegan)

4

medium-sized cloves garlic, thinly sliced

3 tablespoons

freshly chopped herbs (thyme, sage, and rosemary), divided
sea salt and black ground pepper to taste

1/4

cup

finely shredded cheddar cheese (omit if vegan)

2 tablespoons

grated parmesan cheese (omit if vegan)

1/2 teaspoon

paprika
---
Instructions
Scrub and rinse the potatoes clean. Pat them dry. (If you'd like, you could peel off the skin, but leaving it on makes a crispy outside after baking.)
Cut off a very small part of a potato from one side to form a flat bottom. Put the flat side against your cutting board and slit into the potato, spacing the slices 1/8 inch apart. Don't cut all the way through. Stop when you just about to reach the bottom, leaving the slices stay connected at the bottom. Do the same with the other 3 potatoes.
Once the potatoes are cut, place them on a baking sheet lined with foil.
Now, preheat oven to 425°F with a rack in the lower-middle position.
In the meanwhile, peel garlic cloves and thinly slice them; prepare herbs (1 tablespoon thyme, 1 tablespoon rosemary, and 1 tablespoon chopped sage).
Melt the butter in a small pan over medium heat; add garlic slices and 1 tablespoon mixed herbs into the butter. Stir and cook for 2-3 more minutes over medium-low heat, or until you can easily smell the fragrance.
Brush the infused butter all over the potatoes including the bottoms. Sprinkle the potatoes generously with salt and pepper. (I used freshly grated salt and pepper.) Place the baking sheet on the lower-middle rack in the oven. Bake for 30 minutes.
Carefully remove from oven. Use a small spoon to nudge the potato layers. Insert one slice garlic between each layer, leaving the layers separated. Brush the rest of the butter onto the potatoes. Since the layers stay opened by the garlic, butter will easily drip down into the space between each potato slices.
Return to the oven. Bake for another 30 minutes.
In a small bowl, combine cheddar cheese, parmesan cheese, 2 tablespoons herb mix, and paprika. Mix well and set aside.
Once the potatoes are done, sprinkle the cheese mixture onto each potato. Gently push it down into the slits by using a spoon. Return to the oven and bake for additional 5 to 10 minutes, or until the cheese is melt. Serve immediately.
---
---
Keywords: hasselback potatoes