Bay Scallop Risotto with Prosciutto
Han and I had a conversation the other day about this Bay Scallop Risotto with Prosciutto recipe that I wanted to share with you.
It went a little heated.
The topic of our conversation was saffron vs no saffron.
Do couples argue over the most stupid stuff ever all the time? Our friendly arguments usually associate with my lack of knowledge of the American culture, system, and food, of course! I still have my first times like a baby, even though I've been living in the States for three years.
This time, I wanted to try saffron in my cooking…for the first time.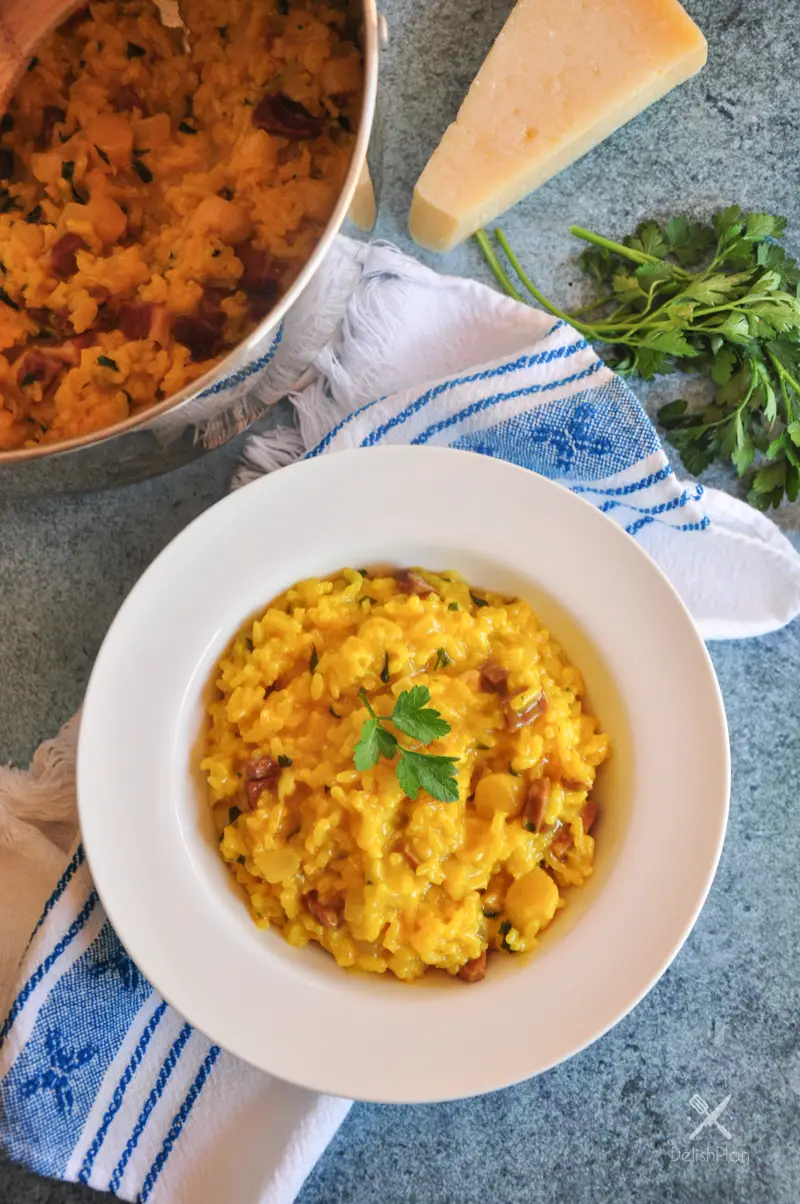 When Han heard that I would be trying a recipe with saffron and possibly publish it on DelishPlan, he came to me and made a strong opinion.
"Don't put saffron in the recipe." He says.
"Why? What's wrong with saffron?"
"Saffron is helluva expensive. Why the heck did you buy it?? If you share a recipe with saffron, I guarantee you that nobody is going to make it. In addition, you can't really taste it. It doesn't make a huge difference."
"But…" I was trying the speak while processing his words at the same time. Then, he took it to the next level.
"It's like people buy luxury cars to just show off!"
"Wait, are you saying that people who use saffron in their dishes just want to show off how awesome they are instead of truly enjoying the aroma?"
Han pauses for 2 seconds and gives me a firm reply, "YES!"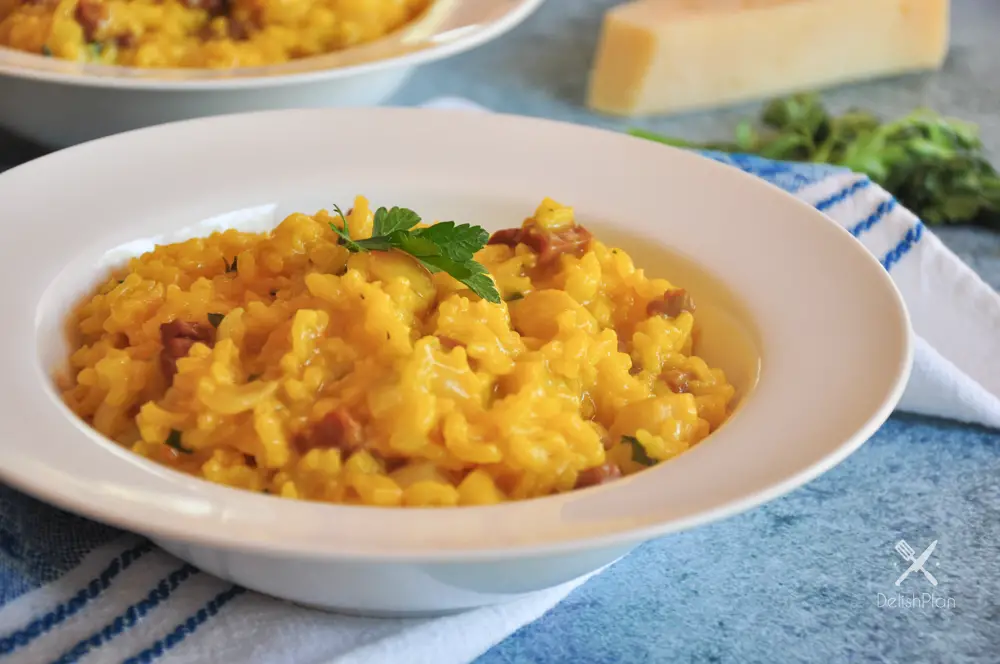 Wow! I guess he's trying really hard to convince me not to even mention saffron in my recipe. But I am writing a blog post about it. (Shhhh…)
I can't find myself agree with my husband on his extreme point of views. So I went ahead and tried this Bay Scallop Risotto with Prosciutto recipe twice, with saffron and without. Chef Michael Symon suggests that we use saffron to infuse the whole dish.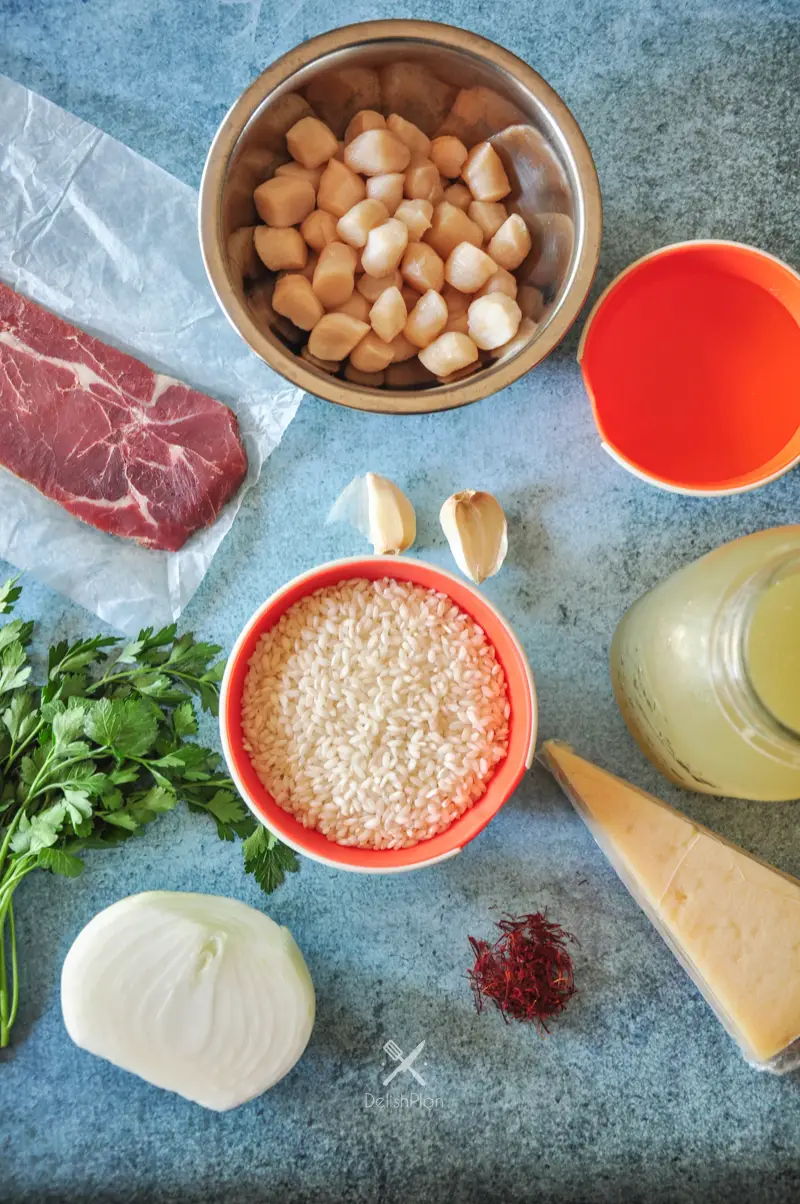 As soon as the tiny little package of saffron I had was added into other ingredients, it quickly embraced the entire pot with its unique fragrance. I could see the little red strings while I was stirring. I could smell it. I kept stirring. Then, at one point, the strings became so thin that I could barely notice them anymore. It's like they've done their job by being completely buried into the dish.
I would say that saffron is definitely not an essential ingredient to this recipe. You could totally save a few bucks by omitting it. But if you would like to make this risotto with saffron, I support you to give it a try, just like I did. I enjoyed both versions – the one with saffron and the one without. This risotto is absolutely a heartwarming meal with a style!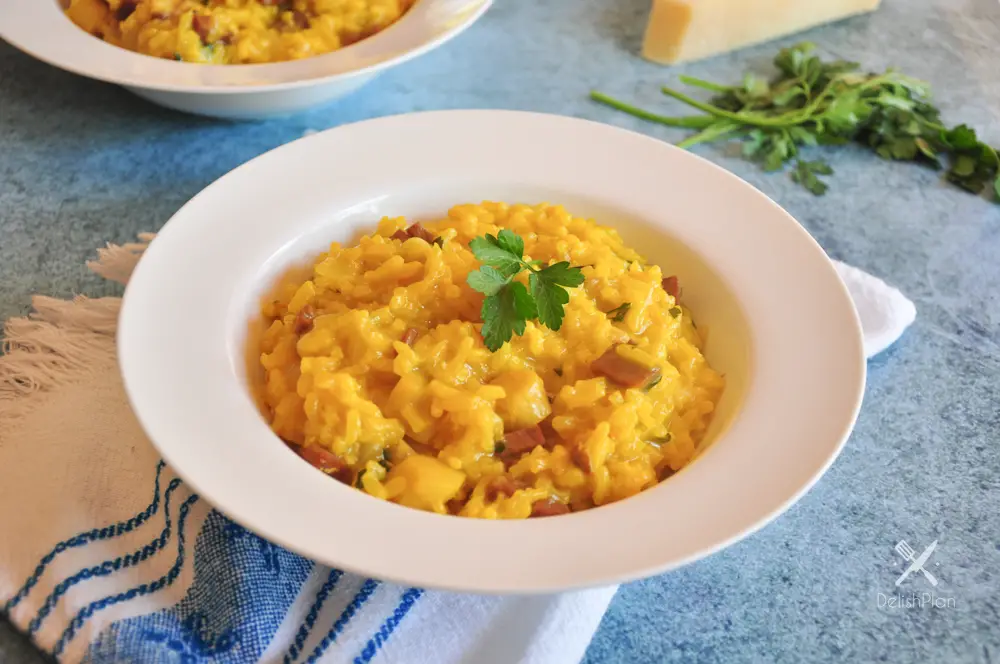 If you do get a chance to make this recipe, leave a comment and let me know how you like it, or use hashtag #StreetSmartKitchen on Instagram with a photo. I would love, love to see your creations!
So, saffron or no saffron?
Print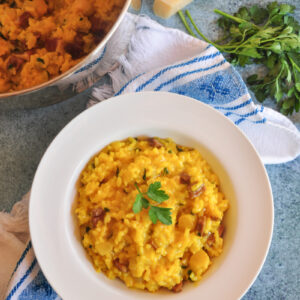 Bay Scallop Risotto with Prosciutto
Author:

Sharon Chen

Prep Time:

10 minutes

Cook Time:

25 minutes

Total Time:

35 minutes

Yield:

4

servings

1

x

Category:

Main, Gluten Free

Cuisine:

Italian
---
Description
Risotto perfectly cooked with prosciutto and bay scallops, finishing with parsley and freshly grated parmesan cheese. This is a hearty gluten-free one-pot meal ready in 35 minutes.
---
3 tablespoons

olive oil

1

small onion, dice
Salt to taste

2 teaspoons

minced garlic (about

2

medium garlic cloves)

1

cup

Arborio rice

1/2

cup

dry white wine

1/2

cup

prosciutto, diced

1 tablespoon

saffron (optional)

3

cups

chicken broth

8

ounces

bay scallops

1/4

cup

chopped parsley

1/4

cup

freshly grated parmesan cheese
---
Instructions
In a large pan, heat olive oil over medium heat. Add onion and a pinch of salt; sauté for 30 seconds; add garlic; stir and let the onion and garlic sweat, about 1-2 minutes.
Stir in Arborio rice and turn the heat up to high. Toast the rice in the pan for 1 minute, stirring often. This will release the starch from the rice.
Once the rice is lightly brown, add white wine and keep stirring. Cook until the alcohol evaporates, leaving the rice a tasty flavor.
Add prosciutto, followed by saffron (if using) and continue stirring for about 1 minute, releasing the flavor of prosciutto into the rice.
Ladle 1 cup chicken broth into the pan, bring to a boil and turn down the heat to let it simmer. Let the broth be absorbed by the rice. Continue adding broth, one cup at a time, cover and simmer for 10 minutes.
Add bay scallops; cook for 5 minutes, stirring often, or until the rice is perfectly tender. Add parsley and parmesan cheese; stir again. At this point, your risotto should be nicely thickened and creamy. Dish up and serve immediately.
---
---
Nutrition
Serving Size:

1

Calories:

459

Sugar:

3.9g

Sodium:

1053.1mg

Fat:

16.2g

Carbohydrates:

50.8g

Protein:

22.4g

Cholesterol:

36.1mg
Keywords: scallop risotto