These mouthwatering baked chicken wings have savory crispy skin that locks in a smoky cumin flavor and much more. It only takes 10 minutes of hands-on time.
My mom used to make chicken wings in seven minutes, from raw to thoroughly cooked.
Yep, you hear me right. Seven minutes.
What?! How? Why?
I hear you.
Have you ever heard of Microwave Chicken Wings? You season the chicken wings and cook them in a microwave on high for seven minutes. Done and done.
Since the oven is absolutely not an essential appliance in a Chinese kitchen, Microwave Chicken Wings was invented when people wanted to be a little lazy but still have homemade food. I have to admit that it is probably the fastest way to cook chicken wings with the least amount of hassle. If you don't feel like firing up the grill or waiting 30 minutes for your chicken wings to be done in the oven, keep in mind that you can always throw them in your microwave.
I tested this method twice. It works.
But…
We want our chicken wings crisp outside and tender inside, right? No matter how top-notch your microwave is, I found that the texture of microwaved chicken wings is just somewhat off, even though it cooks really fast and the wings are tasty.
However, we have the oven as an option that's just too good to ignore.  If you are reading this post, my guess is that you don't mind waiting 23 more minutes (completely hands off) for a mouthwatering baked chicken wing recipe. 🙂
So, let's talk about today's recipe. These baked chicken wings take 10 minutes of your hands-on time. That's not bad at all, isn't it?
They call for a few savory dried spices emphasizing a smoky cumin flavor. YUM! Rub the spices on the wings and dot with butter are basically all you need to do. Your oven will finish off the cooking job nicely for ya! Not a big fan of cumin? Substitute with thyme or rosemary. They'll still be fantastic. I promise.
Make sure the chicken wings are arranged in a single layer. This is an important step for making the skin crisp. Otherwise, your wings would be steamed instead of baked, just like microwaved ones.
Bake 25 to 30 minutes, your wings will turn out extremely tender inside with a savory crispy skin that locks in all the flavor. Serve these chicken wings with any greens and some
corn on the cob
. You have got a nutrition-balanced hearty homemade dinner!
Hope you enjoy this recipe! If you do get a chance to make these wings, rate it, leave a comment, or take a photo and tag
#gourmetpersuasian
on Instagram. I would love to see what you cook up. Happy cooking as always!
Print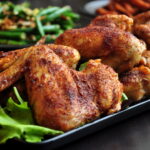 Baked Chicken Wings
---
Author:

DelishPlan

Prep Time:

10 minutes

Cook Time:

25 minutes

Total Time:

35 minutes

Category:

Gluten Free, Chicken Wings

Cuisine:

American
Ingredients
3 lb. chicken wings (about 10 whole wings)
3 tablespoons butter
2 teaspoons sea salt
2 teaspoons smoked paprika
1 teaspoon cumin seeds
1 teaspoon ground black pepper
1 teaspoon ground cumin
1 teaspoon garlic powder
1 teaspoon cayenne pepper
---
Instructions
Preheat oven to 450°F.
Rinse chicken wings and pat dry with paper towels. Line two 9X13" baking pans with foil.
Combine all spices in a small bowl and rub onto wings.
Arrange prepared wings in the baking pans in a single layer. Grate cold butter and sprinkle on top of the wings evenly, or slice the butter thinly and place on the wings.
Bake for 25-30 minutes.