20-minute vegetarian tacos with bell peppers and portobello mushrooms cooked in a savory citrus sauce. This is a great meatless meal to include in your weekly meal plan.
Ever since we purchased our first home in Austin, TX in September 2016, we have been doing a lot of improvements on the property. Man! That's a lot of work. But our handyman Tommy has been helping a lot. He brought two guys with him the other day to improve our laundry room, which is located outside of our unit.
The same day, a truck came by and dumped 1 yard of rocks we ordered on our driveway. Tommy and his helpers decided to work overtime and spread the rocks for us. I decided to cook them dinner.
In my fridge, I had a whole batch of beef barbacoa ready to go. The plan was to make some barbacoa tacos quickly until Tommy told me that one of his helpers is a vegetarian. That's when things got a little challenging.
I took a second look at my fridge and found bell peppers and portobello mushrooms in it. That's when these vegetarian tacos came into my mind. The two non-vegetarians ended up asking for the vegetarian tacos. That's how fabulous they are.
The secret is always the sauce.
I picked plant-based Ponzu sauce for those vegetarian tacos. If you are not familiar with Ponzu sauce, it's a citrus-based sauce commonly used in Japanese cuisine. I discovered that basil and ponzu complement each other very well. That's what I did to season the peppers and mushrooms with a little brown sugar to help enhance the flavor.
To make the tacos, place the veggies in the center of a tortilla and top with your favorite salsa and cheese. I made green salsa for these tacos. You can find the green salsa recipe here along with two other authentic Mexican salsa I learned in Mexico. If you use a regular salsa, feel free to add some avocados to the tacos. Omit the cheese if vegan. It turns out that the vegetarian dude is actually vegan. Thankfully, I put the cheese aside when I served the tacos to the handymen.
Even if you don't make tacos, the stir-fried bell peppers and mushrooms with the Ponzu sauce is a very savory vegetable dish by itself. Plus, it's really quick to put together.
When you get a chance to make this recipe, I would love to know how you enjoyed these vegetables. Did you make vegetarian tacos like I did or did you make it as a side dish? How about a buddha bowl?
Print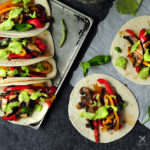 Vegetarian Tacos
---
Author:

Sharon Chen

Prep Time:

10 minutes

Cook Time:

10 minutes

Total Time:

20 minutes

Yield:

2

Category:

Tacos, Main

Cuisine:

Asian Mexican
Ingredients
3 tablespoons coconut oil
8 ounces portobello mushrooms, sliced
1 red bell pepper, sliced
1 yellow bell pepper, sliced
Salt to taste
3 tablespoons Ponzu sauce lime flavor
1 teaspoon dried basil
1 teaspoon brown sugar
For the tacos:
Tortillas
Salsa of your choice (I used homemade salsa verde. Click here for the recipe.
Fresh basil leaves (optional)
Mexican-style four cheese (optional)
---
Instructions
In a large nonstick skillet, heat up coconut oil over medium-high heat for 1 minute. Add mushrooms and bell peppers to the skillet. Add a pinch of salt. Sauté and cook until the vegetables start becoming tender, about 5 minutes.
Add Ponzu sauce, dried basil and brown sugar. Stir slowly and let the sauce and spices to combine evenly. Remove from heat.
Place the vegetables in the center of a tortilla, add a couple fresh basil leaves if using, drizzle with green salsa and cheese. (Omit the cheese if vegan.) Enjoy!
Nutrition
Serving Size:

1

Calories:

258

Sugar:

7.8g

Sodium:

694mg

Fat:

21g

Saturated Fat:

17.7g

Carbohydrates:

18.1g

Fiber:

2.6g

Protein:

2.4g

Cholesterol:

18.1g