Creamy oven-roasted cauliflower that's delicious by itself, but even more intriguing with a savory soy-ginger sauce. Vegan and gluten-free friendly.
Cauliflower is one of those vegetables that people sometimes don't know what to do with. Oh, sure, you see it on the crudité table all the time, ripe for dipping. But this innocuous little garden delight has so much more to offer, and this Roasted Cauliflower with Soy-Ginger Sauce recipe is just one of many ways you can enjoy cauliflower.
Cauliflower is part of the cruciferous family, along with cabbage, broccoli, Brussels sprouts and bok choy. In case you hadn't heard, cruciferous vegetables are heavily recommended as part of a healthy diet to help prevent cancer. It is an antioxidant and anti-inflammatory food, and is bursting with Vitamins C, K and beta-carotene.
Now, all that is wonderful, but the best part is that cauliflower takes on the flavors of things it is cooked with. That makes it ideal for this delectable Soy-Ginger sauce that is drizzled on this dish. Actually, this sauce can be drizzled, served as a side for dipping, or you can just toss the roasted cauliflower in the sauce and save everybody at the table heaps of time. Because you just know that the sauce is going to disappear!
For best results, look for cauliflower heads that are white and bright. If your cauliflower has little specks of black or brown on some of the florets, just shave those off with a vegetable peeler. They won't hurt you, but for the sake of appearance, it's just as easy to trim them off. By the way, to help prevent that in the future, wait until you're about to cook or serve your cauliflower before washing it. Moisture contributes to those little imperfections.
Little kitchen nibblers are welcome when you're making this Roasted Cauliflower With Soy-Ginger Sauce dish. Cauliflower is safe to eat raw as long as it's washed first. Just make sure your hungry visitor saves room for the final roasted version. The roasting process really brings out the flavor of the cauliflower in a way that steaming or boiling just doesn't.
One last thing. This is a dish that you can make anytime and just leave out on the counter in a pretty dish for people to enjoy as they pass by. In other words, it's nearly just as delicious at room temperature as it is when it first comes out of your oven. That makes this Roasted Cauliflower With Soy-Ginger Sauce an easy way to give your family a highly nutritious side dish or snack.
If you do get a chance to make this recipe, leave a comment and let us know how you like it! As always, we'd love to hear from you. Happy cooking!
Print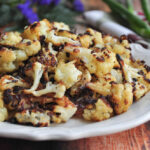 Roasted Cauliflower With Soy-Ginger Sauce (Vegan)
---
Author:

Sharon Chen

Prep Time:

10 minutes

Cook Time:

20 minutes

Total Time:

30 minutes
Description
Creamy oven-roasted cauliflower that's delicious by itself, but even more intriguing with a savory soy-ginger sauce. Vegan and gluten-free friendly.
---
Ingredients
1 medium head cauliflower (about 2 pounds)
1/4 cup extra-virgin olive oil
1/2 teaspoon sea salt
1/4 teaspoon ground black pepper
For The Soy-Ginger Sauce
2 teaspoons sesame oil
1 tablespoon minced or grated fresh ginger
2 teaspoons minced garlic (about 2 medium garlic cloves)
1/4 cup water
2 tablespoons soy sauce
1 tablespoon red wine vinegar
1 teaspoon brown sugar
1 stem green onion, chopped
---
Instructions
Preheat the oven to 450°F. Line a large baking sheet with foil.
Trim the outer leaves of the cauliflower and cut the steam flush with the bottom of the head. Then, cut the cauliflower into florets.
Combine cauliflower florets, olive oil, salt and pepper in a large mixing bowl. Toss well and lay the cauliflower, cut side down, on the prepared baking sheet in a single layer.
Cover the cauliflower with foil and roast for 10 minutes.
In the meanwhile, make the soy-ginger sauce. Cook the oil, ginger and garlic in a small skillet over medium-high heat until fragrant, 1-2 minutes. Reduce the heat to medium-low, stir in water, soy sauce, vinegar and sugar and simmer until the sauce is thickened, about 4-6 minutes. Transfer to a small bowl and add green onions. Set aside.
Remove the foil and continue to roast the cauliflower for 10-15 minutes, or until the top of the florets are brown. If you'd like to brown both sides, flip them once halfway through the second 10 minutes of baking.
Remove the cauliflower from the oven, dish and enjoy with the soy-ginger sauce.
Notes
Alternatively, you can make a spicy version with either curry powder or chili powder. Simply stir 2 teaspoons of either spice into the oil before seasoning the cauliflower in step 3.
This recipe goes very well with rice.