Cabbage steaks seared and roasted to perfection with a refreshing lime and cilantro sauce to boost the flavor.
We've been eating a lot of cabbages lately because of my one-track mind.
I made some stuffed cabbage rolls the other day and for some reason, that was the only thing I was thinking about for a good week. It's not because the stuffed cabbage rolls were unbelievably delicious or special, it's because they took wayyyyy too much time to make. The result just doesn't really worth the effort, even though I tried my best to make it taste better than they ever could be.
I went on Instagram to ask the folks. The brilliant people introduced unstuffed cabbage rolls, aka deconstructed cabbage rolls to me. They have the same taste as the stuffed ones but without the work of steaming the cabbage and wrapping the filling with the leaves. Unstuffed cabbage rolls don't look as cool as the stuffed ones. However, it can be cooked in just one pot and it saves so much time.
The idea resulted in two more rounds of recipe testing back to back, to the point that the people who live with me started rolling their eyes on the dish. They deserved a break. But I wasn't done with cabbage yet. At least, my mind was still set on it.
Am I a stubborn woman? Maybe. Guess what? Those rolling eyes were widely opened when I presented my final cabbage recipe – Roasted Cabbage Steaks with Spicy Lime & Cilantro Sauce. Did I mention that I live with meat eaters and this recipe has absolutely no meat?
Unless it's mind-blowingly good, a vegetable dish will never be raved about in my family. From stuffed cabbage rolls to unstuffed cabbage rolls, to cabbage only, this recipe made its way to our go-to recipe list because it's seriously easy and delicious! Watch the video to learn how to make it.
Basically, the main ingredient is obviously a head of green cabbage, which is cut into 1/2-inch pieces vertically, so the pieces look like steaks. If you like a thicker cut, go for 1 inch. We start with searing the cabbage steaks in a cast-iron skillet with butter or canola oil if you are vegan. The steaks are lightly seasoned during the searing process. Then we roast them in the oven for 15 minutes at 425°F. If your cabbage steaks are thick, roast them for 5 more minutes.
You can serve the cabbage steaks immediately after they are out of the oven. But I would highly recommend that you serve them with the spicy lime and cilantro sauce that's included in this recipe. They totally make the cabbage steaks even more intriguing!
I really hope that you and your family will enjoy these creamy, tender-crisp and amazingly tasty cabbage steaks. If you do get a chance to make this recipe, please let me know what you think in the comments below. We'd love to hear from you. Happy cooking!
Print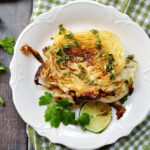 Roasted Cabbage Steaks with Spicy Lime and Cilantro Sauce
---
Author:

Sharon Chen

Prep Time:

15 minutes

Cook Time:

15 minutes

Total Time:

30 minutes

Yield:

4 servings

Category:

Side, Vegetables, Vegan

Method:

Roast

Cuisine:

American
Description
Cabbage steaks seared and roasted to perfection with a refreshing lime and cilantro sauce to boost the flavor.
---
Ingredients
1 head green cabbage
1/4 cup unsalted butter (or avocado oil if vegan), divided
salt, pepper and garlic powder to taste
lime wedges for garnishing
For the Spicy Lime and Cilantro Sauce
1/4 cup extra-virgin olive oil
3 tablespoons fresh lime juice
1 teaspoon fish sauce (omit if vegan)
2 teaspoons minced garlic
1/4 cup chopped cilantro leaves
1/2 teaspoon sea salt
1/2 teaspoon cayenne pepper
1/4 teaspoon brown sugar
---
Instructions
Preheat oven to 425°F.
Cut a head of cabbage into 1/2-inch thick pieces vertically. (See video.)
Melt 1 tablespoon butter or heat 1 tablespoon avocado oil in a cast-iron skillet over medium-high heat. Add 1 or 2 cabbage steaks (depending on the size of your cast-iron skillet); lightly season with a dash of salt, black ground pepper, and a pinch of garlic powder. cook 3 to 4 minutes. Place the cabbage steak, seared side up on a baking sheet lined with parchment paper. Repeat with more butter or oil with remaining cabbage. Bake for 15-20 minutes.
While the cabbage steaks are baking, whisk all the dressing ingredients in a small bowl. Mix well and set aside.
Once the cabbage steaks are done, dish and drizzle with the dressing, serve with lime wedges and cilantro. YUM!