Marinated Watermelon Salad With Feta Cheese
Marinated watermelon salad with a secret ingredient that changes the whole game! 
What did you decide to wear today? Even if it's a normal Tuesday, my guess is that you gave it some thought to make sure that the blue tie looks good with your dress shirt; the pencil skirt goes well with your top, or the sandals are a perfect fit with your romper.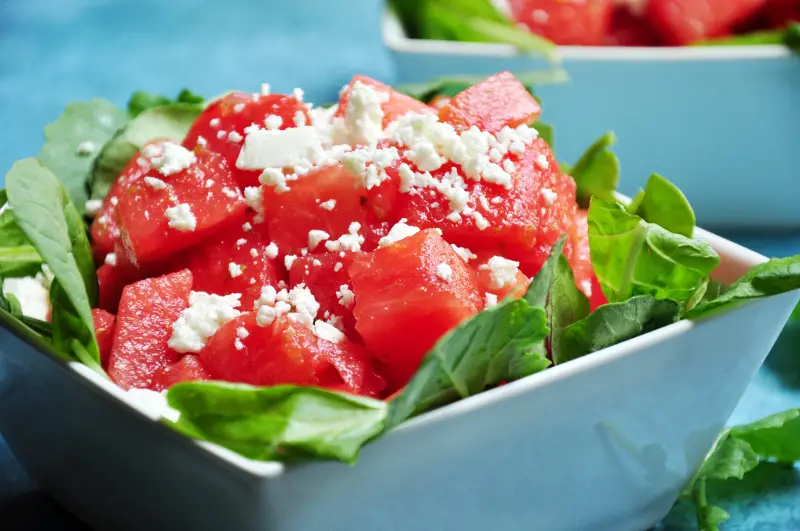 I found that cooking is actually somewhat similar to fashion. You think about what side dishes will go well with the main course you've decided to cook; what ingredients will taste good together in terms of texture and/or flavor; what seasonings or sauces are going to make a difference to a particular dish.
Therefore, no matter whether it's fashion or cooking, it all boils down to what pairs well.
That's the conclusion I made with my findings. Don't you agree? Yes?! Glad that we are on the same page.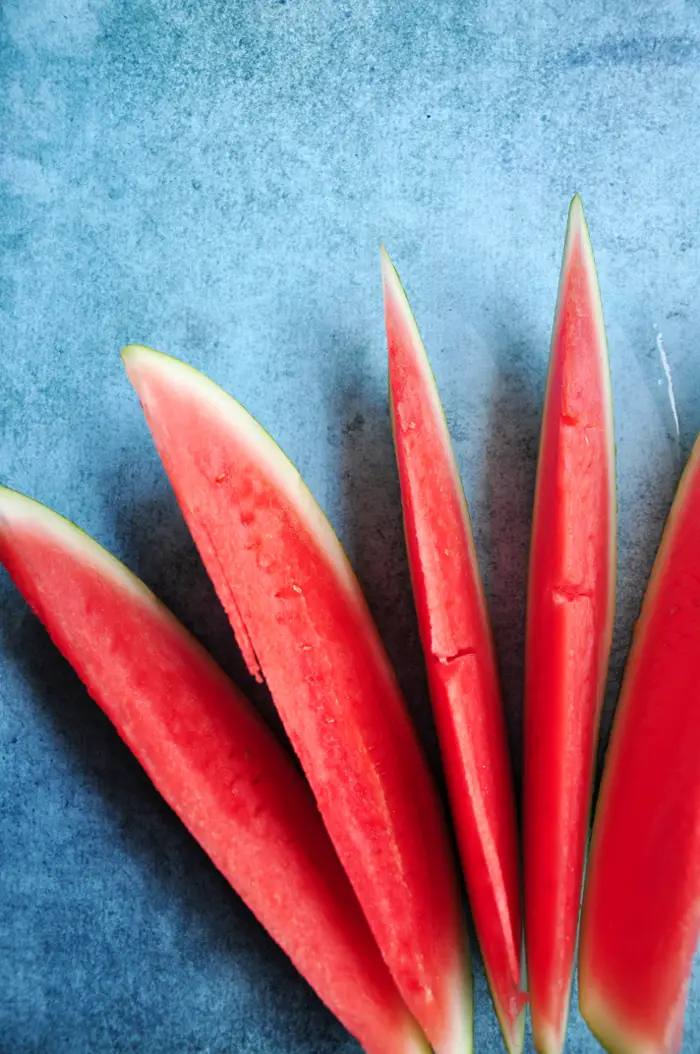 Now, let me ask you this. Did it ever occur to you that two clothing pieces with completely different fashion styles that you would never think of putting together would actually match surprisingly well?
That only occurs to me on fashion blogs or magazines. In real life, most of the time I am in my yoga pants and a 10-dollar shirt from Target (like right now).
BUT, last week, I did something extraordinary.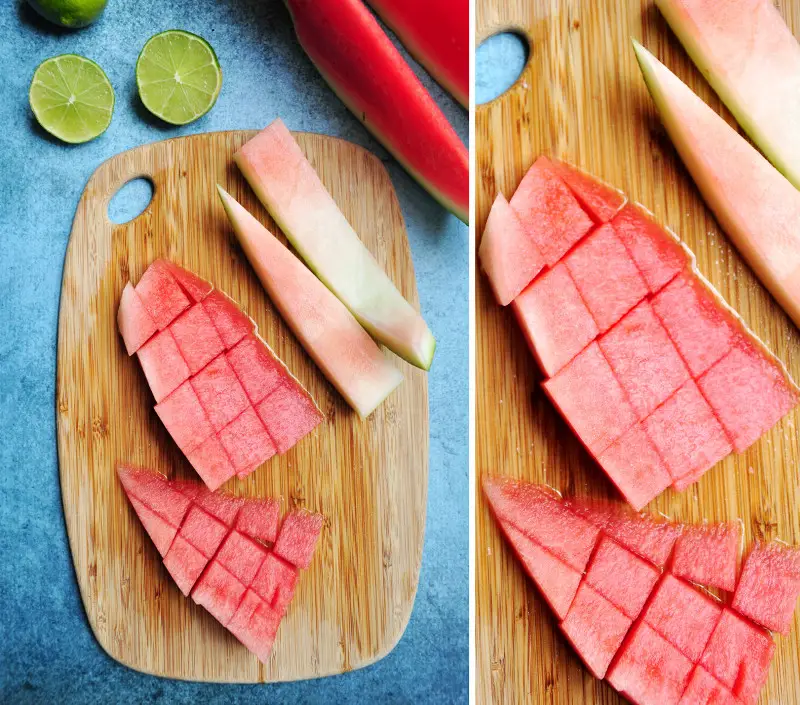 No, I didn't wear yoga pants under a romper. Instead, I marinated watermelon in something you would never think of… chili garlic sauce.
You're probably knitting your brows right now. You are like…"WHAT??? What did you just say?"
I knew it.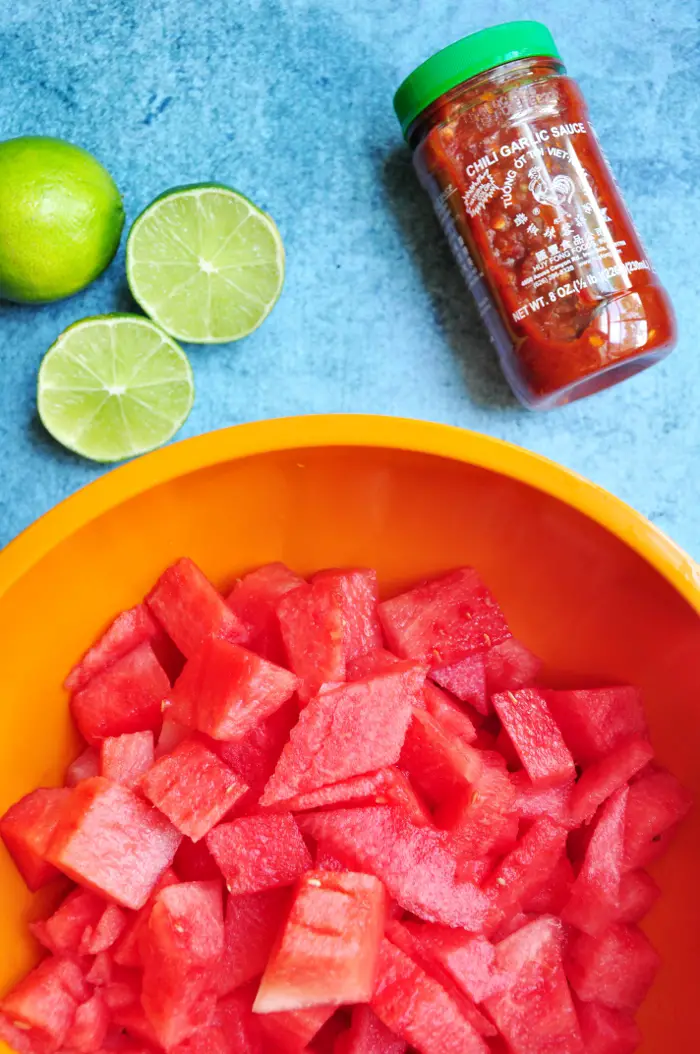 You heard me right – I marinated watermelon in chili garlic sauce, which is an Asian hot sauce. Guess what happened with these two ingredients that seem to have absolutely nothing to do with each other?
Oddly amazing things happened!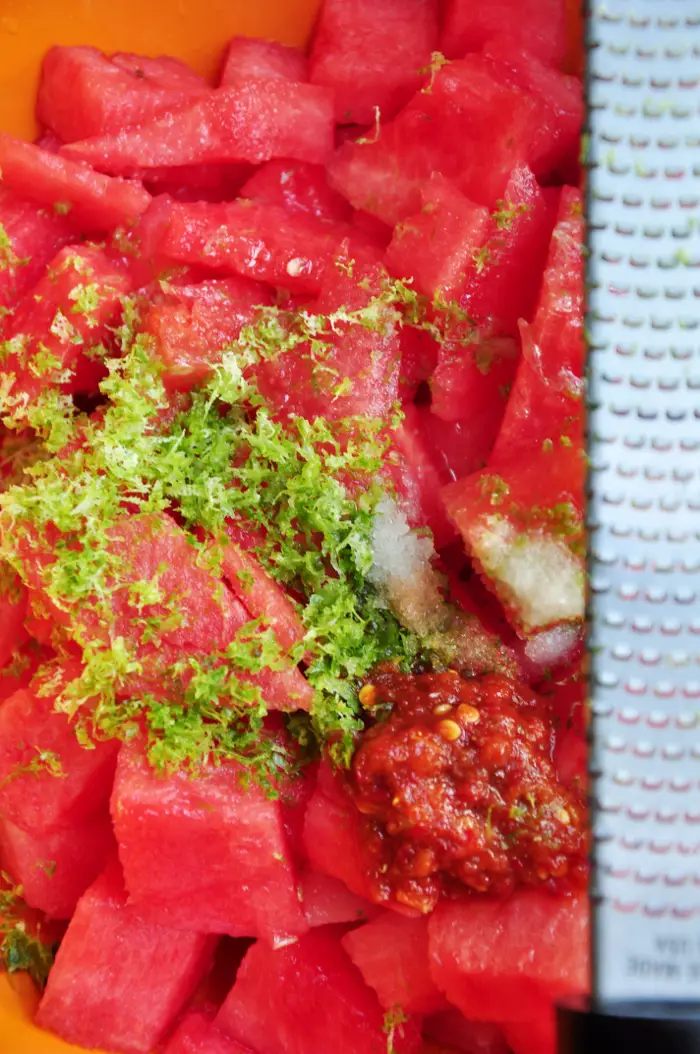 With a little refreshing help from a fresh lime (zest and juice), salt, and Canola oil, we treat watermelon very differently in this recipe.
The garlicky chili sauce gives the sweet watermelon some unique zing. Together with perfectly salted feta cheese and healthy greens, this chilled watermelon salad tastes a little sweet, a little sour, a little spicy; crunchy and full of flavor; like I said, oddly amazing!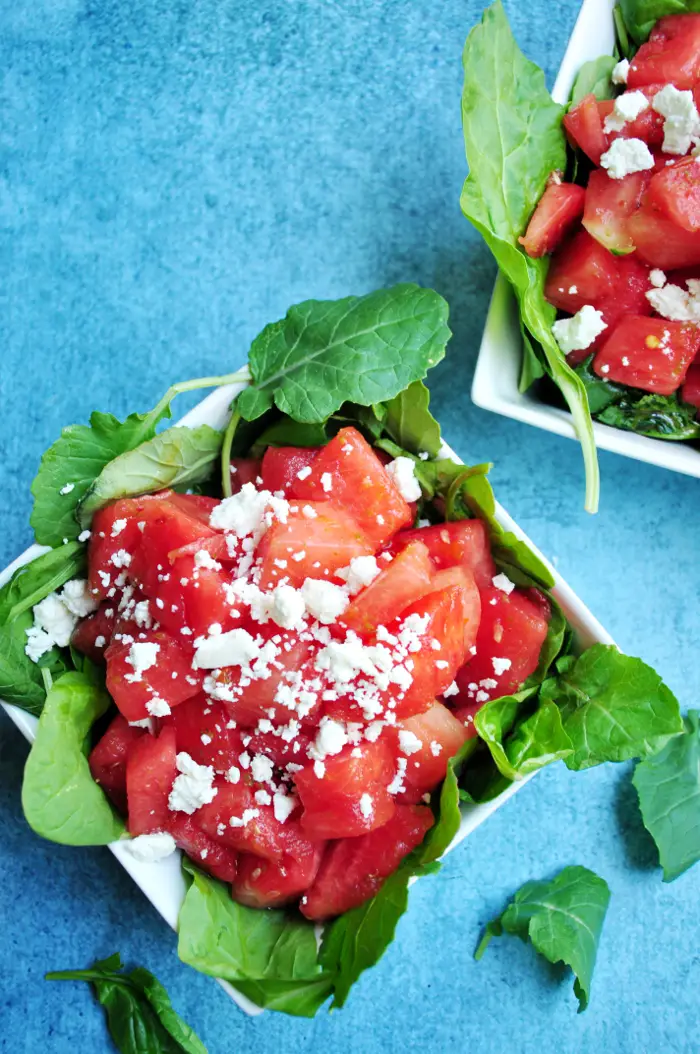 Just give everything a gentle toss and let the watermelon marinate for 10 minutes. Pair this refreshing salad with some savory grilled steaks or chicken. There, that's a fabulous summer meal you just made.
Well, you see, my fashion sense might be fairly conservative. But with cooking, there are no guarantees.:) Hope you are enjoying the summer!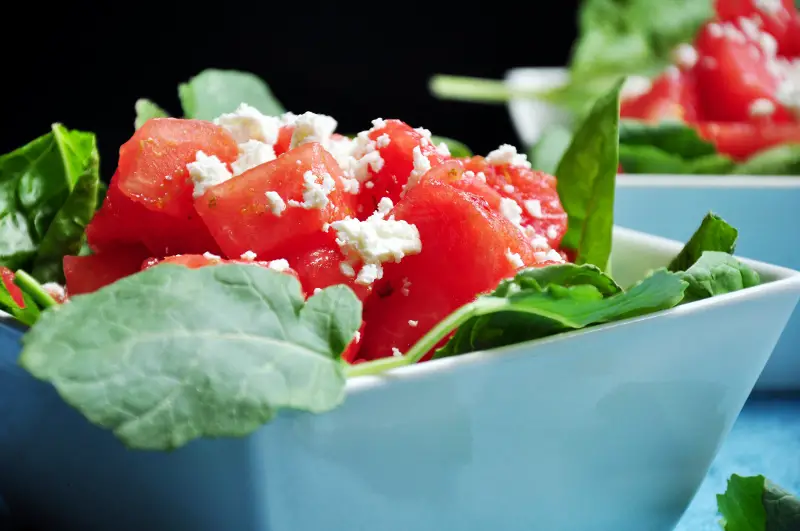 Print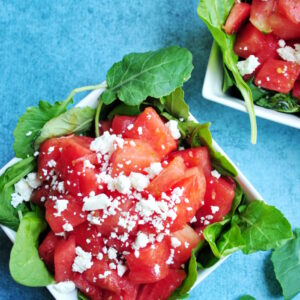 Marinated Watermelon Salad With Feta Cheese
Author:

Sharon Chen

Prep Time:

15 minutes

Total Time:

15 minutes

Category:

Appetizer, Gluten Free

Cuisine:

Asian Fusion
---
Description
Marinated watermelon salad with a secret ingredient that changes the whole game!
---
2

lb

. watermelon chunks (about 6 cups)

2 tablespoons

coconut oil

1 teaspoon

lime zest (only the green part, no white)

2 tablespoons

lime juice, freshly squeezed

1/2 teaspoon

sea salt

2 teaspoons

chili garlic sauce

1

(5-oz) bag spring mix

1/3

cup

crumbled feta cheese
---
Instructions
Cut watermelon in biteable chunks and place in a large mixing bowl.
Add the rest of the ingredients and toss until the watermelon chunks are evenly coated. Chill for 10 minutes to marinate. Stir occasionally.
In a large bowl or two medium bowls, arrange spring mix at the bottom and around the sides of the bowl to form a green nest, place marinated watermelon in the "nest". Sprinkle with feta cheese and serve.
---
---
Keywords: watermelon salad