How to Toast Walnuts: Two Easy Methods for Szechuan-Style Toasted Walnuts
Two easy methods to show you how to toast walnuts, or any nuts, plus a recipe for a spicy and delicious Szechuan-style toasted walnuts.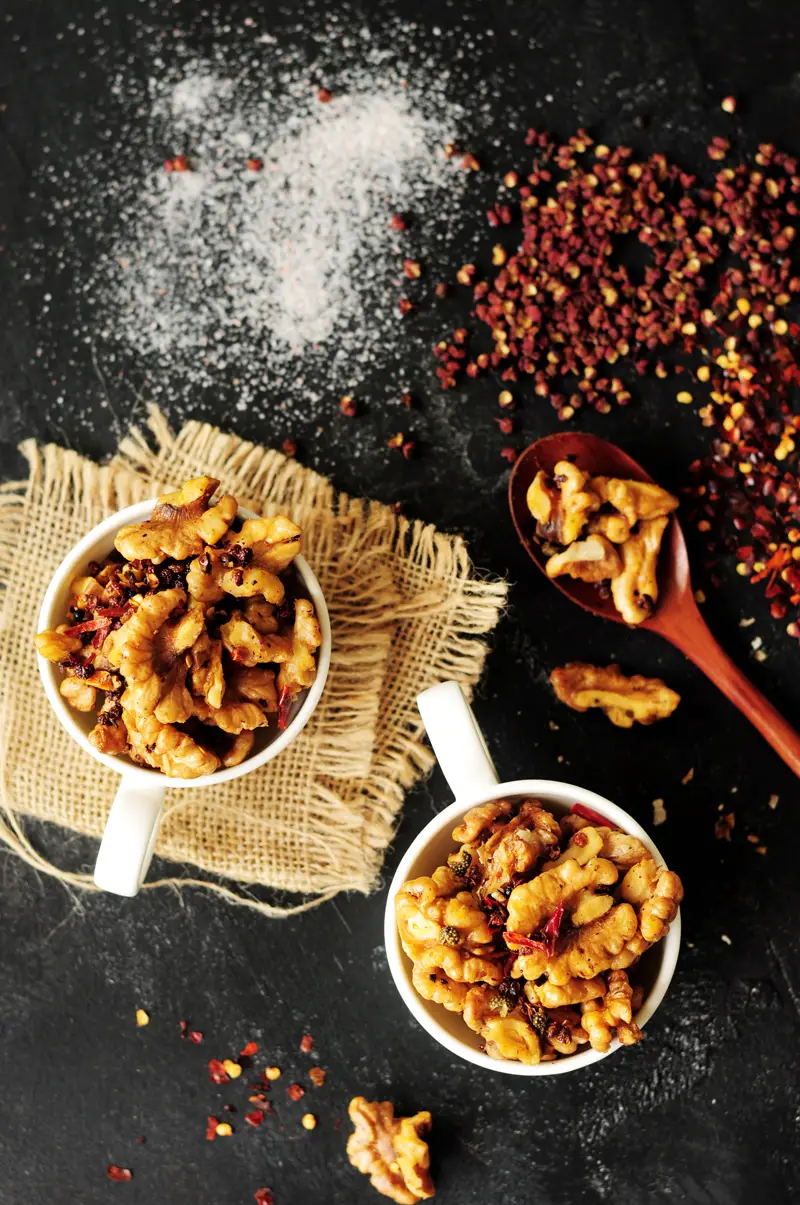 If there's one simple kitchen hack that can take a recipe from blah to amazing—in very little time, with very little equipment, and at no extra cost—it would have to be toasting your nuts. (Okay, I'll admit this does sound *kind of* funny to say.)

This quick hack of how to toast nuts—we're talking a maximum of 10 minutes' cook time before your nuts turn golden brown—removes the bitter taste in raw nuts and replaces it with a pleasantly earthy, slightly smoky flavor. 

For my friends who follow specialized diets, these little guys are the perfect addition to your vegan and gluten-free recipes because of their healthy fat content.
In this recipe, I added a little Asian flavor to my walnuts, but you can season your walnuts however you like. Here's an example with some Italian flavor.
There are two different ways you can make these Szechuan-style toasted walnuts: using a stove-top method or the oven method. Both are great, and I'll explain how to do this in just a moment. First, let's see why you should toast your nuts at home.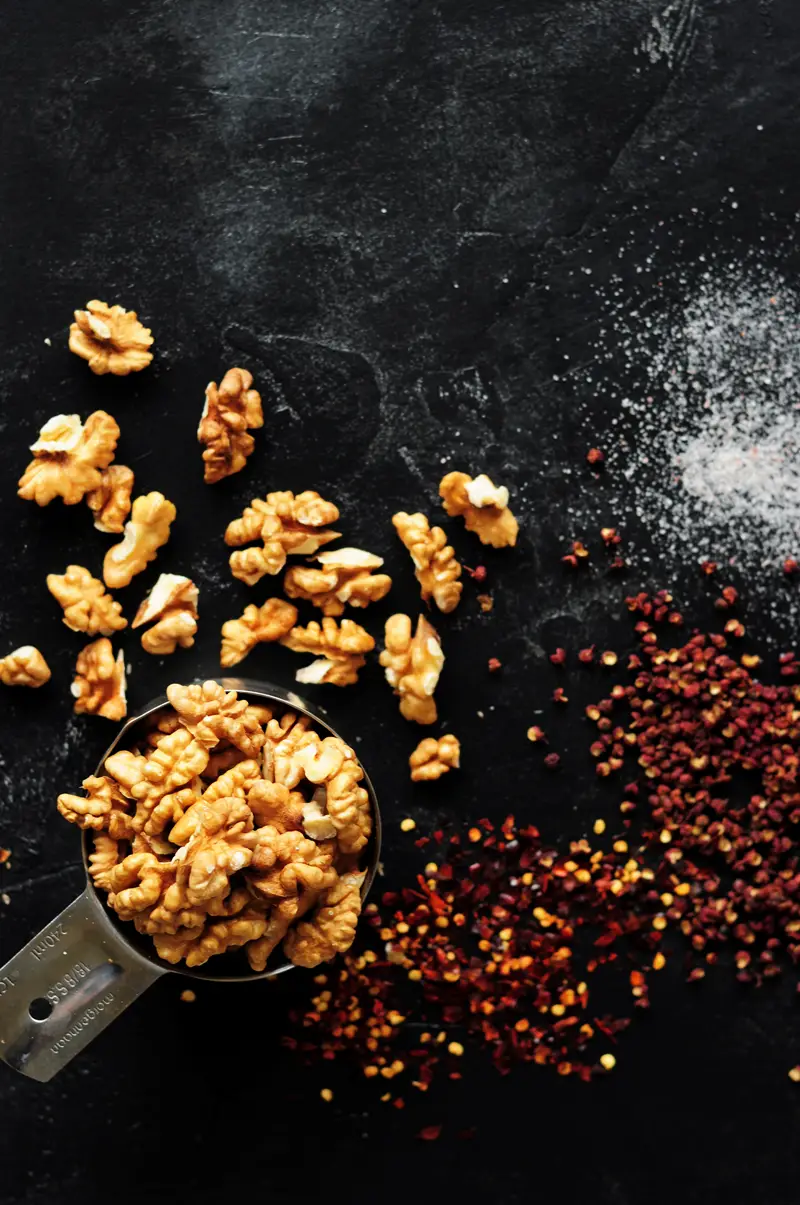 Homemade Toasted Nuts Vs. Roasted Store-Bought Nuts
From a nutritional standpoint, roasting nuts at home is a better choice than purchasing roasted nuts at the store. This is because most roasted nuts you'll find in grocery aisles tend to be coated in heavily processed, low-grade canola or safflower oil: two high omega six oils that can promote inflammation when over-consumed (and these two oils just happen to be in almost every processed food).

Since inflammation is a major hidden culprit in poor health—including obesity, gut health, skin issues, and hormonal imbalances, it's definitely worth making as many of your recipes at home as possible, using higher quality oils for their high nutritional value.

In particular, this recipe calls for hot chili oil to create an authentic Szechuan flavor. However, any other time you feel like making a different variety of toasted nuts—such as Marcona almonds, pine nuts, macadamia nuts, and pumpkin seeds—coconut oil, avocado oil, and olive oil are all good choices.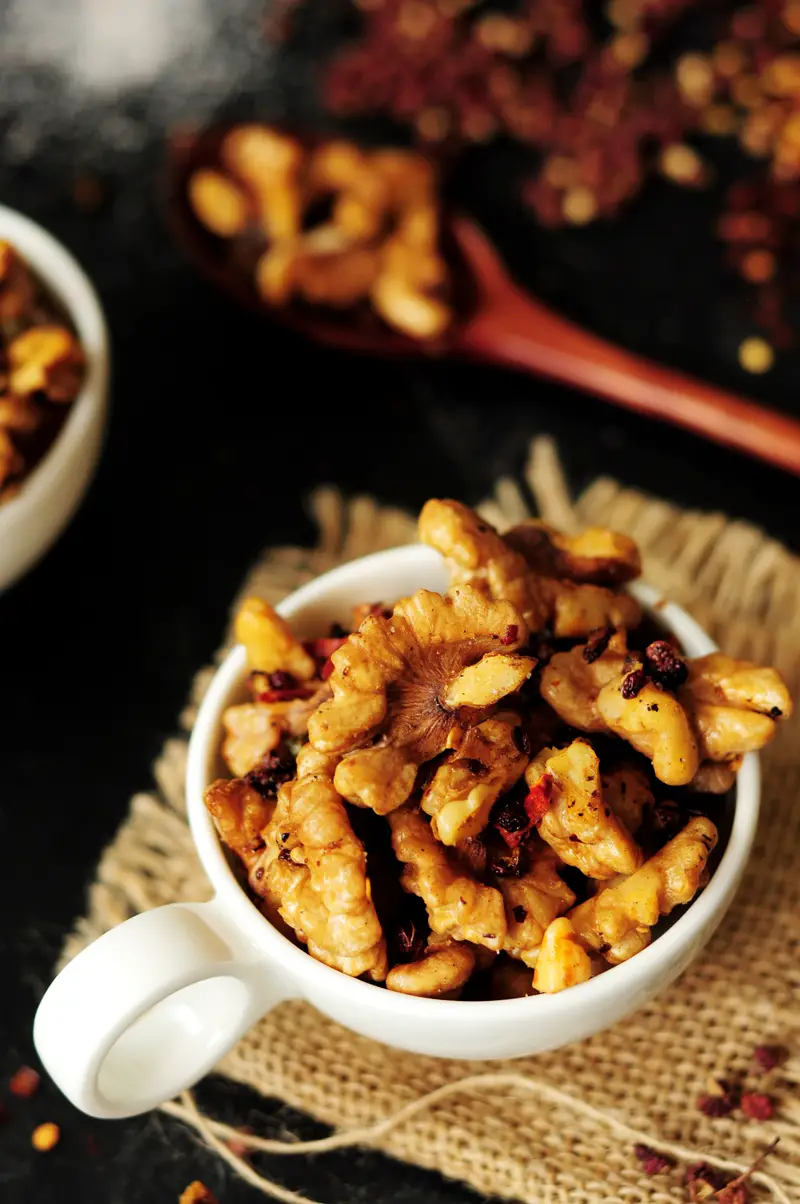 How to Toast Walnuts: Two Easy Methods
Note: Many people don't use oil when roasting walnuts. They use a dry pan, but I discovered that adding a small amount of oil helps the seasonings stick to the walnuts after toasting, making them very flavorful.
Stove-Top Toasting
Pull out your large, heavy skillet or a frying pan and turn your stove up to medium heat. If you're using oil, add oil to the skillet and heat for two to three minutes. Place your walnuts in the skillet (only as many as will fit comfortably in a single layer), and sprinkle the walnuts with any seasonings you want to add. Stir frequently until they start to turn to a nice golden brown, about five minutes in total.

Be sure not to leave your nuts unsupervised if you use the stove-top method to prevent burning. They toast quick and need to be stirred constantly.

Once cooked, transfer to a plate and let them cool. Feel free to add more seasonings if needed. Want to make a sweet version? Toss your nuts with maple syrup!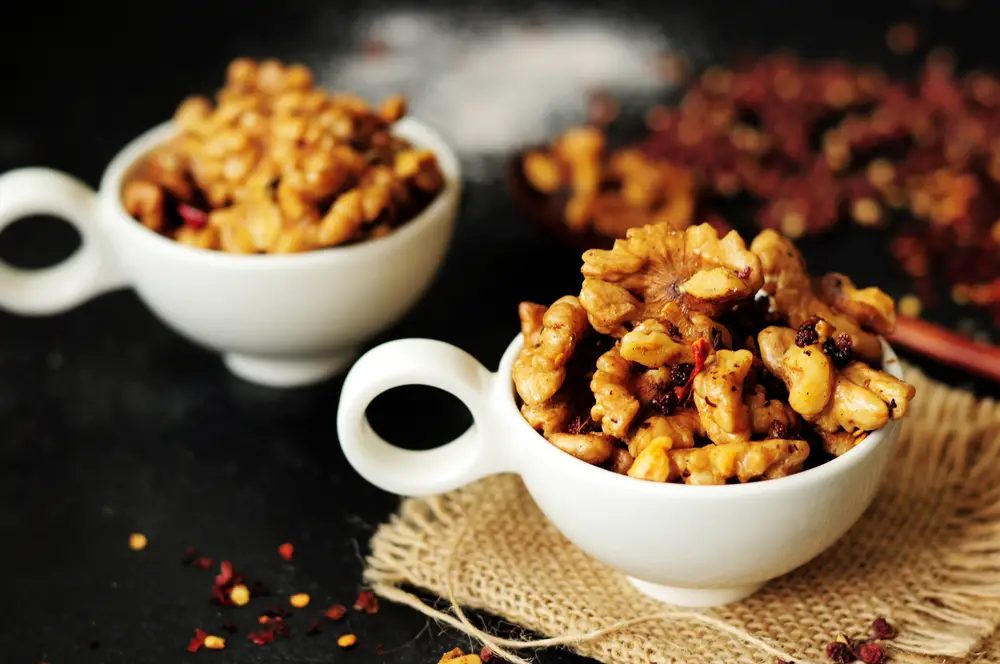 Oven-

Roasting

Method



Roasting walnuts in the oven is just as easy as toasting them on the stove. Preheat your oven to 350 degrees F. In a mixing bowl, combine walnuts with spices and oil (if using). Line a baking sheet with parchment paper for easy cleanup and place your walnuts on the sheet in a single layer. Place walnuts in the oven and roast for 5-10 minutes, or until golden brown. I recommend checking on them after five minutes and then each minute afterward to ensure they're toasting evenly and do not burn. Once the nuts start to look golden brown, and you can smell somewhat of a pleasant, nutty "toasted" aroma, remove them from the oven immediately and allow them to cool.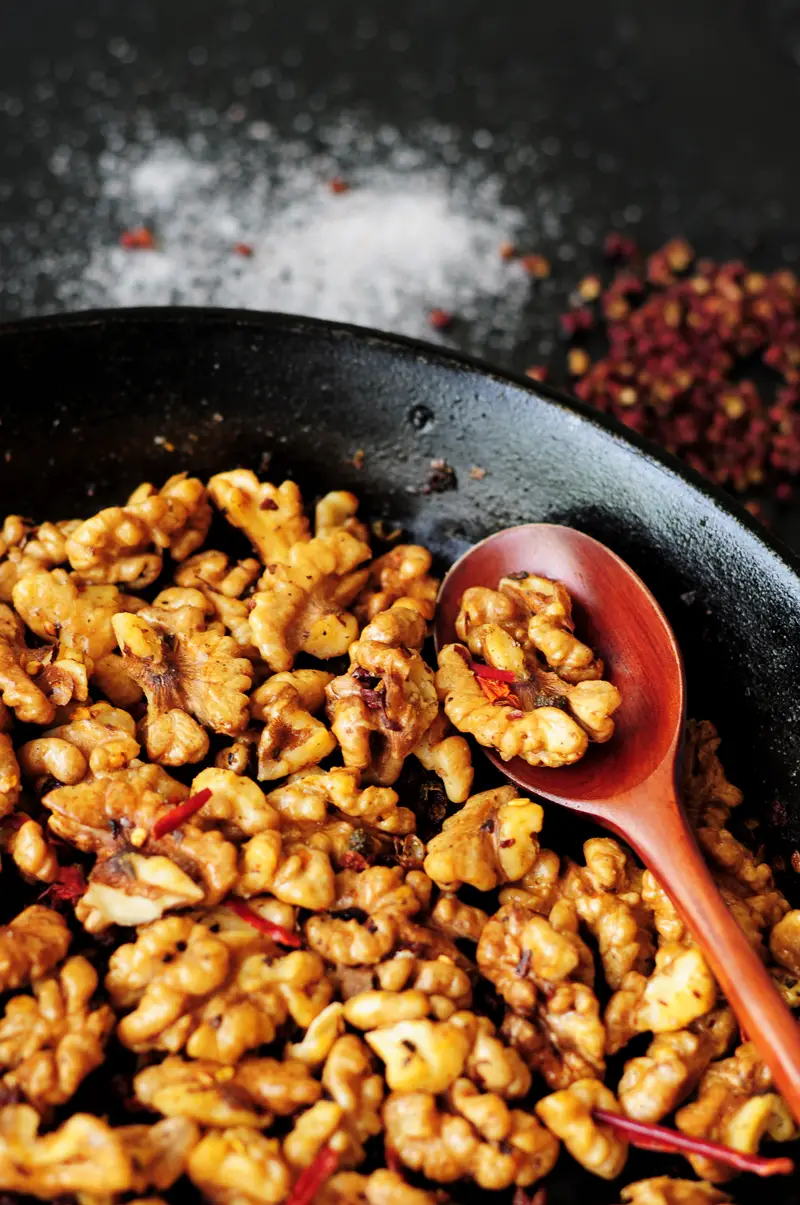 How to Enjoy Toasted Nuts

One of my favorite things about toasted nuts is how they can add such a satisfying crunchy texture to any dish (whereas raw nuts are more on the chewy side).

Honestly, these Szechuan-style toasted walnuts are one of my favorite simple ways to spice up my snack roster because they're so yummy on their own, but there are tons of other ways you can use toasted nuts, including:

Homemade trail mix and granola.

Salad toppers. Toasted nuts would be great on a California-style salad with arugula and pear or a goat cheese salad.

They are also great toppings for any pasta recipes.

On top of ice cream, apple pie, or another dessert recipe (especially if they're cinnamon spiced).

Toasted nuts are also a nice addition for smoothies. Blend toasted nuts with frozen banana and almond milk for a creamy, satisfying treat.
I hope you enjoy this cooking tip. And if you do get a chance to make some toasted walnuts, especially these Szechuan-style ones, please do let me know what you think in the comments below.
Print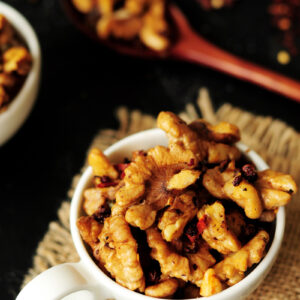 Szechuan-Style Toasted Walnuts
Author:

Sharon Chen

Prep Time:

2 minutes

Cook Time:

8 minutes

Total Time:

10 minutes

Yield:

2 cups

1

x

Category:

Snack, Gluten Free, Vegan

Method:

Stovetop or Oven

Cuisine:

Szechuan
---
Description
Those spicy and delicious Szechuan-style toasted walnuts only take 10 minutes to make over the stovetop or in the oven.
---
---
Instructions
To toast on the stove:
Heat oil in a large heavy skillet over medium heat, 2-3 minutes.

Add numbing peppers and chili flakes in the skillet. Stir until fragrant, about 1-2 minutes.

Add walnuts, sprinkle with salt and sugar. Stir frequently to prevent walnuts from burning. Toast for 1-2 minutes or until the walnuts are golden brown. Transfer to a plate to let cool. Taste and add more salt if desired.
To toast in the oven:
Heat oven to 350°F.

Toss walnuts with oil and all spices together in a mixing bowl.

Spread nuts in a single layer on a cookie sheet lined with parchment paper (for easy clean-up).

Place in the oven and roast for 5-10 minutes until the nuts are golden brown. Stir or shake the pan during toasting in order to make them brown evenly.

Remove from oven and let cool before enjoying.
---
Notes
If you don't have homemade chili oil on hand, you may use a store-bought one or olive oil.

Want extra flavorful toasted walnuts? Feel free to double the dry spices. I did it, and the flavor wasn't overwhelming. On the contrary, it's actually to my liking.

To store the toasted walnuts, place them in an airtight container. They can be kept at room temperature for up to 3 months.
---
Nutrition
Serving Size:

1/4 Cup

Calories:

429

Sugar:

6.7g

Sodium:

374mg

Fat:

42.9g

Saturated Fat:

4.2g

Carbohydrates:

9.4g

Fiber:

4.5g

Protein:

9.4g

Cholesterol:

0mg
Keywords: how to toast walnuts