A hearty borscht recipe made with beef stew meat and onion sautéed in a roux and slow cooked in homemade beef bone broth, this Shanghai-style beef borscht makes a delicious comfort meal on a chilly day.
A traveler without observation is a bird without wings.Moslih Eddin Saadi
Ever since the hidden cooking passion lit up in my life a couple years ago, my observation of the local culture has been leaning more towards food whenever I travel. In addition to the actual dining experience, bringing back one or two local recipes has gradually become a habit. Sometimes the recipes are directly given to me. Other times, I have to do a little reserve engineering to recreate the recipe.

At the beginning, I thought it's a fun thing to do. Later on, it turns into THE thing to do while traveling, even on a trip back to my hometown.
During our latest trip to Shanghai, China for our belated wedding ceremony, we ate a variety different meals cooked by my mom every day for pretty much the entire October. It was simply amazing! Even though I grew up eating mom's homemade food, her cooking still blows my mind every single time.
I wonder why I didn't feel this way growing up. Perhaps it's because I had no interest in cooking at that time; perhaps it's because I took my mom's cooking for granted; perhaps it's because I didn't understand what cooking means to a family…
Moving to a different country to build a family with Han and being apart from my mom has changed me a lot. Over the course of the past two years, I've learned to appreciate mom's cooking more and more. As a result, hanging out in our small kitchen in Shanghai and watching her cook has become a daily routine whenever we go back home to visit.
This Shanghai-Style Beef Borscht Soup is one of my mom's signature dishes. She showed me exactly how to cook it in a large saucepan on the stove. The only change I made is to cook the soup in a slow cooker instead so that it doesn't require too much babysitting.
If you are not familiar with borscht, it's a soup originally from Ukraine. In most of the traditional recipe, it's made with beetroot as the main ingredient. In some regions, tomato is used as the main ingredient. Chinese borscht, which is also known as Luo Song Tang, is based on cabbage and tomatoes. My mom usually uses homemade beef stock as the soup base, which gives it an amazing flavor.
When slow cooking borscht, in order to prevent the cabbage from getting mushy, remember to add it 30 minutes before serving as it cooks faster than other ingredients.
With slow cooked beef stew meat and onion sautéed in a roux, the borscht brings a wonderful smell to your house during cooking. Serve it with your favorite bread or just enjoy it alone. This Shanghai version of beef borscht soup for sure satisfies your craving for a warm comfort meal on a chilly day. If you get a chance to make it, leave a comment below and let me know what you think. I'd love to hear from you.
Thank you so much for reading. Happy cooking as always!
Print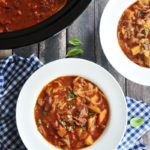 Slow Cooker Shanghai-Style Beef Borscht Soup
---
Author:

DelishPlan

Prep Time:

15 minutes

Cook Time:

8 hours 30 minutes

Total Time:

8 hours 45 minutes

Category:

Soup

Cuisine:

Asian Fusion
Description
A hearty Shanghai-style borscht recipe made with beef stew meat and onion sautéed in a roux and slow cooked in homemade beef bone broth.
---
Ingredients
2 tablespoons Canola oil
2 tablespoons butter
1/4 cup all purpose flour
1 medium onion, sliced
1 pound beef stew meat
2 stalks celery, chopped
1 cup carrots, chopped
1 large russet potato, diced
4 teaspoons minced garlic (about 4 medium garlic cloves)
2 cups beef broth
1 (6-oz) tomato paste
1 (14.5-oz) can diced tomatoes
1 bay leaf
1 teaspoon sea salt
2 tablespoons brown sugar
1/2 teaspoon ground black pepper
3 cups green cabbage, thinly sliced
chopped fresh basil for garnish
---
Instructions
Make a roux by melting butter with Canola oil over medium heat in a skillet. Once the butter is completely melted, decrease the heat to low, add flour; stir constantly until the mixture is blended and smooth.
Add onion into the roux; increase the heat back to medium. Stir until the onion is well coated and fragrant; transfer the mixture to the slow cooker.
Place all other ingredient except the cabbage in the slow cooker; stir well; cover and cook on low for 8 hours.
Add cabbage, switch slow cooker to high setting. Cook for an additional 30 minutes or until the cabbage is tender.
Taste and add more salt or sugar if desired. Dish, garnish with basil and serve with your favorite bread.