If you ask me what type of comfort food I like the most, I would tell you that it's soup, without any hesitation. Good soup is not only comforting and hearty, but also could be a fantastic meal alone.
This Thai Vegetable Soup that I am about to share with you is a perfect example! The first time I made it was in a cooking class in Chiang Mai a year ago. As soon as it's dished, we immediately devoured it right on the spot!
Now, my friend, let me walk you through the best of this soup and you go make your own to enjoy! 🙂
Rich In Flavor, Tastes Super Thai, and Affordable
What have we got here? The main soup base is coconut milk. I like to mix it with some pumpkin purée to strengthen the flavor. Since pumpkin is seasonal, you can make this soup through out the year by using canned purée. When it's in season, simply just cook pumpkin with other vegetables.
Whenever it comes to Thai cooking, there will always be a couple of special herbs we shouldn't ignore, such as lemongrass and galangal, etc. They are essential in order to make your Thai dish tastes authentic. You might find that they are slightly pricey in your grocery stores, but remember, only a little bit of each can make an entire pot of soup (enough for 4 servings) delightful! It's fancy but affordable.
Loaded With Vegetables and Extremely Healthy
Now we have the soup base and essential herbs. Time to move onto other ingredients, which are very common vegetables. It's literally LOADED!
Tofu
Mushroom
Tomato
Broccoli
Onion
Carrot
Feel free to switch broccoli with green bean or cauliflower, or use all of them. Why not? This soup is so darn healthy! Oh, did I mention that it's gluten free and totally vegan?
A Fantastic Meal Alone
Although this soup is considered light in terms of the thickness, the flavor is so rich that you would drink it one spoon after another, not to mentioned that it's full of healthy veggies. With that said, it's a fantastic meal by itself. It also goes very well with rice.
Another secret about this soup is that you can substitute tofu with chicken or shrimp. Sounds good? 🙂
What other adjustments would you make? I would love to hear from you!
Print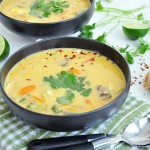 Authentic Thai Vegetable Soup
---
Author:

DelishPlan

Category:

Soup

Cuisine:

Thai
Ingredients
1 can (13.66 fl oz) unsweetened coconut milk (I like Thai Kitchen brand)
2 cups water
1/2 cup pumpkin purée (optional)
1/4 cup galangal, sliced
1 stalk lemongrass, sliced into 1 inch long pieces
1/4 cup onion, sliced
1 cup broccoli florets, chopped
1/2 cup carrot, sliced
1/2 cup tofu, sliced
1 Roma tomato, sliced
1 cup mushroom, sliced
2 tablespoons fish sauce or soy sauce
1 teaspoon brown sugar
Salt to taste
2 tablespoons lime juice
1 stem spring onion, finely chopped
1/2 teaspoon crushed chili pepper
Cilantro leaves for garnishing
---
Instructions
Mix coconut milk, water, and pumpkin purée in a saucepan, stir and bring to a boil.
Add galangal, lemongrass, onion, broccoli, and carrot into the saucepan, cook over high heat for 2 -3 minutes or until fragrant.
Add tofu, tomato, and mushroom, bring to a boil again. Continuing cooking until vegetables are done.
Season with fish sauce, sugar and a pinch of salt to taste.
Turn off the heat. Discard the lemongrass and galangal. Stir in lime juice, spring onion, and crushed chilies.
Dish and garnish with cilantro leaves. Enjoy!
Notes
Recipe adapted from The Chiang Mai Thai Farm Cooking School Recipe Book