Imagine that a single appliance can replace pretty much all your kitchen appliances including your oven, grill, slow cooker, dutch oven, pressure cooker, and even your sauté pan.
It sounds too good to be true, right? The good news is that such thing does exist now!
Whether you cook for one or cook for a big family; whether you live in a house or an apartment; whether you have a special diet or cook for someone who does, after some amazing first-hand experiences, I am so excited to tell you that I found the exact appliance that can solve pretty much all your cooking challenges.
Imagine what happens if you can bring an oven, a grill, a stovetop, a pressure cooker, a slow cooker, a dutch oven and a sauté pan all together into one smart machine. Cooking will be revolutionarily easy.
Tatung Company of America, also known as Tatung USA released a new kitchen appliance called the Fusion Cooker, which combines baking, grilling and cooking all in one single beautifully designed, space-age appliance. It allows you to prepare and cook delicious meals with a minimum of equipment, effort, space, and time!
Based in California, Tatung USA is a subsidiary of Tatung Company of Taiwan, where every household has at least one of Tatung's small kitchen appliances. It's like the KitchenAid in the States. It's in everyone's kitchen.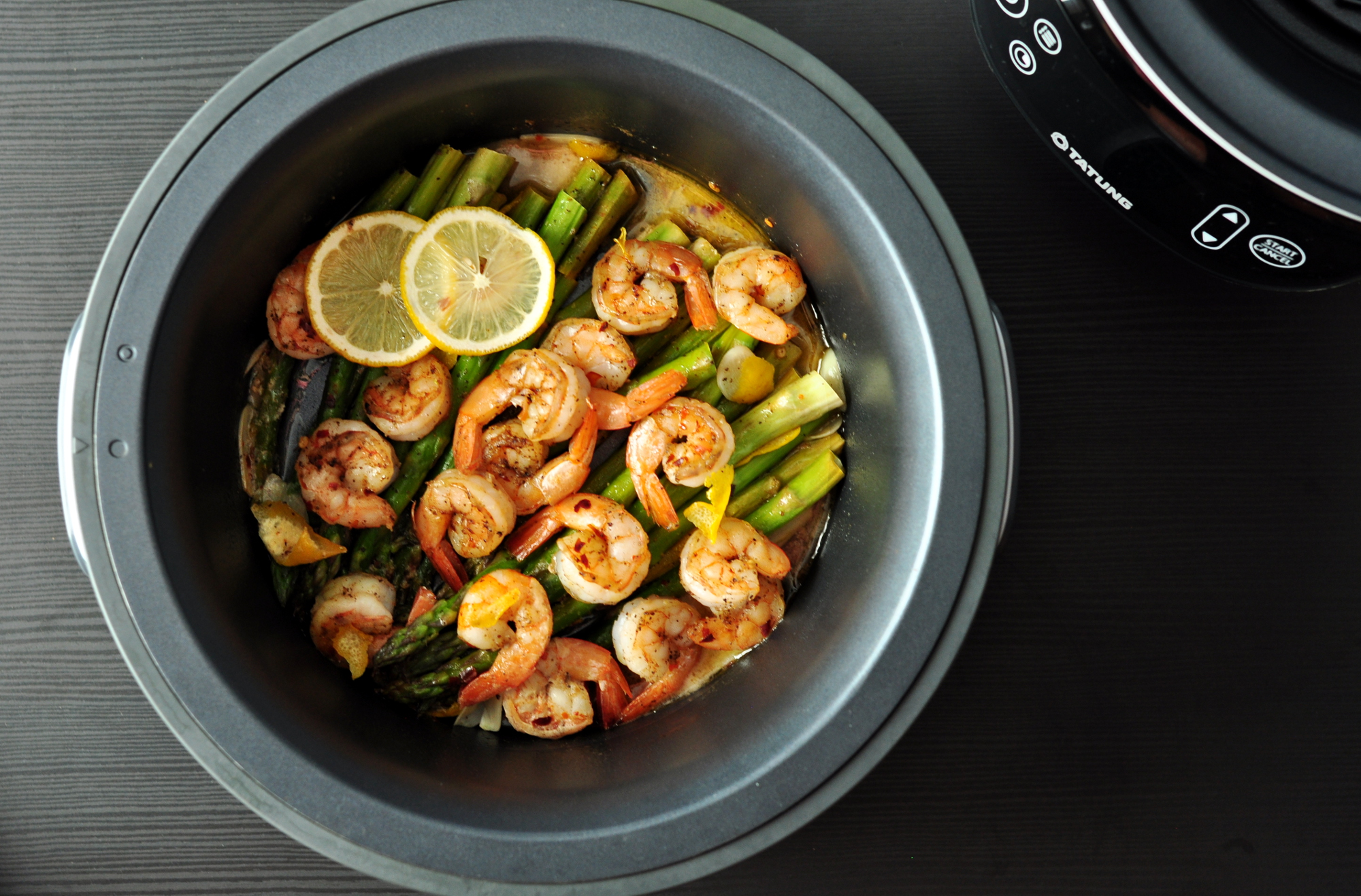 The Fusion Cooker comes with a three-liter (a little bigger than 3-quart) waterless pot that allows you to bake and cook, a 9-inch grilling pan that allows you to fry, grill, sauté and more, an airtight metal lid that seals the moisture and cooks food more quickly, and a glass lid that allows you to keep an eye on your food when cooking with the waterless pot.
The cooker offers 4 cooking modes: grill, bake, cook, and soup for easy indoor grilling, countertop baking and waterless cooking.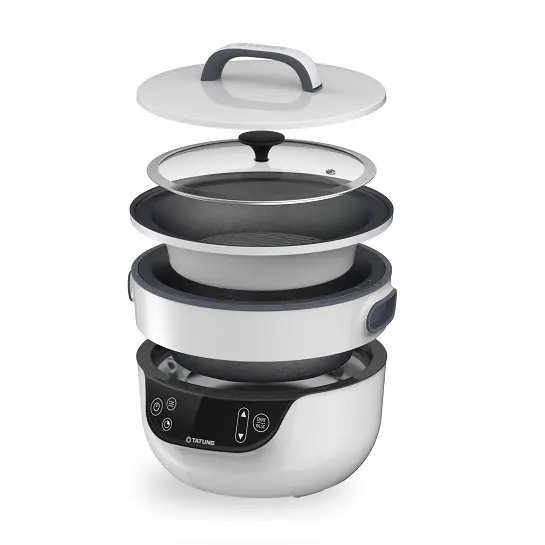 The "Cook" mode offers 5 cooking levels. When it's selected, you'll need to choose a cooking level and set the cooking time. Both the waterless pot and the grilling pan can be used under the "Cook" mode.
The "Grill" mode requires you to set the temperature as well as the grilling time once selected. Please note that only the grilling pan can be used under this mode. The extreme heat will damage the waterless pot.
There are no level or time setting requirements under the "Bake" mode. This is when you set and forget and let the Fusion Cooker do its thing. It will remind you 10 minutes before your goodies are done with a beeping sound.
Similar to the "Bake" mode, there's not much to do in the "Soup" mode either. Just set it and walk away, then come back when the cooker gives you a signal for a delicious hot meal.
Waterless cooking is a new cooking method that the Fusion Cooker offers. It lets your ingredients release their natural juices without getting watered down for maximum flavor and nutrition.
Now, let's take a look at the grilling pan. As mentioned, you can stir fry and sauté with this pan. But what it does best is grilling. Let's use chicken breast as an example.
You know chicken breasts can easily get dry and taste like sawdust if you don't cook them properly. After trying the steam-grill function the Fusion Cooker offers, I don't think there's a better way of make chicken breasts unbelievably juicy. No matter how thick your chicken breasts are, in less than 15 minutes, your chicken will be perfectly cooked through with the Fusion Cooker.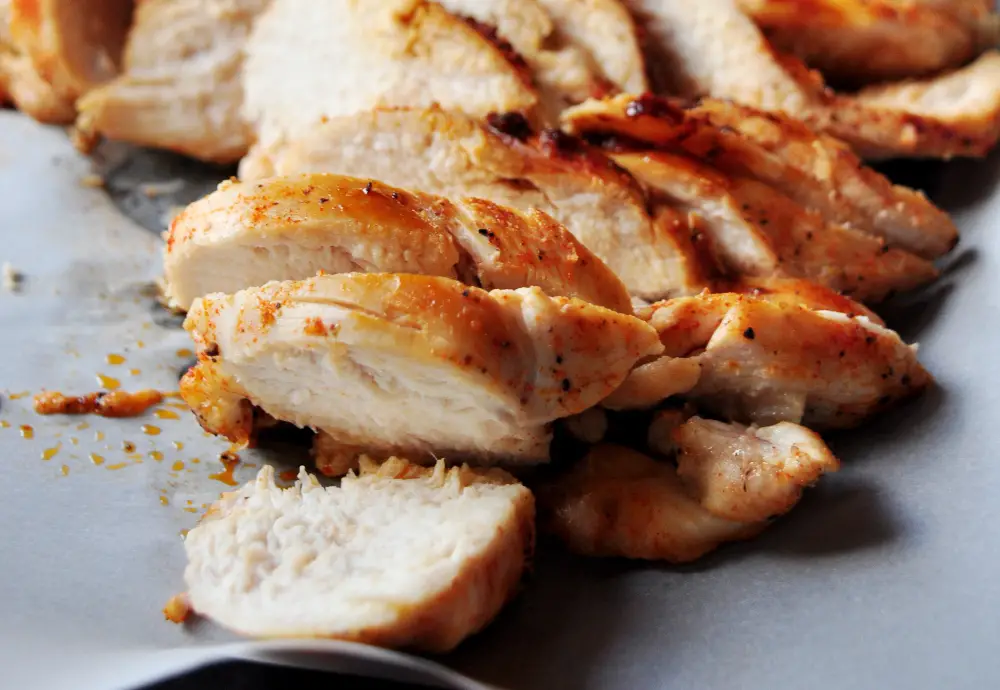 How exactly do you steam-grill foods? It sounds complicated, right? The secret is the smart design of the grilling pan which has high ridges. As you can see in the photo below, there's a hollow circle at the bottom of the pan which allows any fat to drain easily.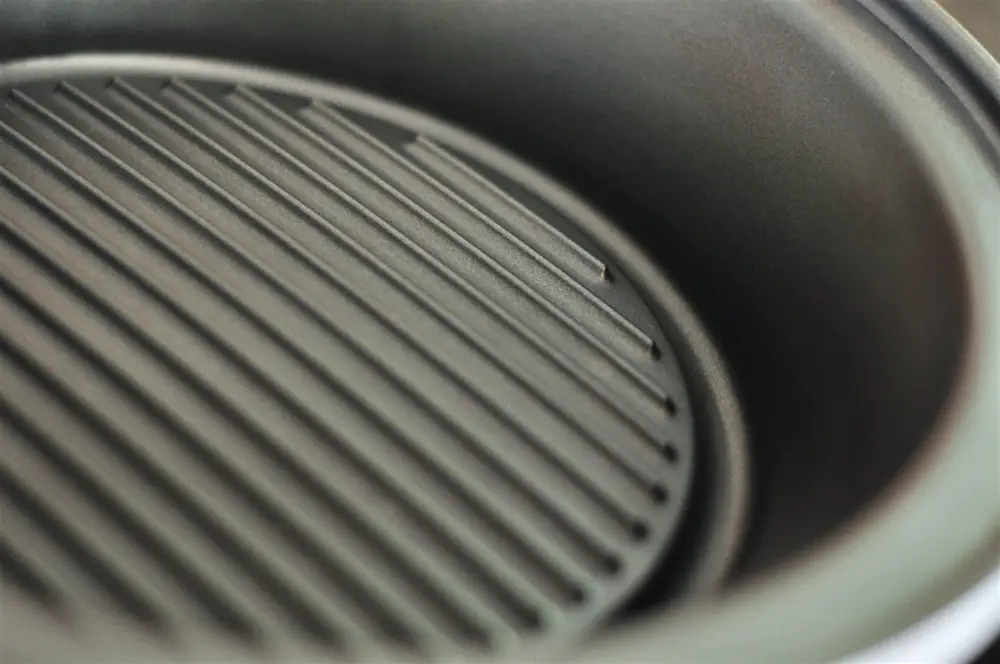 You can add a little bit of water in the circle and place the chicken pieces in the middle. Once you set the grilling temperature and time, the Fusion Cooker will generate steam from the water and grill the chicken at the same time, locking in the moisture while still getting that grilled flavor. Trust us, you are going to make the BEST CHICKEN EVER!
Even though there are both a waterless pot and a grilling pan, there is only one heating element in the Fusion Cooker. Therefore, you can't use the waterless pot and the grilling pan simultaneously. But our favorite way of using the Fusion Cooker is to grill our meat first, leaving the juice (and sauce if any) in the grilling pan and then cook a bunch of vegetables in the same pan with the meat juice while the meat is resting.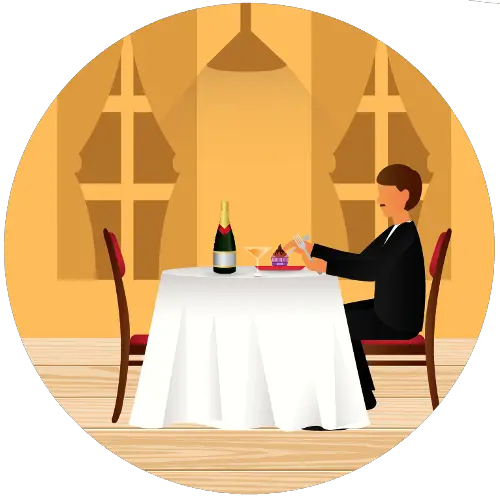 The Fusion cooker makes a perfect balanced meal in less than 30 minutes without you having to turn on the oven or stove. The cleaning is a breeze because both the waterless pot and grilling pan are lined with an advanced non-stick coating to prevent foods from sticking to the surface.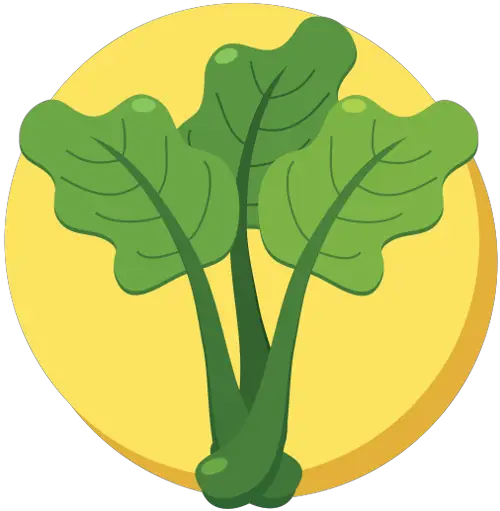 Cook the meals that meet your needs in the Fusion Cooker while the oven and the stove are used to make foods for the rest of your family. Never take turns to cook again so you can eat with your family together.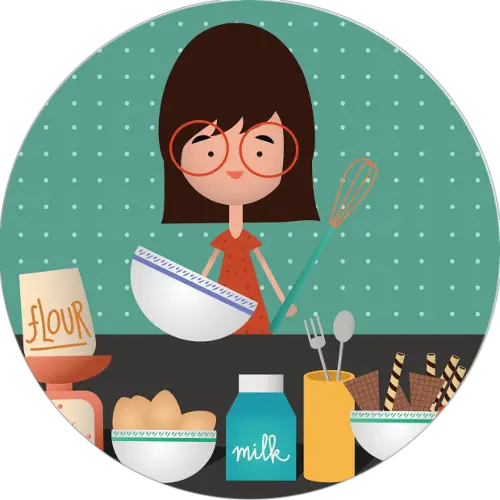 Have a small kitchen or living in a dorm? The Fusion Cooker is made for you. It's energy-efficient and it takes up very little space when in use. The total product dimension is 11.06″ x 11.02″ x 10.28", which means it's very easy to store.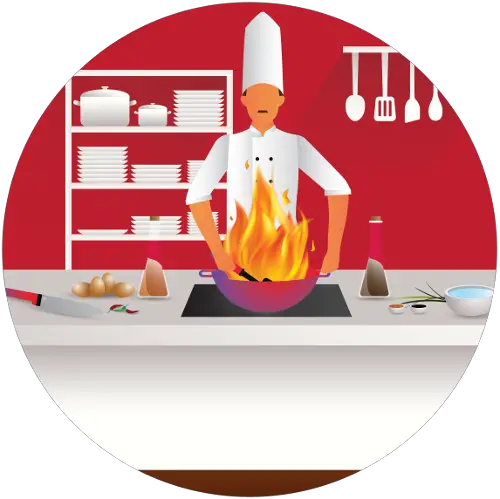 Even if you've got a full kitchen with everything you need, the Fusion Cooker is still a great addition to a home kitchen. When you don't feel like heating up a grill or preheating an oven, that's when the Fusion Cooker comes in handy. You can whip up your proteins and vegetables in no time.
Buy Now
Pretty much everything. From grilling to baking, to regular cooking, making soup, stews, porridge and even cakes! We know it's unbelievable, but it's true. Let us prove it to you.
Dessert
You heard us right – the Fusion Cooker makes great desserts. Watch the video below to see how we made some classic brownies using the Fusion Cooker's baking function. They are so moist and yummy!
Meat & Poultry
We love grilling with the Fusion Cooker because it takes no time to preheat it. When set in grill mode, the heating element warms up really quickly. The metal lid completely seals the meat or poultry and locks in all the juices and nutrition. It usually takes around 15 minutes to get your proteins ready.
Vegetables
It's amazing how you don't have to add any water or extra liquid when you cook vegetables in the Fusion Cooker. We are not talking about sautéing. We are talking about dumping the vegetables in the Fusion Cooker – just set it and forget it!
Vegetables like carrots and potatoes usually require an hour to roast in the oven or at least half an hour on the stove for them to become tender. Guess how much time it takes the Fusion Cooker to do the job? 10 minutes!
Seafood
Similar to cooking vegetables, cooking seafood in the Fusion Cooker does not require any liquid as well. Think of it as a steamer but without water. The waterless cooking method goes a long way. You can also wrap up your seafood in a foil and grill it in the Fusion Cooker.
Soups & Stews
The waterless pot requires no water for most of the cooking. However, you can certainly make soups and stews in the Fusion Cooker by adding water or stock with other ingredients. Think of it as a highly-efficient slow cooker that allows you make pretty much any soup or stew in just an hour without any babysitting required.

Are you excited about this revolutionary cooker? Order now and get not one, not two, but THREE exclusive benefits!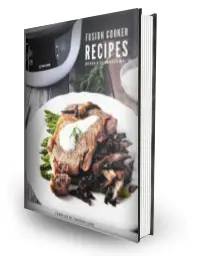 Benefit #1: Fusion Cooker Recipe Book
You'll have instant access to our free book "Fusion Cooker Recipes: One Week of Fusion Cooker Meals" that contains seven delicious and quick recipes to get you started with waterless cooking, indoor grilling, countertop baking, and much more.
Please note that this is not a manual book. This book is a gift designed and compiled exclusively for our Fusion Cooker customers.
The purpose of this book is to show you different ways to use the Tatung Fusion Cooker to cook your daily meals at home with less effort in less time.
Through the recipes in this book, you'll learn which cooking mode you should choose for certain types of foods, what temperature to cook the foods, how long to cook them, and which lid you should use to cover your foods.
All recipes in this book are developed and tested by DelishPlan and Tatung USA. We focused on creating healthy meals which cover all functions that the Fusion Cooker offers. Here is what you'll find in this book.
How to grill the juiciest chicken in the world using the "steam-grill" function, even if your chicken breast is 2-inch thick.
How to grill steak and fish in less than 15 minutes.
How to cook vegetables like potatoes and carrots to tender in just 10 minutes.
How to cook without water.
How to make a beef stew in "soup" mode.
How to bake the perfectly moist and chewy brownies.
Benefit #2: One New Recipe Every Week
Starting from the second week upon your purchase, one Fusion Cooker recipe in a nicely designed and print-friendly PDF format will be delivered straight to your inbox every Thursday for the next three months at no extra cost to you!
It's our way of saying thank you for your purchase.
No spam ever, only practical recipes.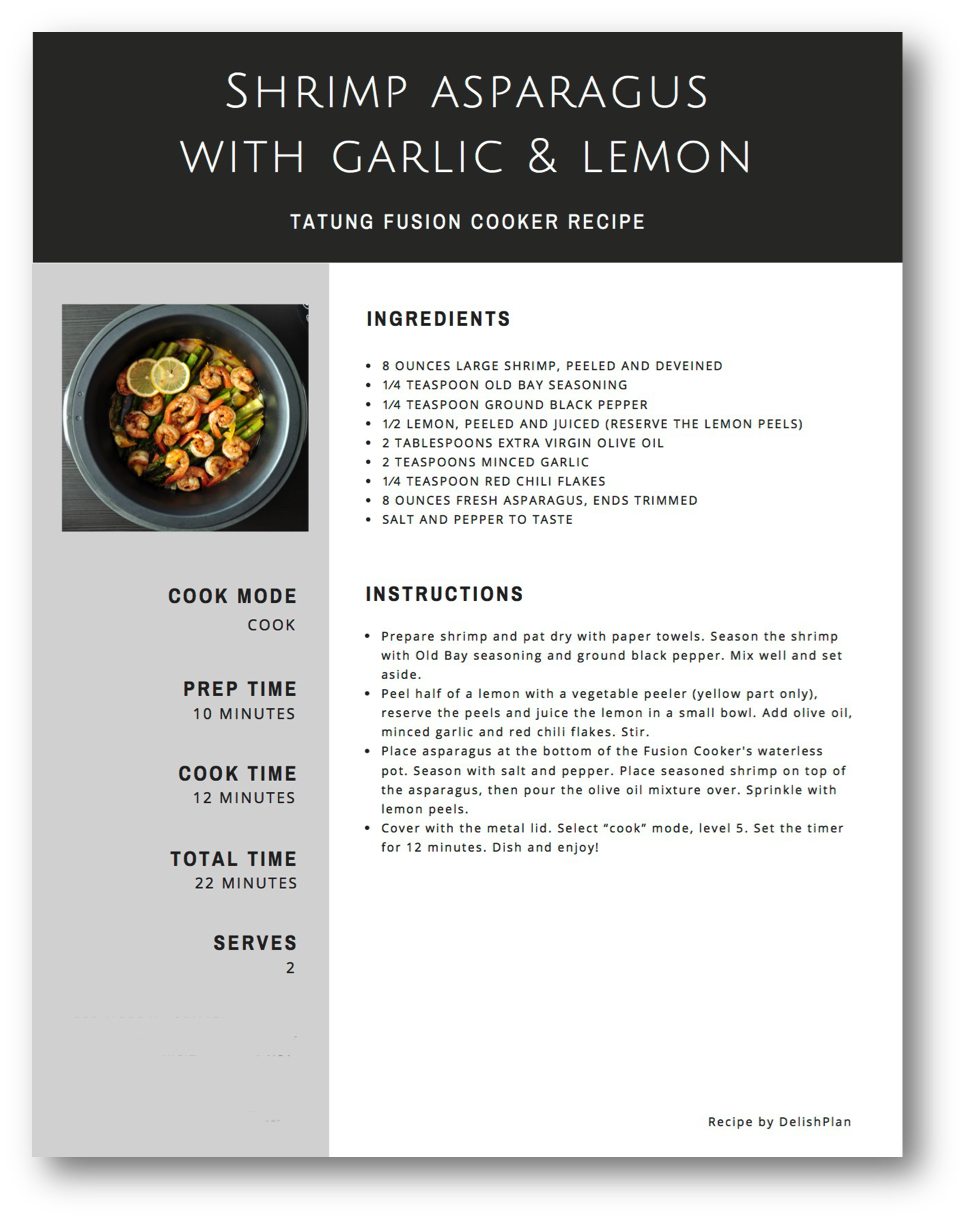 Benefit #3: Offical Facebook Group
You are invited to join DelishPlan's Offical Fusion Cooker Community on Facebook, which is a support group exclusively for Fusion Cooker users like you! The members in the cummunity share Fusion Cooker recipes, cooking tips, and cooking experiences with each other. The best part is the manufacturer Tatung USA offers direct customer service inside the group!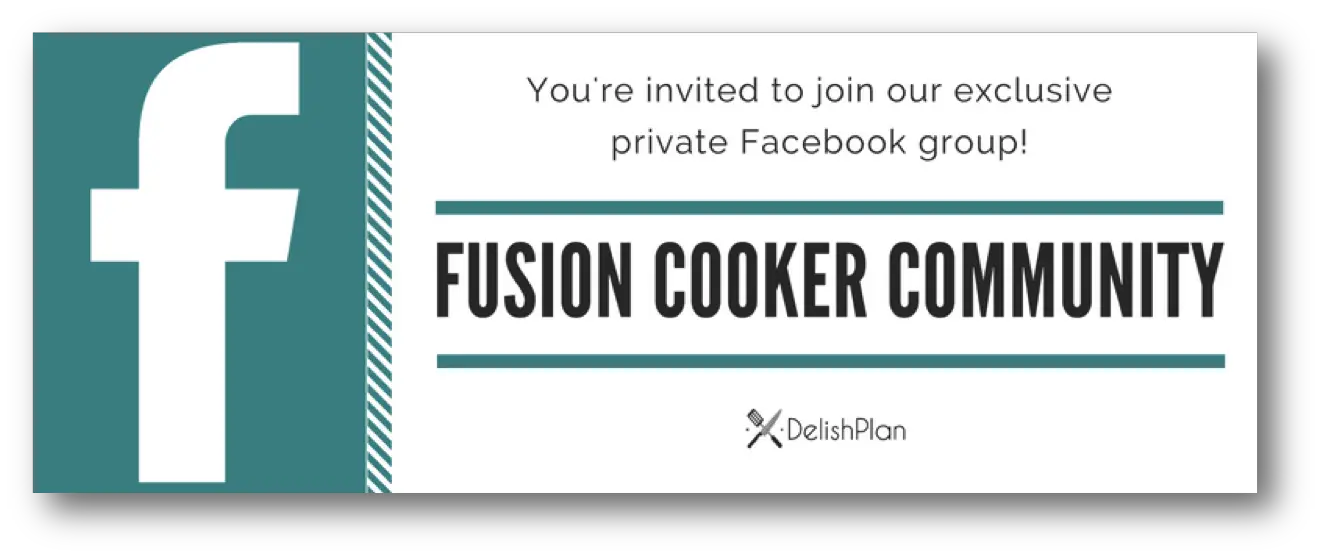 Will the Tatung Fusion Cooker be sold internationally? Or just in the US?
Currenlty the Fusion Cooker will be sold for use in the United States only if you purchase it from DelishPlan.com. The Fusion Cooker has also been released in Taiwan, which is sold by Tatung Company of Taiwan, the parent company of Tatung Company of America.
What is Fusion Cooker?
Built for people who would like to cook, even without cooking skills, Tatung Fusion Cooker is the smartest, most powerful tool on the market that combines cooking, baking, and grilling all in one beautifully designed appliance. The smart touch panel has 4 cooking modes with timer for easy cooking: grill, bake, cook, and soup. It also comes with 5 heating levels and 8 preset temperature settings.
Is the temperature setting in Celsius or Fahrenheit?
The temperature setting is in Fahrenheit. The ones that are sold in Taiwan offers temperature setting in Celsuis.
How big is the Fusion Cooker?
The demension of the Fusion Cooker is 11.06" x 11.02" x 10.28". It weights 14.33 lbs.
What does the Fusion Cooker price include?
The price includes Texas sales tax and shipping fee. The sales tax rate is calculated according to the states of Texas where DelishPlan LLC is located. Texas imposes a 6.25 percent state sales and use tax on all retail sales, leases and rentals of most goods, as well as taxable services. Local taxing jurisdictions (cities, counties, special purpose districts and transit authorities) can also impose up to 2 percent sales and use tax for a maximum combined rate of 8.25 percent.
Where is the Fusion Cooker shipped from?
The Fusion Cooker is shipped directly from the Tatung USA warehouse located in Long Beach, California when you place an order.
How do I cook with the Fusion Cooker?
Your Fusion Cooker comes with a detailed manual book, which tells you exactly how to use it. Once you place an order on DelishPlan.com, you'll receive a Fusion Cooker recipe book instantly, where it teaches how to cook simple and delicous meals with the Fusion Cooker. We will also continuely send you Fusion Cooker recipes once a week for three months. The best part is that we will invite you to our exclusive Fusioin Cooker Community on FaceBook for more recipes, cooking tips, and support.
When will my order ship?
Orders placed today will be shipped in approximately 1 week.
What if I'd like a refund?
The Fusion Cooker is covered by Tatung USA Marketplace Return Policy.
Is there a warranty?
One-year warranty service is included in your purchase. If your Fusion Cooker is fragmented, Tatung USA provides free repair and free shipping back to you up to one year. You'll have to handle the one-way shipping fee when you ship the fragmented one to Tatung USA.
What payment options do you accept?
We accept all major credit cards.
I need more help. Who do I contact?
Drop us an email at [email protected], we will have your questions answered ASAP! Or ask away in the our exclusive Facebook Group.